Chairman's Welcome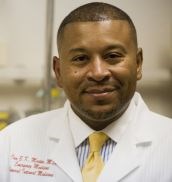 Welcome to the WVU Department of Emergency Medicine!  Please take some time to peruse our virtual Department—exploring our clinical enterprise, educational offerings, and research endeavors.  Here's a hint of what you'll find: 
The Department of Emergency Medicine at WVU maintains a thriving clinical practice—including West Virginia University Hospital/Ruby Memorial Hospital, United Hospital Center, St. Joseph's Hospital, two WVU Urgent Care centers, WVU Student Health, and an internal locum tenens practice.  Across this myriad of EM practices, our faculty care for more than 175,000 patients per year.

Our Department is also home to a competitive residency program of nearly 30 residents—attracting top-notch housestaff from medical schools across the country.  I know first-hand-hand that many of our residents choose to train at WVU because of our unique ability to offer both an urban and rural experience in Emergency Medicine (EM).  Similarly, we offer a state-of-the-art emergency ultrasound fellowship program—again attracting some of the brightest and most skilled young emergency physicians from around the country. 
The more than 50 faculty in the Department are engaged—largely through our EM Clinical Research Center—in a host of extramurally-funded, investigative research projects.  Departmental research in the areas of stroke, emergency medical systems (EMS), medical education, and others has culminated in important, original contributions to the peer-reviewed medical literature.
Leadership abounds in our Department, as evidenced by the fact that several of the faculty hold or have held state and/or national leadership positions in the American College of Emergency Physicians (ACEP) and the Society for Academic Emergency Medicine (SAEM).  Moreover, it is commonplace for our faculty to serve in a variety of administrative roles in the Department, at the School of Medicine, and across the health care system. 
Importantly, we see the mission of our Department as follows:
To draw upon the talents of the Emergency Medicine faculty at West Virginia University School of Medicine and staff at WVU Medicine to:  1) provide world-class emergency care to every patient every day in WVU Medicine's Emergency Centers; 2) create and sustain educational programs that train the future leaders in Emergency Medicine—whether they work in the community or in a large academic medical center; and 3) define the medicine of tomorrow through support of state-of-the-art, investigative research.
And in fulfilling these missions, our faculty, fellows, residents, and staff continually work toward the following vision:
To be a leading academic Department of Emergency Medicine regionally, nationally, and internationally—with a continual focus on the health and well-being of West Virginians.
Again, thank you for visiting our departmental website.  As you will see, the WVU Department of Emergency Medicine is dynamic, on the move, and making a huge impact on the lives and well-being of Emergency Department patients at WVU, in the State of West Virginia, and across the country through clinical care, education and training, and research.  We'd love to hear from you—so please email us (emmedinfo@hsc.wvu.edu), call us (304-293-2436), or drop by to visit us in person (Department of Emergency Medicine, Robert C. Byrd Health Sciences Center, Suite 7400, Morgantown, WV 26506). 
Enthusiastically,
Ian B.K. Martin, M.D., M.B.A., FACEP
Professor and Chairman
Department of Emergency Medicine
West Virginia University School of Medicine
Physician-in-Chief
WVU Emergency Medicine Practices
WVU Medicine