Cardiac Rehabilitation
This program is designed for those individuals, who have completed a Phase II Cardiac Rehab program and for those at high risk of heart disease and diabetes. Participants engage in three exercise sessions per week under supervision of an exercise physiologist. All participants will be monitored throughout their exercise sessions.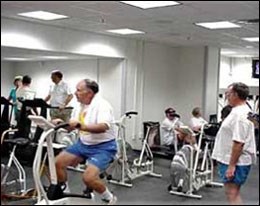 Available exercises & equipment:
Stretching and flexibility
Aerobic exercise
Treadmills
AirDyne bicycles
Rowing
NuStep
Stair Master stair climbers
Strength training with BodyMaster machines or dumb-bell free weights
Blood pressure, heart rate, exercise mode, intensity, and duration are monitored
Supervised exercise sessions are:
Mon., Wed., Fri., 6:30am – 8:00am
Mon., Wed., Fri., 3:00pm – 5:00pm
Who should consider Cardiac Rehabilitation?
Anyone recovering from:
Heart attack
Coronary bypass surgery
Heart valve replacement
Heart transplant
Angina
Angioplasty or Stenting
Other heart problems will be evaluated individually to determine eligibility.
What are the benefits of Cardiac Rehabilitation?
Increased muscular endurance and strength
Diminish fatigue
Lower heart rate
Reduce high blood pressure
Reduce body fat (assist in weight control)
Reduce stress and tension
Improve sleep patterns
Increase strength in heart muscle fibers (Increases the efficiency of the heart)
Reduce the risk of a fatal heart attack
Increase your high density lipoprotein levels (HDL) – good cholesterol
Decrease your low density lipoprotein levels (LDL) – bad cholesterol
Decrease triglyceride levels
Increase basal metabolic rate – burn more calories
Increase max VO2
Feel good and look good (increased sense of well being)
Improve yourself image (Improves self-confidence)
Increases knowledge of cardiac diseases, diet and risk factors
What does the Cardiac Rehab Program Offer?
Initial interview with the cardiac rehabilitation exercise physiologist who will carefully evaluate your needs and recommend an individualized program that will work for you
Personal, supervised, exercise sessions while vital signs are monitored
Diabetes Education / Counseling (individual sessions assisting with life-style changes)
Stress Management
Assistance in developing a safe home exercise program
Encouragement and support from the staff and other patients
Smoking Cessation Counseling 

How do I enroll?
If you are interested in the Cardiac Rehabilitation Program, speak with your physician. A physician's referral is necessary for admittance into the program. For your convenience, referral forms are provided below:
You will need Adobe Acrobat reader to view and print these files. The software is available HERE.
You can have these referral forms faxed to us at (304) 293-2971. If you have any questions regarding this procedure, please feel free to contact the Human Performance Lab at (304) 293-5497.
Is this covered by my insurance?
The Human Performance Lab does not submit claims to insurance companies. The fees of the program have been set to provide coverage for the center without being a burden to the participant. A detailed bill will be mailed to you based on your exercise program and billing options; some participants choose to mail the bill to their insurance companies themselves in order to receive reimbursement. Our laboratory staff will be happy to discuss fees and help you determine if insurance coverage would be possible
For more information concerning common insurance companies, visit these links below: