Hilary Hickman / Chad Morley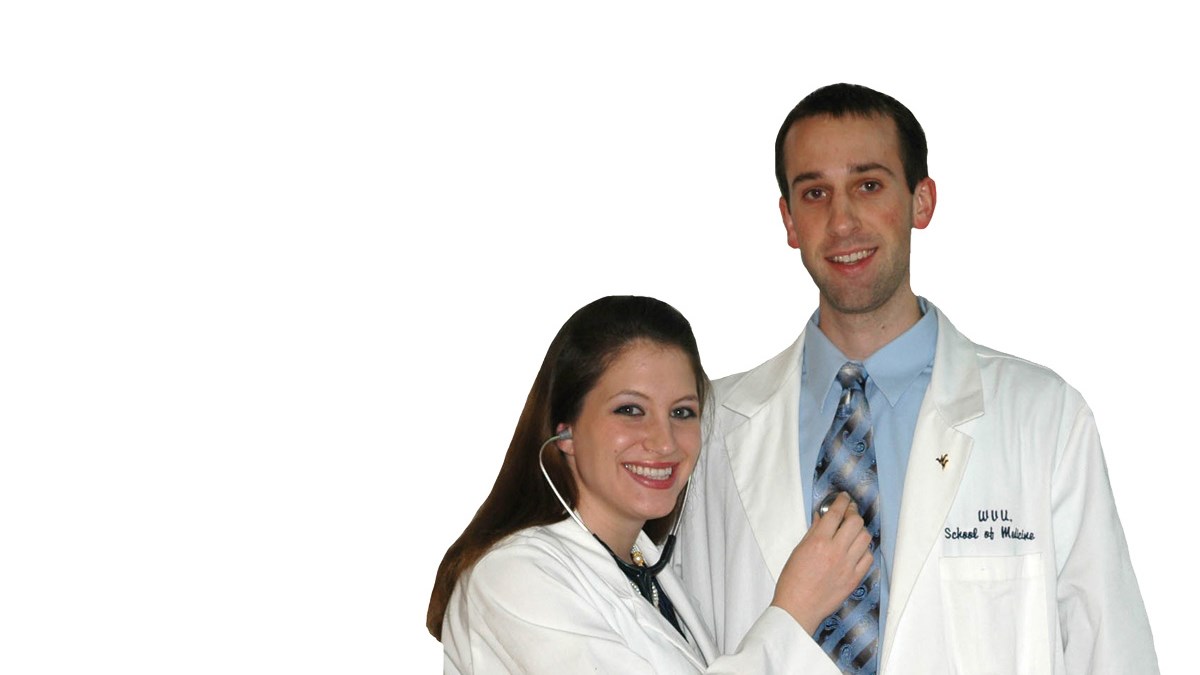 Hometown:

Middlebourne, WV and Mechanicsburg, PA

Undergraduate Degree:

BA, Biology/Spanish and BS, Biochemistry/Allied Health, West Virginia University and Susquehanna University

Residency:

Hilary will be completing a residency in Pediatrics at the WVU School of Medicine and Chad will be completing a residency in Urology at the WVU School of Medicine
1. What made you decide to get your MD degree at WVU?
Chad-Interviewing, I felt welcome. I'm from Pennsylvania and it felt like I fit in with the people that were here.
Hillary-I did my undergraduate education here and did some shadowing in Tyler county (where I'm from). The doctors studied medicine here at WVU and that got me excited about applying here. I also liked the early decision program. I liked knowing where I was going to be early.
2. What is appealing about the MD program?
Chad-Reputation and prestige of the program. Most programs are really serious and have stern looks; here I was greeted with a smile. It is also personable environment.
Hillary-I do like the community service requirement. We spend so much time with books and we get the chance to take the time and help others. You get the chance to take time and do the things that interest you.
3. You two went down to New Orleans with your classmates to help build homes. What was that like?
Hillary-It was a lot of fun. I learned a lot.
Chad-I got to learn a lot about our class. I got to know some people that I did not know really well before.
Hillary-New Orleans people were very appreciative for what we were doing. We knew we made a difference.
Chad-We were all at a restaurant and the owner recognized our group. He was really appreciative for why we where there.
4. What is your favorite part about the MD program?
Chad-Meeting Hillary.
Hillary-Meeting Chad. Neither of us thought we would meeting anyone, but we did. It helped us get through the program.
Chad-We balance each other. It is nice to have someone else who understands what you are going through.
5. How do you balance school, home, social life, and your relationship?
Chad-We try to do something together; study or eat.
Hillary-We had the same preceptor (PDCI) so we got to go to those together and practice our interviewing and clinical skills with each other. We also set a goal for what we really want do and do it.
6. How did you two meet?
Hillary-We were in the same hiking group with Dr. Martin at our orientation. We both tried to talk, but were nervous. We did get to talk and were surprised to meet someone.
Hillary-We also have the same friends. It is easy for us to get to know each other.
7. What are you goals after graduating?
Chad-To start a family and balance medicine with a family. We want to pick a residency that will help us balance working and our family.
Hillary-We will be married before the match so we can do a couples match.
8. What is your favorite thing to do outside of school?
Hillary- Lots of things. I like to go home and visit my family.
Chad-Going out to eat or going to the movies. We like to find stuff out side of school that doesn't' take a whole lot of time and still makes it feel like we are dating.
Hillary-We like to cook together.
9. Do you have any advice for anyone who wants to attend medical school?
Chad-Make sure it is what you want to do. It is a big time commitment. You will be working hard and studying a lot now and some of your friends will not be. They will be working and able to go on vacations and trips, but in time you will have the same opportunities as your friends.
Hillary-Learn as much as possible in undergraduate education. It will help you in the long run. Look into the requirements for medical schools that you are interested in and make sure you have those done. Also make sure you shadow or volunteer with a physician so you get to see what medicine is really like.