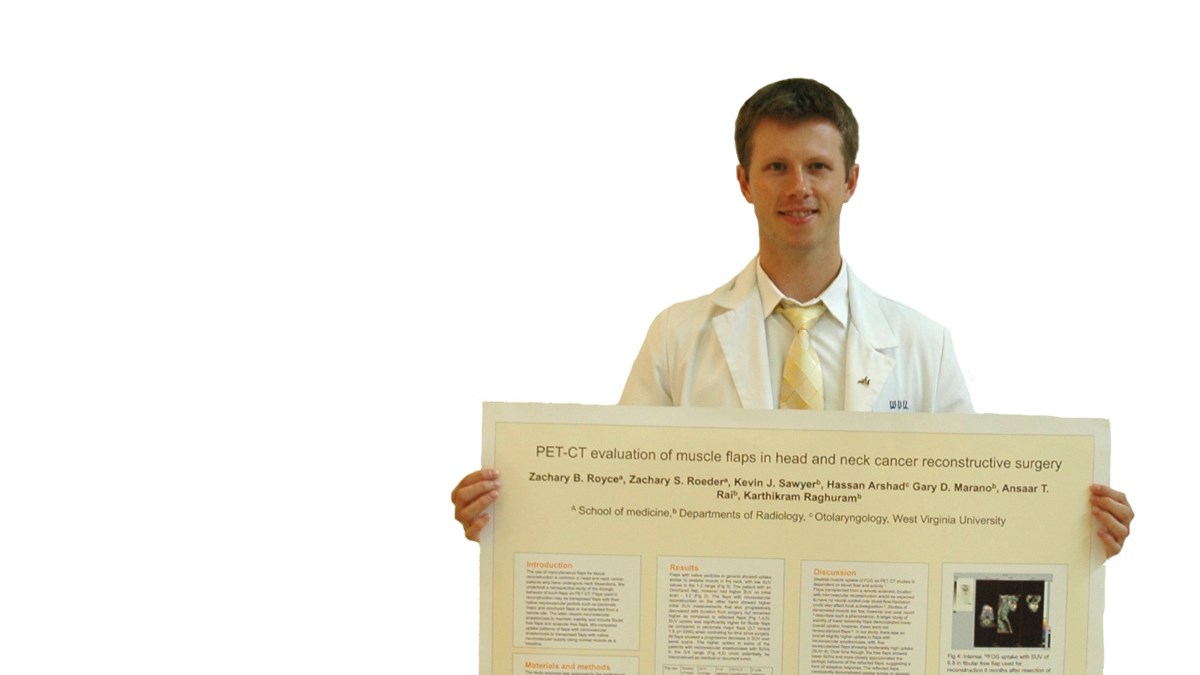 Hometown:

Morgantown, WV

Undergraduate Degree:

BS, Biology/Chemistry

Residency:

West Virginia Wesleyan College and Radiology at the University of Virginia
1. What made you decide to get your MD degree at WVU?
I'm from Morgantown and being close to my family was a big part of the decision. I also knew the school offered scholarships for early decision students which was an important factor.
2. What is appealing about the MD program?
I chose to go to medical school over other professional programs because medicine is more than just a paycheck. At the end of the day it's important to know that you made a difference in the lives of others.
3. What is your favorite part about the MD program?
I preferred the second year to the first year because it was more clinically oriented. Of the second year classes I would say I enjoyed Pathology the most. It was the most clinical in nature. I'm looking forward to experiencing real medicine in my third year rotations!
4. How do you balance school, home, and social life?
That is tough. There are definitely ups and downs, but it is important to remember to have a social life. There's more to life than the next test grade. It's important to remember family, friends, hobbies, exercise, etc. After all, you will do better in school if you are happy.
5. What made you decide to do radiology research in the summer after your first?
I did research in PET-CT with some of the faculty in the neuroradiology department here at WVU. It was a great experience! Certainly the best extracurricular I have participated in. We were lucky enough to attend the ASHNR conference in New Orleans in October 2009. Research experience is more important in some fields of medicine than others, but I highly recommend getting involved if you can. It's a great way to spend one-on-one time with faculty.
6. You presented at a national conference. How was the experience?
Awesome! It was just a poster presentation but a great experience nevertheless. I was an MSII at the time, and it sounded intimidating at first but it was really laid back. I was in a room full of posters and just stood by mine and answered questions. I would say the most beneficial aspect of research was getting to know the faculty and seeing what they do on a day-to-day basis.
7. What are your goals after graduating?
Right now I'm interested in radiology and surgery. I'd like to match into one of these fields. I like radiology because it always seems to be on the cutting edge of technology. It also offers the ability to specialize in interventional radiology, which is a procedural based branch of radiology. I went into medicine to do something hands on, so right now I would say those are the fields most appealing to me.
8. What is your favorite thing to do outside of school?
Playing golf. I took it up after I quit baseball in college. I like how you're always competing with yourself. You're always trying to beat your previous best. It's kind of like medical school in a way.
9. Do you have any advice for anyone who wants to attend medical school?
Make sure it is what you want to do because it is time consuming. Get as much exposure as you can and shadow doctors. The worst thing would be to realize it is not what you want to do after a year or two and have to pay off all that debt. However medicine can be very rewarding and I think anyone can find a field they would love.