Catherine & Carolyn Marcelo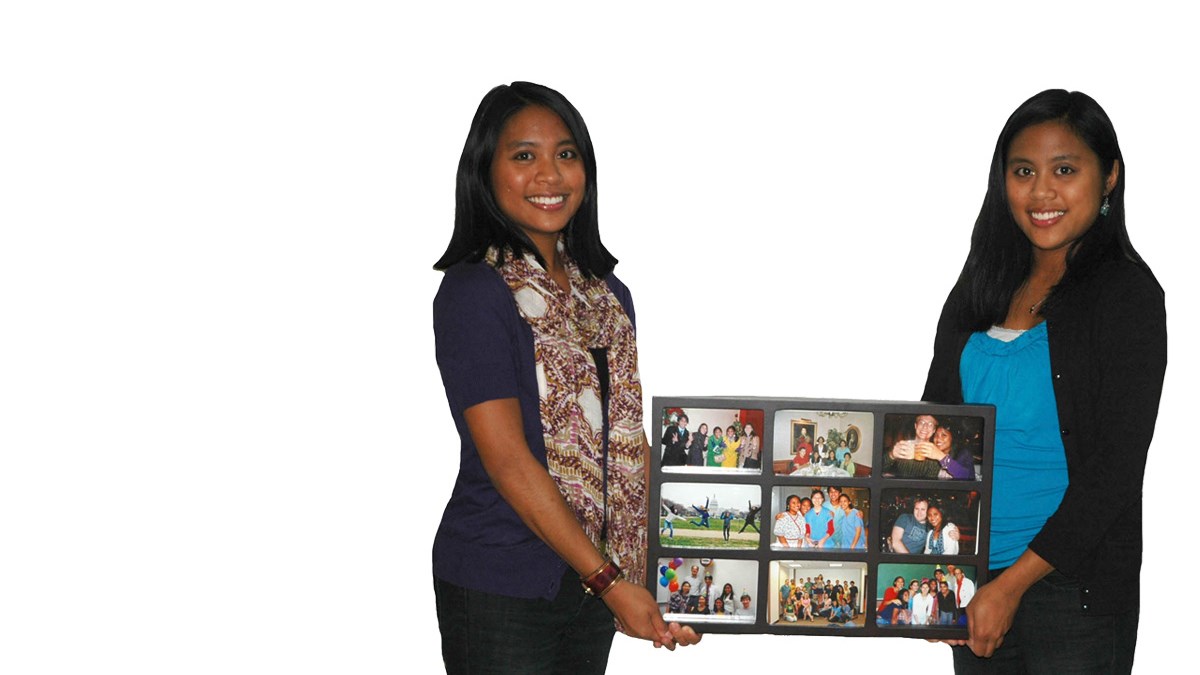 Hometown:

Huntington, WV

Undergraduate Degree:

BS, Biology/Chemistry, Xavier University

Residency:

Internal Medicine, Virginia Commonwealth University
1. What made you decide to get your MD degree at WVU?
Carolyn-We are West Virginia residents from Huntington. We had gone out-of-state for our undergraduate education, but we wanted to come back to West Virginia for medical school. Out of all the medical schools we looked at in WV, we liked this program the best; it has a deeply rooted tradition in the state, and we were impressed with the facilities and the people.
Catherine-I felt the same way. I asked the interviewer what kind of faculty was here. I wanted to know if they were open to students who asked questions and they told me they were and that asking questions was encouraged. I also liked how it was not a cut-throat medical school, but instead it was a nurturing school.
2. What is appealing about the MD program?
Carolyn- I am interested in primary care, and I like how they focus on that here at WVU.
Catherine- I like the patient interaction and how we apply our medical knowledge to them. How it is not all research and laboratory time and how we learn to put the patients first.
Carolyn-I also like the opportunities to be around the patients and the good shadowing experiences that you have from the very beginning.
3. What is your favorite part about the MD program?
Catherine- I like the clinical learning group and the problem-based learning groups. I enjoy working in groups with my peers. I also enjoyed the shadowing I have gotten to do, both in clinical and community settings. My sister and I did the family medicine externship in Huntington over the summer and that was a good experience.
Carolyn- I like the same parts that my sister does. A great feature of the MD program is the people: the students, faculty, and administration. They are so welcoming here, compared to what I have heard at other medical schools. I have talked to some friends that attend other medical schools, and they feel very pressured by the faculty to know everything; it doesn't sound like an appealing learning environment. Here the faculty genuinely wants you to learn and will try to help you in any way they can. They like it when you ask questions.
Catherine- The faculty tries to make it less stressful and keep you having a positive attitude here.
4. Do you think having your sister in your medical school class help or hurt your medical school experience?
Carolyn- It helps more than it hurts.
Catherine- I do not see how it hurts. We support each other by studying together and sharing notes.
Carolyn-We are past the point of competing with each other.
Catherine- We are different individuals with goals for our own selves.
Carolyn- Our peers know who is who and have figured out how different we are. Maintaining our own identities is very important to us.
5. How do you balance school, home, and social life?
Catherine-We combine the two. We study with friends and then go eat dinner together or just hang out.
Carolyn- We study in a small group of 5 people or so, and it is always nice to take a break together after exams. Our group of friends is big on birthdays so we like to plan surprise parties for each other.
6. Are you in any groups and if so do you think they have added to your experience at the WVU School of Medicine ?
Carolyn- We have been involved in the internal medicine and family medicine interest groups. We both worked on our class's Haiti relief effort and the New Orleans trip too.
Catherine- We are going to try and help the Asian Pacific American Medical Student Association be more active this year.
Carolyn- Planning the Haiti relief talent show last year was the highlight of our extracurricular activities.
Catherine-It is good to work with classmates, and organizations help bring people together in smaller groups.
7. What are your goals after graduating?
Carolyn-As long as I get into a good residency program that is not too far away from my friends and family I will be happy.
Catherine- Definitely something primary care, but it is hard to pick a specialty now. I want to know I have a secure job when I'm done.
8. What is your favorite thing to do outside of school?
Carolyn-I used to play the piano, but I fell out of it in college. I'm starting to get into it again. It would be great to get a piano now and just play; it's a great way to unwind.
Catherine-I love reading. I have so many books that I want to read and haven't gotten around to them. I just love to read.
9. Do you have any advice for anyone who wants to attend medical school?
Carolyn- Be nice to your fellow classmates.
Catherine-Get a support group because medical school is not as bad as you think it is and the support group helps. It is a lot less stressful with that group of people.
Carolyn- You could be very smart, but still not know everything you need to know with how to work with people. Being intelligent is not everything. As a doctor you will be around many different people, and it is important to know how to interact with people to be a great doctor.