About Us
The Profession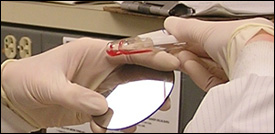 Clinical Laboratory Scientists are skilled professionals who perform and analyze laboratory tests used to diagnose and treat diseases and disorders. In addition to performing the many types of important laboratory tests, clinical laboratory scientists interpret data, analyze results, develop new procedures, manage information, and communicate with other members of the health care team. Specific knowledge and skills include culturing and identifying bacteria, using a microscope to differentiate cells, microorganisms, and crystals; and operating complex electronic instruments to analyze blood for the presence of normal, abnormal and malignant chemical elements, cells, and components. Clinical Laboratory Scientists determine drug levels to assess treatment and to detect drugs of abuse; prepare and select blood for transfusion; and evaluate the chemical, cellular, and immune composition of blood, and other body fluids. Other skills include operating sophisticated computerized instruments, data management, inventory control, and quality assurance.
Clinical Laboratory Scientists share certain characteristics: they share a strong desire to help others, they are problem solvers who enjoy challenge and responsibility, they have a high degree of commitment to their profession and a strong interest and ability in science. For those who choose a career in clinical laboratory science, the exploration never ends.
A Histotechnologist is a professional who is qualified through academic and applied science education and training to provide service, research, and management in histotechnology and areas related to anatomic pathology. Histotechnologists are integral to the success of the anatomic pathology department by performing routine and complex procedures to preserve and process tissue specimens. Specific tissue structures are visualized by utilizing specialized stains and are examined by a pathologist to diagnose diseases and disorders.
Histotechnologists also perform specialized techniques such as immunohistochemistry, immunofluorescence, electron microscopy and may also be responsible for tissue and autopsy dissection. Additional responsibilities include validating staining results and procedures to ensure accuracy and quality, troubleshooting instrument malfunctions, developing, evaluating and implementing new protocols, procedures and technology. Histotechnologists possess the knowledge and skills to work independently, direct and supervise laboratory operations and participate in the education of others.
Histotechnologists possess strong communication skills, work well under pressure, and have high quality standards set for themselves. They also have a deep commitment to their profession and enjoy a challenge and responsibility. A career as a histotechnologist will offer endless opportunities in a field where technology and methodology are constantly evolving.
For more information on Histotechnology as a career, please visit the following websites:
National Society for Histotechnology - http://www.hsh.org
American Society for Clinical professionals - http://www.ascp.org
Mission and Goals
The mission of the Clinical Laboratory Science and Histotechnology programs within the Medical Laboratory Science Division at West Virginia University is to provide a high-quality education leading to a Bachelor of Science degree that prepares graduates for their roles as members of the healthcare team in an environment of rapidly changing technology.
The goals of the program are:
to provide programs which meet the academic standards of the University;
to provide graduates for medical (both urban and rural) laboratories, public health laboratories, research laboratories, and industry;
to provide an educational background which enables graduates to assume teaching and supervisory positions in the healthcare field;
to provide an education background acceptable for graduate work in the medical sciences.
Career Opportunities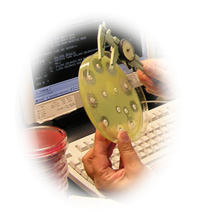 Job opportunities are excellent in this versatile profession. The U.S. Bureau of Labor Statistics estimates that hospitals will need nearly 10,000 new laboratory scientists each year. There is a critical shortage of laboratory personnel and this shortage will likely become more acute in the near future (link). Laboratory Scientists have many choices for practice: in hospitals, physician's office laboratories and reference laboratories.
Clinical Laboratory Scientists can work in each of the major areas of the clinical laboratory: blood banking, chemistry, hematology, immunology, and microbiology. In medical manufacturing and supply companies, clinical laboratory scientists develop, market, and sell products; conduct research; and monitor quality assurance.
Histotechnologists can work is specialized areas such as Mohs, electron microscopy , veterinary diagnostics, sales or research development.
Additionally, graduates of the WVU Division of Medical Laboratory Science have the professional competence to work in public health, forensic, research, veterinary, and fertility laboratories.
In addition, our graduates firmly believe that a degree in medical laboratory science from WVU is an excellent preparation for graduate school in the medical or dental professions or in the basic sciences.
History of the Programs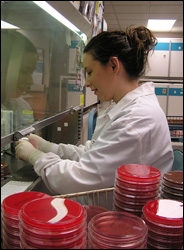 The Clinical Laboratory Science Program is the oldest allied health program at West Virginia University and was founded in 1945 by Dr. Edward J. Van Liere, the Dean of the School of Medicine, and Dr. G. G. Dodds as a 2 + 2 curriculum. The original curriculum was designed by Dr. Van Liere, Dr. Dodds, Dr. C.C. Fenton, the Head of the Department of Pathology, and Miss Mary Jo Henn, a registered technologist at the University Hospital Laboratories.
The first class of three students graduated with a B.S. degree in 1947. Since that time, the program has graduated nearly 1000 clinical laboratory scientists. Our graduates live and work throughout the United States and the world.

Miss Betholene F. Love became the Technical Director of the program in 1955. At that time the program was located in the Health Services Building on the Main Campus of the University. The program moved to the new Medical Center Campus in 1957. In 1960 with the completion of the new University Hospital, it was no longer necessary to send the students to the various laboratories in West Virginia and moved all clinical experiences to the new hospital. Kay Lawson Nichols was the first student to receive all of her clinical experience at WVU Hospital. Enrollment grew to over 20 students per class in the mide-60s to 30 students per class in the 70's.
In 1984, Dr. Betholene F. Love retired after 29 years as head of the clinical laboratory science program. Jean Holter became the interim program director in 1984 and program director in 1988 and served in that capacity until 2002. Karen Long was appointed as the interim program director while a search was conducted for a new director. In September 2003, Martha J. Lake, Ed.D. became the program director until her retirement in 2013. Beverly A. Kirby, Ed.D. was appointed program director July 2013, and continues in that role today.
From the History of Medical Technology at West Virginia University Vol. 1 & 2, 1984.
Founded in 2010, the Histotechnology Program was developed as an area of emphasis in the Medical Laboratory Science Division.  The curriculum was designed by the current program director, Kimberly Feaster who is a certified Histotechnologist and holds a Qualification in Immunohistochemistry.
The first class of five students graduated with a B.S. in Medical Laboratory Science in 2012.  Rachel Phillips (Wessman) received the first Histotechnology Achievement Award.  Since that time, the program has been successful in placing graduates throughout the United States.