Medical Students
Medical students at WVU have various opportunities to interact with the neurosurgeons during their course of study. Shadowing out-patient clinics, observing in the operating rooms, and rotations on the neurosurgery service give the medical students an exposure to a very demanding but rewarding specialty. 
Please review the Curriculum for additional program information.
Residency Visit Dates for 2017
Dates have been scheduled for the upcoming residency application visits for this fall. After these visits, the applicants will be scored and ranked. One lucky applicant will be selected to begin his/her residency in July 2018.
October 23
November 20
December 11
Virtual Reality Lab
The faculty and residents tried out the Center for Neuroscience's 3D Immersive Virtual Reality exploration of cell models. The CN lab members are drawn from biomedical and computer science graduate and undergraduate programs.
Jeopardy!
The Neurosurgery Residents played Neurosurgery Jeopardy! to prepare for their upcoming board exams.  As hard as our residents work every day, it's great they have a fun way to study for this important test.
I'll take Pathology for $100, Alex - I mean, Roy.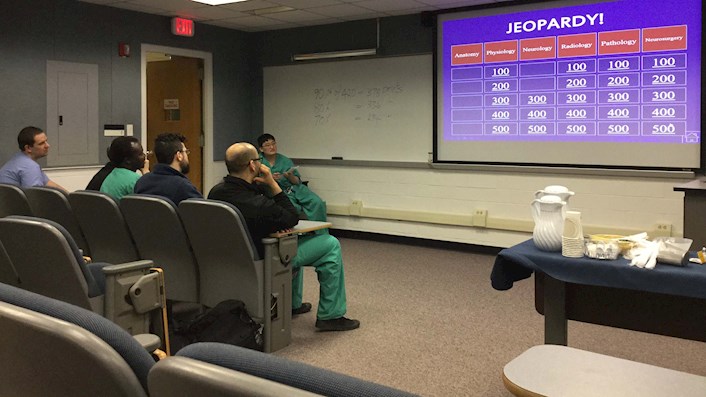 Spine Lab