The WV Healthy Start HAPI Project

Helping Appalachian Parents and Infants
Brief Project Overview:
Funded by: Health Resources and Services Administration (HRSA). HAPI is one of 96 Healthy Start Projects nationally. This is the only Healthy Start Project in West Virginia.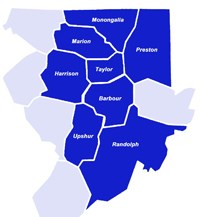 In Collaboration with: WV Office of Maternal, Child, and Family Health, West Virginia University, Health Departments, Community Health Agencies, Family Planning Clinics, OB/GYN Providers, Community Mental Health Centers, Domestic Violence Shelters, Social Service Agencies.
Target Population: Prenatal and Postpartum Women
Target Counties: Barbour, Harrison, Marion, Monongalia, Preston, Randolph, Taylor, and Upshur
Services available free through the Healthy Start/HAPI Project:
Services provided in-home, information/education on healthy pregnancy behaviors, postpartum depression, infant development, wellness, family building, healthy relationships, and healthy behaviors.
Assessments, referral, and payment of treatment for depression, smoking cessation, and family stress including medication and counseling. Assistance with transportation and childcare costs.
Services targeted to improve maternal well-being during pregnancy, postpartum and the interconceptional period.
Community involvement is the key to improving perinatal health. Consortium activities are targeted at increasing community collaboration at all levels and to increase consumer involvement and input into improving services throughout the perinatal healthcare system.

Specialized Oral Health Services for Pregnant Women:
Oral Health Education related to Pregnancy and Infants

A free Dental Cleaning and Screening

A free Sonicare toothbrush and instruction

A monthly supply of Crest toothpaste

A follow-up Dental screening
Eligibility Criteria:
Prenatal: Any current Right From The Start participant. Eligibility for pregnant women includes: WV Residents, WV Medicaid card.
Postpartum/Interconceptional: Eligibility based on Risk Screening criteria such as, smoking status, postpartum depression, low birth weight-Baby, high birth score, etc. Services extend for 2 years after the birth of the baby. "Mom" is the identified participant, services focusing on Mom's well being.
Goal: To help women have as healthy pregnancies and families as possible, reduce infant mortality, and low birth weight.
Penny S Womeldorff
West Virginia University
Position

Director of WV Health Start/HAPI Project, Obstetrics & Gynecology

Phone

304-293-1560
Lisa Cupp
West Virginia University
Position

Business Manager, Obstetrics & Gynecology

Phone

304-293-4946
Cassie Leonard
,
MD
West Virginia University
Position

Assistant Professor, Obstetrics & Gynecology
1-866-738-HAPI (4274)
To ask about Right From the Start Services eligibility, call the the Office of Maternal, Child and Family Health at 1-800-642-8522.
Contact Us:
Links:
National Healthy Start Association
---
WV Healthy Start / Navigator Project
Here are our navigators:
Kelly Allen, Navigator 
WVNAVD3700005
304-598-5150
Located in the Morgantown area
Serving Monongalia, Marion, Preston, Harrison, Taylor, Doddridge and Ritchie counties
Carol Bush, Navigator
WVNAVD3700004
304-457-1670
Located at Barbour County Health Department
Serving Barbour, Upshur, Randolph, Lewis, Tucker, Pendleton, and Pocahontas counties
Brittany Watts, Navigator
WVNAVD370007
304-851-6737
Located in Martinsburg, WV
Serving Berkeley, Grant, Hampshire, Hardy, Jefferson, Mineral and Morgan counties
James Adams, Navigator
WVNAVD3700006
304-218-2894
Located in Wheeling, WV
Serving Hancock, Brooke, Ohio, Marshall, Wetzel, Tyler, Pleasants and Wood