Biomaterials, Bioengineering & Nanotechnology Laboratory

"Integrity, Innovation & Persistence"
Group News: For the second time in three years, Dr. Li has been recognized internationally for his research in orthopaedic infection.  
Bingyun Li, PhD (CV)
Full Professor with tenure (2017-Present; Assistant Professor, 2005-2011; Associate Professor 2011-2017)
Department of Orthopaedics
Director, Biomaterials, Bioengineering & Nanotechnology Laboratory (2006-Present)
School of Medicine, West Virginia University
Visiting Professor, Harvard Medical School, Harvard-MIT Division of Health Science (2014-2015)

Fellow, IAES
Guest Researcher, NIOSH, CDC, Morgantown, WV
Participant, Drug Discovery and Therapeutics Group
Member, West Virginia Clinical and Translational Science Institute (WVCTSI, 2012-Present)
Member, American Chemical Society (ACS); American Society for Microbiology (ASM); Materials Research Society (MRS); Orthopaedic Research Society (ORS); Society for Biomaterials (SFB).
Research Interests:
Advanced Materials:

Nanostructured peptide, unique nanofiber and nanoflowers, phase-change materials, nano-layered sorbent

Infection:

Intra-cellular infection, immunotherapeutic approaches against infection, antimicrobial peptide, and antimicrobial hydrogel

NanoMedicine and NanoToxicity:

Nanocoating/capsule, nanoencapsulating live cell, targeting intra-cellular pathogens, nanotoxicity of metal and polymer nanoparticle
Animal Models and in vivo Studies: Open fracture rat model, spine infection rabbit model, bioluminescent infection model, and intra-tracheal instillation rat model

Clinical Studies:

Chronic and recurrent infection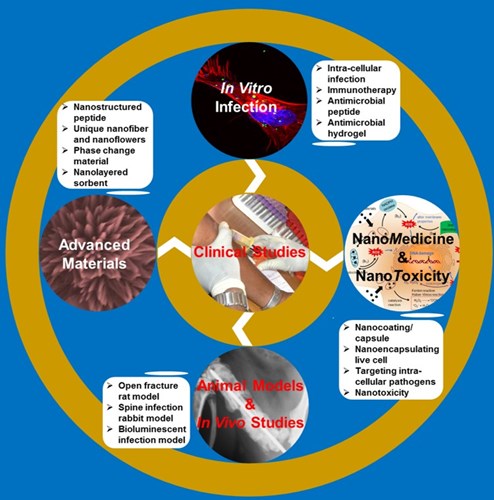 Sources of Support:  AO Foundation; DoD; DoE/NETL; Nanoconduction, Inc.; NASA WV; NIH; NSF; Osteosynthesis & Trauma Care Foundation; WV Higher Education Policy Commission; WVU Research Corporation.
Grant Proposal Reviewer:  NSF, NIH, U. S. Army Research Office, U.S. Department of Veterans Affairs, U.S. Department of Energy, U.S. Civilian Research and Development Foundation, Orthopaedic Research and Education Foundation (OREF), AO Foundation, American Chemical Society Petroleum Research Fund, Research Grant Council (RGC) of Hong Kong, Scottish Clinical Academic Training Fellowships, University of Kentucky CTSA pilot grants, Louisiana Board of Regents, Jeffress Memorial Trust, Wellcome Trust/DBT India Alliance.
Associate Editor/Editor: Journal of Biomedical and Bioengineering (2011-); Clinical Research on Foot & Ankle (2012-); Orthopedic & Muscular System (2012-).
Editorial Board Member: Journal of Bioengineering & Biomedical Science (2010-); Journal of Chemical and Process Engineering (2014-); Journal of Pharmacology and Pharmacogenomics; Recent Patents on Nanotechnology; Science Postprint; World Journal of Orthopaedics (2012-); TheScientificWorldJOURNAL; ISRN Biomedical Engineering; ISRN Biomedical Engineering (2013-); Orthopedic Research and Physiotherapy (2014-); Journal of Pharmocology & Pharmacogenomics (2014-); Journal of Novel Immunology; International Journal of Osteology and Orthopedics (2014-); Journal of Biotechnology and Cell Biology (2014-); Journal of Vaccines and Immunology (2014-); Science Postprint (2014-); British Journal of Applied Science & Technology (2014-); International Biological & Biomedical Journal (2015-); Journal of Biochemistry and Molecular Biology Research (2015-); International Journal of Orthopaedics (2015-); International Journal of Nanomaterials, Nanotechnology and Nanomedicine (2015-); Journal of NanoMedicine and Applications (2015-).
Archival Journal Reviewer (51 journals):  ACS Applied Materials & Interfaces; Acta Biomaterialia; Advanced Biomaterials; Advanced Drug Delivery Reviews; Advanced Functional Materials; Advanced Materials; Advanced Science Letters; Antimicrobial Agents and Chemotherapy; Applied Physics Letter; Biologics: Targets & Therapy; Biomacromolecules; Biomaterials; Biomedical Engineering-Applications, Basis and Communications (BME); Biotechnology and Bioengineering; Biotechnology Research International; British Microbiology Research Journal; Carbohydrate Polymers; Cellular Physiology and Biochemistry; Clinical Medicine Insights: Arthritis and Musculoskeletal Disorders; Clinical Orthopaedics and Related Research (CORR); Energy & Fuels; European Cells & Materials; European Polymer Journal; Fuel; International Journal of Biomedical Nanoscience and Nanotechnology; International Journal of Interferon, Cytokine and Mediator Research; Journal of Antimicrobial Chemotherapy; Journal of Biomaterials Science: Polymer Edition; Journal of Biomedical Materials Research; Journal of Biomedical Nanotechnology; Journal of Colloid and Interface Science; Journal of Interferon & Cytokine Research; Journal of Materials Chemistry; Journal of Microencapsulation; Journal of Nanoscience and Nanotechnology; Journal of Orthopedic Research; Langmuir; Materials Science & Engineering - C; Materials Today; Microbial Pathogenesis; Microbiology - Concepts and Applications; Nanomedicine (UK); Nanomedicine: NBM; Nanoscale; Nature Communications; Open Biomaterials Journal; Orthopedic Research and Reviews; PLoS ONE; Recent Patents on Nanotechnology; Sensors and Actuators B; Tissue Engineering.
Honors (selected):
More than 36 students in Dr. Li's group received awards, fellowships, and prizes at local, national, and international leves.
Dr. Li has given more than 26 invited talks at national and international conferences.
Dr. Li received the ORS Collaborative Exchange Award, 2013.
Dr. Li received the Asia Pacific Orthopaedic Association (APOA)-Pfizer Best Scientific Paper Award, 2013.
Dr. Li received the AO Foundation Award, 2013.
Dr. Li was awarded the 2011 Berton Rahn Prize from the AO Foundation. This prize, which honors the best completed project funded by the AO Foundation, includes a monetary award and an invited presentation at the AO trustees meeting in Berlin. The AO foundational is a medically guided international nonprofit foundation funding work on trauma and musculoskeletal surgery.
Dr. Li was invited to the AOTrauma Clinical Priority Program on Bone Infection Meeting, Boston, MA, July 2010.
Dr. Li received the Osteosynthesis and Trauma Care Foundation Award, 2009.
Dr. Li was an invited speaker and panelist at the Cool Tech Nanomedicine event (Northern Virginia Technology Council), McLean, Virginia, November 2008.
Dr. Li was selected as a participant in the U.S.  Bone and Joint Decade's Young Investigator Initiative (YII) Program, 2007-2008.
Dr. Li was awarded the NSF Fellowship for the NSF Summer Institute on Nano Mechanics and Materials, Los Angeles, CA, 2007.
Dr. Li received the Top Director's Award, Institute of Metal Research, Chinese Academy of Sciences, 2000.
Dr. Li received the Top Presidential Scholarship of Chinese Academy of Sciences, 1999.
Positions Available:
Postdoc and graduate positions are occasionally available, please email bili@hsc.wvu.edu for availability. Joined graduate trainings and self-funded visiting students and other scholars are welcome.
Dr. Li has mentored 83 trainees (details please see his CV) including 8 research residents, 9 PhD students, one master's student, 18 MD students, 31 undergraduates, one high school student, 6 postdoctoral research associates, and 9 visiting scholars (one MD/PhD visiting student, 5 visiting attending physicians, three visiting professors).