July 2016 Case 1
A healthy 16 year old male reported vision problems
Mehenaz Hanbazazh M.D.; David Burch, M.D., Kymberly Gyure, M.D.
Overview
During a doctor's appointment in 2010 an otherwise healthy 16 year old male reported vision problems but no additional information is available regarding this issue. In mid-2014, he was evaluated for nose bleeds and was reported to have a normal external eye examination.  Shortly thereafter he was treated for right distal radial fracture due to a dirt bike accident, and again was not found any vision issues. Later in 2014, he was evaluated for worsening vision.  Examination revealed retinal detachment with a temporal dome-shaped elevation of the retina.  B scan was suggestive of intraocular tumor vs possibly a non-resolving choroidal hemorrhage.  He was referred to the Wills Eye Institute in Philadelphia but did not follow up.  He returned to his local doctor in 2016 due to total vision loss in left eye and was referred to West Virginia University Hospital for enucleation.
Gross and Microscopic Descriptions
Gross
Pigment is seen at the external portion of the globe overlying the mass (figure 1).  The tumor is 0.8 cm from the optic nerve margin (figure 2).  Transverse sectioning of the globe reveals a well-defined, brown, homogenous mass in the superior and inferior temporal quadrants with an overall measurement of 2.0 x 1.4 x 1.0 cm (figure 3). No gross involvement of the sclera is identified.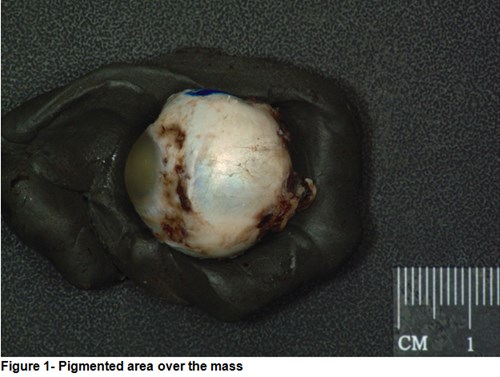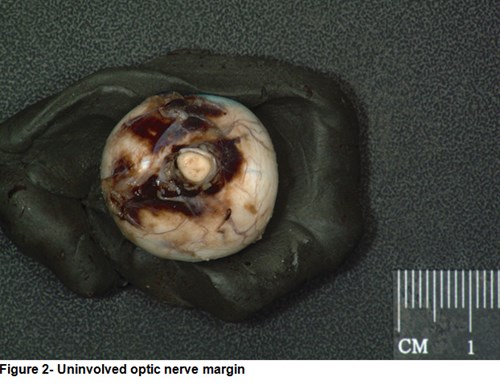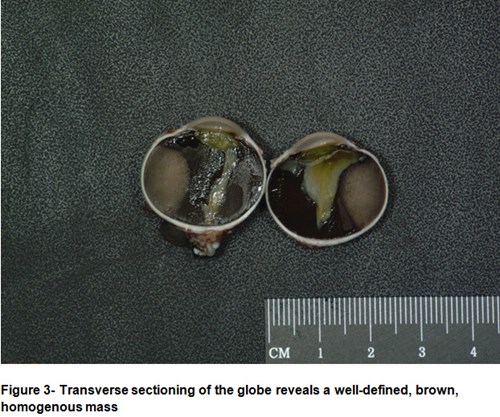 Microscopic
Scanning of the enucleated eye specimen shows a temporal dome shaped pigmented mass (figure 4).  Focal intrascleral extension was also found.  Low magnification demonstrates sheets of amphophilic spindle-shaped cells (figure 5). Higher magnification reveals oval nuclei and prominent eosinophilic nucleoli in between scattered pigmented macrophages (figure 6 and 7).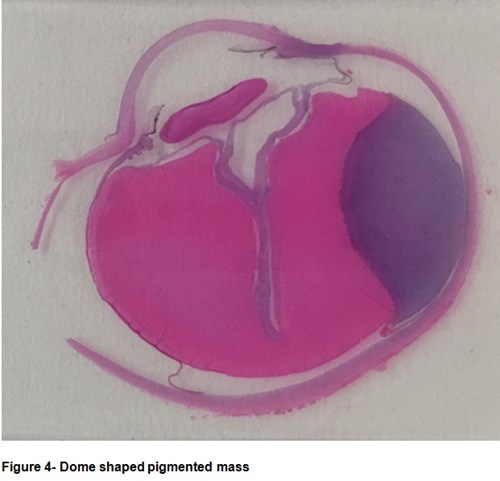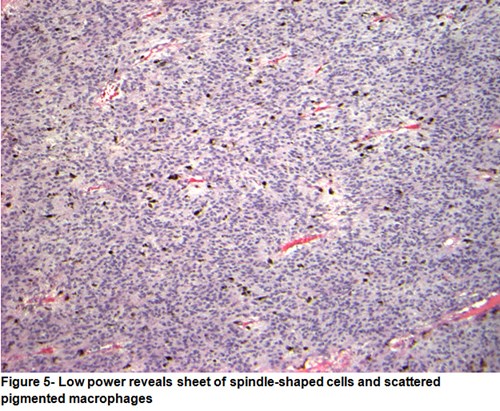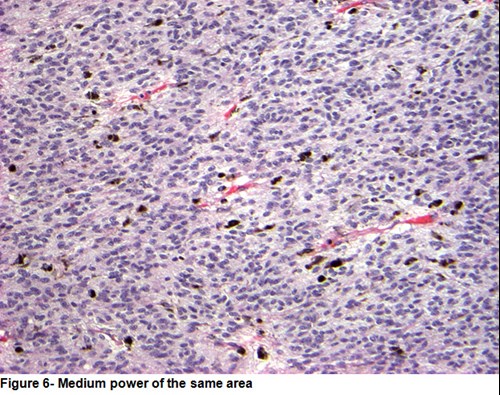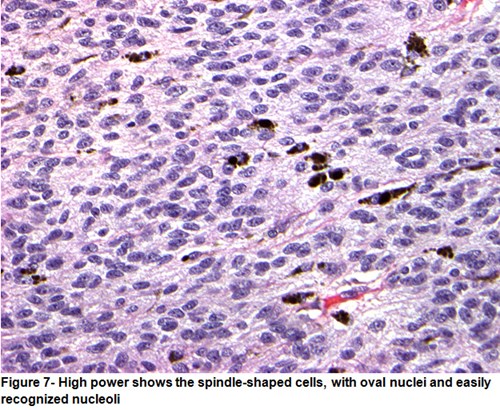 Diagnosis
Answer
Please select an answer above.
Discussion
Uveal melanoma is the most common primary intraocular malignancy in adult. It is derived from uveal melanocytes originating from the neural crest.1 They can be divided into anterior (iris) uveal melanomas (5%) and posterior uveal melanomas of either the ciliary body (23%) or choroid (72%).2,3
Incidence
The incidence in the United States is 4.3 per million, with a higher rate in males (males 4.9 per million; females 3.7 per million).4  The average age of incidence is 58 years with only 1% occurred at the age of 20 years or younger 5,6  Fortunately, younger patients have a better prognosis with lower risk of metastasis.
Risk factors
The incidence of uveal melanoma is higher in people with light skin color, blond hair, and blue eyes 7. The effect of UV exposure as a risk factor is inconclusive.8  Patients with oculo (dermal) melanocytosis9, and atypical cutaneous moles10 tend to develop it at earlier age.  Having the same origin (neural crest), a possible association between neurofibromatosis type 1 and uveal melanoma has been suggested.
Molecular and Genetic
The chromosomal abnormalities include loss of one copy of chromosome 3 (the chromosome that contains the BAP1 gene), losses of 6q and 1p, and gains of 6p and 8q.  GNAQ mutation is the usual driver of uveal melanocytic proliferations but it is loss of tumor suppressor gene BAP1 that is most commonly associated with progression to malignancy and metastasis. 11,12  BAP 1 loss (monosomy 3) and BAP1 mutation are associated with poor prognosis.12  Other mutations associated with uveal melanoma, such as SF3B1 and EIF1AX, portend a less serious prognosis.13,14
Gene expression profile (DecisionDx-UM™ test) evaluates gene expression within the tumor to determine the five year metastasis risk, and reported as class 1 for low metastatic risk and class 2 for high metastatic risk15
Clinical features
Clinical presentation depends on the size, location, and the secondary effects of the tumor (ex: retinal detachment and glaucoma).16 The tumor might be asymptomatic, or the patient may presents with blurred vision, floaters, and progressive decrease in visual fields. 1 In children, it is likely to display anterior iris location, small size, loss of pigmentation, less subretinal fluid, and less extraocular extension.5 Signs that increase the possibility of malignancy include large size, prominent vascularity, tumor seeding, high intraocular pressure, and secondary tumor effects such as hyphema.17 Uveal melanoma most commonly metastasize by the hematogenous route to the liver, lungs, and bones 1
Gross pathology
Examination of the enucleated eye should include the location, size, color, and growth pattern of the tumor (dome-shaped, mushroom-shaped, or diffuse), as well as any grossly evident invasion of the optic nerve margin and other ocular structures.
In contrast to our case, uveal melanoma in children tends to be in the iris with smaller size than adult.18
Histopathological features
The American Joint Committee on Cancer (AJCC) defined the histopathologic types as follows:

Spindle cell melanoma (greater than 90% spindle cells)
Epithelioid cell melanoma (greater than 90% epithelioid cells)
Mixed cell melanoma
This classification also has prognostic significance for tumors of the choroid and ciliary body, not those of the iris, which generally have a benign course, in which spindle cell melanomas have the most favorable prognosis (grow slowly), and epithelioid cell melanomas the least favorable in terms of survival19 , while the prognosis of mixed cell melanoma corresponds with the proportion of the epithelioid cells 20
Spindle cells tend to be cohesive, with elongated nuclei and eosinophilic nucleoli. It is more common to be found in children (46%) 9.
Epithelioid cells are dyshesive with distinct cell borders, large, polygonal, with large pleomorphic nuclei and prominent eosinophilic nucleoli, 12,21 and it is more commonly to exhibit pigmentation, necrosis, and inflammation.22
Epithelioid cell type, high mitotic rate, tumor-infiltrating lymphocytes, and vortex vein invasion are associated with poor prognosis.
Summary
Uveal melanoma is the most common primary intraocular malignancy in adult. Patients with oculo (dermal) melanocytosis and atypical cutaneous moles tend to develop it at earlier age.
 Although uveal melanoma is rare in children, is smaller in size, has less pigmentation, and has absence of symptomatic subretinal fluid, it should be suspected in any child with a melanocytic intraocular tumor. It usually has better prognosis, depending on clinical and genetic evaluation. 9,24
Uveal melanoma is divided into three histopathologic types: spindled which is associated with good prognosis and is more common to be found in children; epithelioid which is associated with poor prognosis; and mixed. On a genetic basis monosomy 3 and BAP1 mutation suggest a poor prognosis.
References
Kashyap S, Meel R, Singh L, Singh M. Uveal melanoma. . 2015.
Shildkrot Y, Wilson MW. Update on posterior uveal melanoma: Treatment of the eye and emerging strategies in the prognosis and treatment of metastatic disease. Curr Opin Ophthalmol. 2009;20(6):504-510. doi: 10.1097/ICU.0b013e328330b549 [doi].
van Beek J, de Klein A, Koopmans A, Kilic E, Naus N, Verdijk R. Diagnosis, histopathologic and genetic classification of uveal melanoma. INTECH Open Access Publisher; 2013.
Singh N, Bergman L, Seregard S, Singh AD. Uveal melanoma: Epidemiologic aspects. In: Clinical ophthalmic oncology. Springer; 2014:75-87.
Shields CL, Kaliki S, Furuta M, Mashayekhi A, Shields JA. Clinical spectrum and prognosis of uveal melanoma based on age at presentation in 8,033 cases. Retina. 2012;32(7):1363-1372. doi: 10.1097/IAE.0b013e31824d09a8 [doi].
Shields CL, Furuta M, Thangappan A, et al. Metastasis of uveal melanoma millimeter-by-millimeter in 8033 consecutive eyes. Arch Ophthalmol. 2009;127(8):989-998.
Schmidt-Pokrzywniak A, Jöckel K, Bornfeld N, Sauerwein W, Stang A. Positive interaction between light iris color and ultraviolet radiation in relation to the risk of uveal melanoma: A case-control study. Ophthalmology. 2009;116(2):340-348.
Pane AR, Hirst LW. Ultraviolet light exposure as a risk factor for ocular melanoma in queensland, australia. Ophthalmic Epidemiol. 2000;7(3):159-167.
Singh AD, Shields CL, Shields JA, Sato T. Uveal melanoma in young patients. Arch Ophthalmol. 2000;118(7):918-923.
Greer C. Congenital melanoma of the anterior uvea. Arch Ophthalmol. 1966;76(1):77-78.
Coupland SE, Lake SL, Damato B. Molecular pathology of uveal melanoma. In: Clinical ophthalmic oncology. Springer; 2014:125-136.
Griewank KG, Murali R. Pathology and genetics of uveal melanoma. Pathology. 2013;45(1):18-27. doi: 10.1097/PAT.0b013e32835c6505 [doi].
Kalirai H, Coupland SE. An update on ocular melanoma. Diagnostic Histopathology. 2015;21(1):19-25.
Harbour JW, Roberson ED, Anbunathan H, Onken MD, Worley LA, Bowcock AM. Recurrent mutations at codon 625 of the splicing factor SF3B1 in uveal melanoma. Nat Genet. 2013;45(2):133-135.
Harbour JW, Chen R. The DecisionDx-UM gene expression profile test provides risk stratification and individualized patient care in uveal melanoma. PLoS Curr. 2013;5.
Schalenbourg A, Zografos L. Uveal melanoma: Clinical features. In: Clinical ophthalmic oncology. Springer; 2014:89-98.
Shields CL, Shields JA, Materin M, Gershenbaum E, Singh AD, Smith A. Iris melanoma: Risk factors for metastasis in 169 consecutive patients. Ophthalmology. 2001;108(1):172-178.
Shields CL, Kaliki S, Arepalli S, et al. Uveal melanoma in children and teenagers. Saudi Journal of Ophthalmology. 2013;27(3):197-201.
Grossniklaus HE, Kivëla T, Finger P. Protocol for the examination of specimens from patients with uveal melanoma. College of American Pathologists Cancer Protocols. 2011.
Coupland SE. Analysis of intraocular biopsies. Dev Ophthalmol. 2012;49:96-116. doi: 10.1159/000328266 [doi].
Edge SB, Compton CC. The american joint committee on cancer: The 7th edition of the AJCC cancer staging manual and the future of TNM. Annals of surgical oncology. 2010;17(6):1471-1474.
Group, Collaborative Ocular Melanoma Study. Histopathologic characteristics of uveal melanomas in eyes enucleated from the collaborative ocular melanoma study COMS report no. 6. Am J Ophthalmol. 1998;125(6):745-766.
Burnier Jr MN, McLean I, Gamel J. Immunohistochemical evaluation of uveal melanocytic tumors. Expression of HMB-45, S-100 protein, and neuron-specific enolase.Cancer (Phila.). 1991;68:809-814.
Sivalingam MD, Hasanreisoglu M, Shields CL. Choroidal melanoma in children: Be aware of risks. J Pediatr Ophthalmol Strabismus. 2014.