January 2017
Suspected Neglect in a Young Disabled Man Found Dead
Christine James, DO and Joseph A. DelTondo, DO
Neglect in children and in elderly patients is well documented in the literature. Much less attention has been given to neglect of the disabled population. With autism spectrum diagnoses on the rise, families may more frequently care for their adult children than in the past. This situation can lead to hardships and sadly, to abuse. However, natural illness may mimic neglect, and accusations can lead to unnecessary stress and grief for the family. The following autopsy case is presented to elucidate the differences between neglect and natural illness. 
A young man with a history of developmental delays and limited verbal communication skills was found dead in bed one morning. He had a past medical history significant for a mixed germ cell tumor of the right testis (60% embryonal carcinoma, 40% immature teratoma), which had been treated by orchiectomy and staging lymphadenectomy. Twelve days prior to death he was discharged from the hospital for a partial small bowel obstruction. Multiple previous referrals to adult protective services had been made, but no complaints were ever validated by investigation. A complete autopsy was performed to determine if neglect attributed to death.

Pertinent Findings
The decedent was received in clean clothing, and the body was clean in appearance. The body habitus was Marfanoid and slightly cachectic. The body had several small scattered contusions, but no other injuries such as healing or new fractures. The abdomen had a 10 inch vertical, linear midline surgical scar corresponding to his prior staging lymphadenectomy.
When the abdomen was opened, dense fibrous adhesions were seen between loops of small bowel and to the abdominal peritoneum. The proximal small bowel was necrotic with green-black discoloration involving a measured 36 cm length (Figures 1 and 2). The infarcted segment was defined by an adhesion causing stricture and strangulation of the small bowel. The mediastinum and retroperitoneum had lymphoceles (Figure 3). No residual germ cell tumor was identified in submitted lymph nodes. The pulmonary valve was bicuspid with a raphe in the medial cusp (Figure 4). The right testis was remotely surgically absent.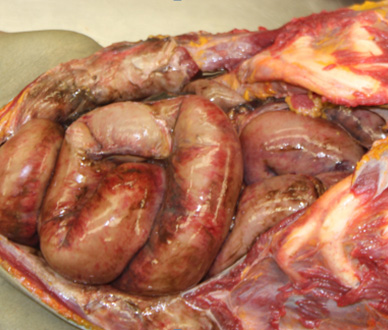 Figure 1. Loops of dilated small bowel.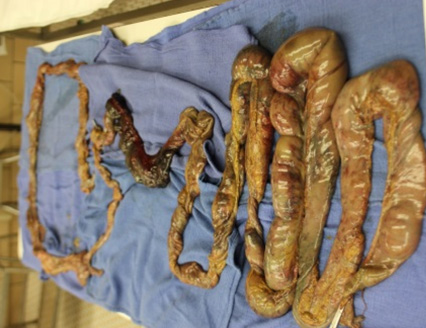 Figure 2. Ischemic change in small bowel due to abdominal adhesions.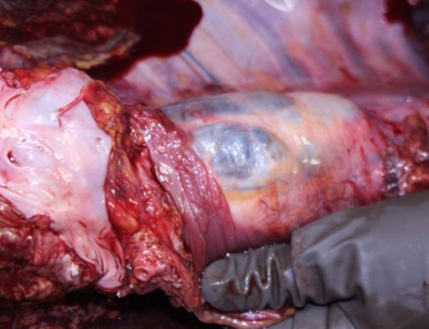 Figure 3. Retroperitoneal lymphocele.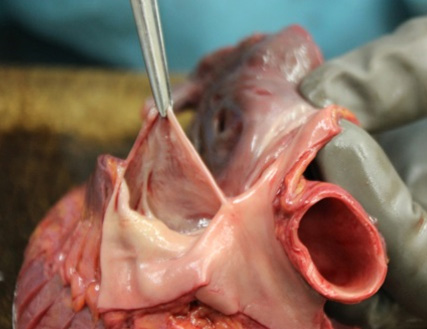 Figure 4.  Bicuspid pulmonary valve with median raphe.
Diagnosis
Answer
Please select an answer above.
Discussion
By definition, the cause of death is the underlying injury or disease process that begins the pathophysiologic sequence of events that leads to the ultimate demise of the person.1 In this case, the decedent had a small bowel infarction and rupture due to bowel strangulation by abdominal adhesions. The adhesions were the product of a surgical lymphadenectomy procedure to stage his mixed germ cell tumor. Therefore, his cause of death is the sequelae of his testicular cancer. His family had provided him with necessary medical care in the past and took appropriate care of his physical and mental disabilities. Our findings did not support the accusations of suspected neglect.
People with developmental delays and learning disabilities have an increased risk of early death. In one study by Hollins et al., the risk of dying before the age of 50 was fifty-eight times higher than in the general population. They found that respiratory disease was the leading cause of mortality in this population and attributed it to a "less than optimal medical care for adults with learning disabilities."2 This suboptimal care should not be misconstrued as neglect as it can be attributed to factors related to the disability such as difficulty vocalizing their discomfort and explaining symptoms to caretakers.
Identifying true neglect in a developmentally delayed or disabled person may prove challenging.  The disabled person might be shunned within their household and lack interaction outside the home.  They may lack the communication skills needed to relay their feelings and situation to other family members, social workers, or teachers. They may also remain silent in fear of retaliation by their caregivers or may not understand that the mistreatment is not acceptable.3 In the event of death, one must take care to unravel which conditions are attributable to an underlying disability or chronic disease process and which are attributable to actual abuse or neglect. Medical personnel should conduct a thorough investigation and base their decisions on solid findings and not hasty accusations.
Neglect is often a precursor to violence and includes withholding food, denying basic care, and ignoring needs for medical and disability-specific care.2 Nursing facilities and family members have been charged with homicide for improper and inadequate care of patients. These patients are typically elderly, with the most common being dementia patients. Signs of neglect include contractures, malnutrition, dehydration, and decubitus ulcers. Convictions for manslaughter have been obtained in cases where death resulted from infected, untreated decubitus ulcers. Research and publications may be limited because the subject is difficult to track. Only a minority of death certificates mentioned an underlying handicap in one study. 3
References
Adams VI. Guidelines for reports by autopsy pathologists. 1st ed. Totowa, NJ: Humana Press, Inc; 2008. 10.1007/978-1-60327-473-9.
Hollins S, Attard MT, Von Fraunhofer N, McGuigan S, Sedgwick P. Mortality in people with learning disability: Risks, causes, and death certification findings in London. Developmental Medicine & Child Neurology. 1998; 40.1: 50-56.
Groce NE, Paeglow C. UN Secretary General's Report on Violence Against Children Thematic Group on Violence Against Disabled Children: Summary Report. New York, NY: UNICEF; 2005.