WVU offers one of only six programs in the nation for Predoctoral Training at the Interface of the Behavioral and Biomedical Sciences.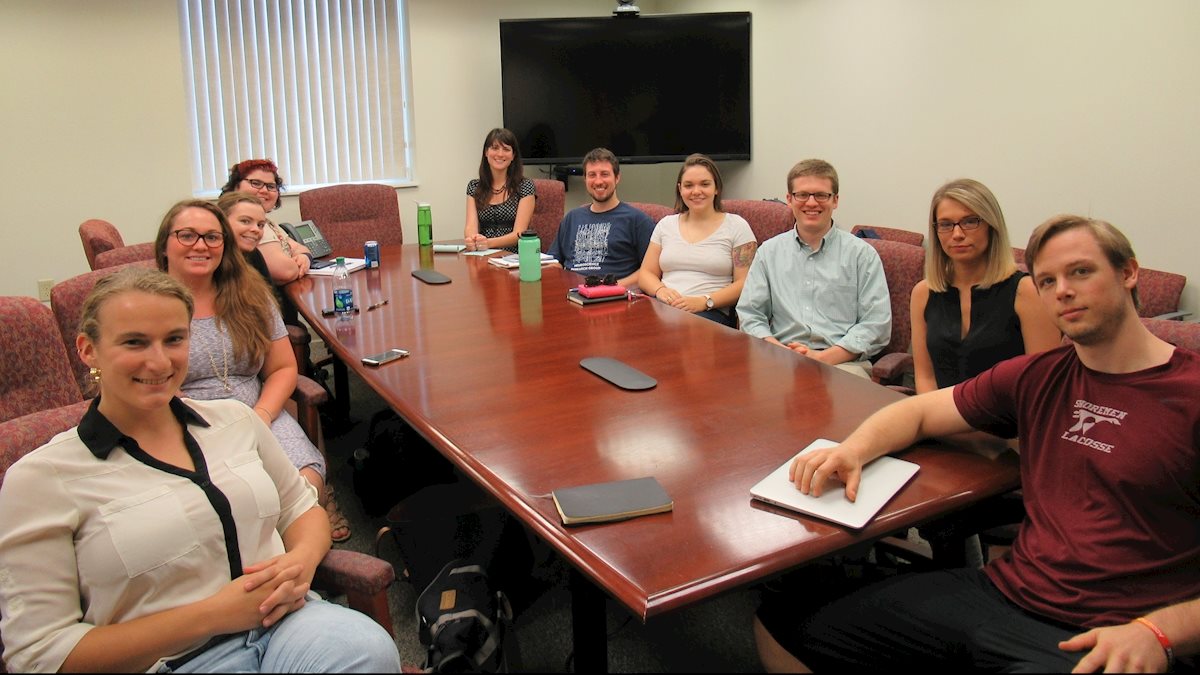 West Virginia University is committed to training the next generation of health researchers who work at the interface of behavioral and biomedical sciences. Through its Research Training Program in Behavioral and Biomedical Sciences (BBS), supported by the National Institute of General Medical Sciences, WVU sponsors six student traineeships each year. The program is supported by one of only six training awards throughout the nation. One of the main challenges of this training program is to bridge scientific and cultural differences between disciplines.
"Being a trainee in the BBS program has helped me meet researchers outside of my department and has exposed me to various research projects being conducted university-wide," said Jenny Ozga, a doctoral student from Marion, Illinois, studying in the Department of Psychology. "It has also given me essential training in grant writing as well as symposium organization, and has expanded the diversity of my training by giving me the opportunity to do a clinical immersion, in addition to interdisciplinary research experiences. I believe that being a part of the program will make me a more competitive candidate for job and post-doctoral opportunities."
The program draws on existing high-level training in the biomedical, psychology, public health, and health services and outcomes research doctorate programs and provides added value through an interdisciplinary curriculum and activities that foster scientific leadership, communication skills, teaching excellence and responsible conduct of research.
Unique to this program is the opportunity for clinical shadowing to highlight the translational potential of behavioral and neuroscience research. During their two years in the program, BBS trainees develop a deep understanding of complex problems that have significant public health relevance.
"The BBS fellowship was invaluable to my professional growth through its emphasis on promoting interdisciplinary collaboration, independent thinking and the organization of events and seminars," said Joshua Gross, a doctoral student from Lancaster, Pennsylvania, studying in the Department of Physiology, Pharmacology & Neuroscience. "I think that the program would be an important facet of training for any graduate student fortunate enough to be a part of it."
"The BBS training program, now in its tenth year, has succeeded in bringing together students and faculty from diverse backgrounds that share a common interest in understanding brain-behavior relationships," said Albert Berrebi, Ph.D., program director and professor in the Department of Otolaryngology–Head and Neck Surgery, and assistant vice president for research at the WVU Health Sciences Center. "It's been very rewarding to observe the professional growth and scientific maturation of this cadre of exceptionally talented young scientists."
The culminating highlight of last year's BBS program activities was a Spring Symposium at the Health Sciences Center that was organized and hosted by the trainees. The Symposium brought together local experts Erin Winstanley, Ph.D and James Berry, M.D., as well as distinguished guest speaker Laura Bohn, Ph.D from the Scripps Research Institute to discuss the opioid epidemic that impacts so many families in our region of the country.
Photo: The current group of trainees and associate scholars at a planning meeting. From left to right: Rachel Hostetler (associate scholar, Neuroscience program), Cory Whirtley (associate scholar, Behavior Analysis program), Kristine Durkin (associate scholar, Clinical Child Psychology program), Amanda Stover (associate scholar, Health Services and Outcomes Research program), Diedre O'Dell (returning trainee, Neuroscience program), Nick Felicione (returning trainee, Behavioral Neuroscience program), Kristen Trexler (new trainee, Behavioral Neuroscience program), Casey Wright (associate scholar, Clinical Psychology program), Rebecca Hagedorn (new trainee, Human Nutrition and Foods program), Shane Kaski (new trainee, M.D./Ph.D., Cellular and Integrative Physiology program). Not pictured, Desiree Williford (returning trainee, Clinical Child Psychology Program).