Molecular Dynamics Storm 820 Phosphor Imager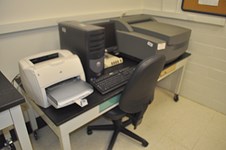 The Storm 820 Phosphor Imager is an optical scanner that produces a digital image of radioactive and fluorescently labeled samples.
The Storm includes:
Exposure cassettes, storage phosphor screens and an image eraser
ImageQuant software

Allows user to map the appropriate pixel location on the monitor and produce an accurate image of the original sample.
Enables users to quantitate variations in the signal

Create images files that can be transferred to compatible graphics programs
Access to the Phosphor Imager requires a short training session and approved access to the room. Please contact Paolo Fagone at pafagone@hsc.wvu.edu or 3-7728 for more information.