Training Setting & About Charleston
Take A look Around
CAMC Institute for Academic Medicine
WVU Department of Behavioral Medicine
CAMC Cancer Center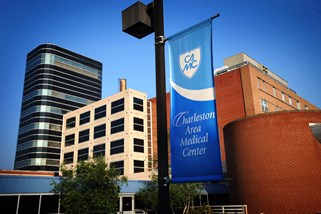 The Charleston Division of the West Virginia University (WVU) School of Medicine is located in the state capital, and integrated with the Charleston Area Medical Center (CAMC). CAMC has three campuses totaling 1000 beds; these campuses are about five to 10 minutes apart by car.
The General Hospital Campus includes General Hospital, the Trauma Center, a physician's office complex, the community mental health center, and the Medical Rehabilitation Center.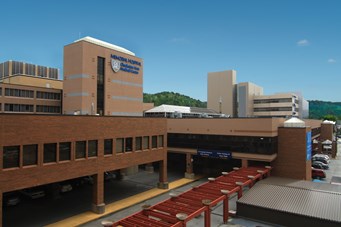 The Memorial Hospital Campus includes Memorial Hospital, the Cancer Center, the Heart Institute, a physicians office complex, and the WVU Medical Education Building and Library. The WVU Departments of Behavioral Medicine, Family Medicine, Internal Medicine, Surgery, and Community Medicine are located here. The CAMC Health Education and Research Institute is also located on the Memorial Campus.
The Women and Children's Campus includes the Women and Children's Hospital and the Family Resources Center. The WVU Departments of Obstetrics and Gynecology and Pediatrics are located here.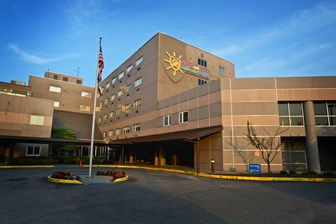 The Medical Center is the largest in the state, serving a population of over 600,000, with the entire socioeconomic spectrum represented in this group. WVU faculty and CAMC staff work together smoothly, providing a broad training base to students of many disciplines. The primary function of the WVU Department of Behavioral Medicine and Psychiatry is the training of WVU medical students and CAMC residents. Many non-medical graduate students are also trained in this department. The guiding philosophy is the integration of excellence in training and clinical care.
The WVU Department of Behavioral Medicine and Psychiatry is located in the RCB Training Center on the Memorial Campus of CAMC. The mailing address is Department of Behavioral Medicine, WVU/RCB Training Center, 3200 MacCorkle Ave. S.E., WV 25304. The training director's e-mail address is jlinton@hsc.wvu.edu.
Charleston, West Virginia
Charleston is the state capital of West Virginia, and the medical center campuses are located close to the impressive state capitol complex. Charleston is a beautiful river city, combining small town charm with larger city amenities. The Charleston metro area comprises a population of around 250,000. Getting around the city is easy with its extensive interstate system, and traffic jams are virtually unknown, saving the busy intern valuable time in commuting. Nearby Charleston are extensive areas for outdoor exploring, white water rafting, hiking and climbing, as well as downhill and cross-country skiing. The river supports pleasure craft and paddle wheelers, and festivals occur throughout the year. Cultural events from symphony to ballet, bluegrass to rock, little theater to Broadway road shows, combine to stimulate one's evenings and weekends. And the low crime rate and community warmth make Charleston an ideal city in which to train. Why not take a look, courtesy of the Charleston Convention and Visitors Bureau?