The Health Sciences & Technology Academy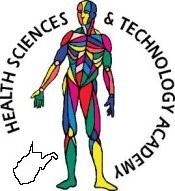 Nurturing the ambitions of talented students who, for economic or other reasons, might not ordinarily be able to achieve their career goals.
What is HSTA?
The Health Science & Technology Academy (HSTA) was founded in West Virginia in 1994, and started in the Eastern Panhandle in 2004. HSTA is a partnership among communities and numerous colleges and universities in the state of WV.
The program focus on increasing the number of under-represented students who pursue degrees in Health Sciences and Science, Technology, Engineering, and Mathematics (STEM) fields, with the long term goal of increasing the number of health practitioners & advocates in the medical field locally.
How does it work
Students apply, are selected, and placed in a group of 10 at their high school, lead by a trained HSTA teacher. They meet weekly to work on group activities and individual projects. They must maintain their grades, & attend at least 2 summer camps while in the program. Upon completion of the program, students are eligible for tuition waivers to a WV in state public colleges. Additional tuition waivers are available to students who purse master's or doctorate's in health care or STEM fields.
Who Participates
Students are recruited as 8th graders for the program. Students need a minimum of a 2.5 GPA, & should have an interest in a health care or STEM related field. The four criteria for admissions are: African –American, Low Income, 1st Generation College Student, or resident of a rural area. Students need not meet all admissions criteria to apply, or be accepted into the program.
HSTA Clubs
The grouping of 10 students, referred to as clubs consists of students in grade 9-12.
Program Requirement
Students must have a 2.5 GPA as a freshman, and 3.0 GPA through the remainder of the program. They must also attend 70 % of the weekly club meetings, complete an annual science project, present their project at a yearly Science Symposium, and complete 75 hours of community service prior to graduation.
College-Based Programming
Students attend at least 2 summer camps while in high school. The one week camps provide intensive academic enrichment emphasizing math, science, and laboratory experiences. The students work with scientists, clinical practitioners, and health care professionals.

Currently camps are held at West Virginia University, Marshall University, West Virginia State University & Glenville State College. Students work on a variety activities including; performed dissections of a sheep eye, suturing a pigs foot, learning the lab skills necessary to solve a mock murder, and working on mock clinical trial components and hands on investigations.
Community-Based Programming
Students meet weekly after school to work on academic enrichment projects. HSTA teachers help develop the students' cognitive skills, emphasizing observation, hypothesis formation, experimentation, analysis, and presentation. The students work on an annual science project, geared towards community or health concerns, they present their findings at a symposium. Previous projects have included local water quality, diabetes, and obesity.
State Tuition Waivers
Students who successfully complete the program requirements, are eligible for an undergraduate tuition wavier to a WV public college. The tuition waiver amount varies between 50 –90% of the cost of tuition at the schools.
A graduate tuition waiver is available to students who are accepted into an eligible health care or STEM related programs. Eligible programs include, nursing, medical school and all fields of engineering. The monetary value of the tuition waiver, depending on the major, college and how many degrees are pursued, ranges in value between $40,000 -$80,000.
How much does it cost students/families? $0
All activities including, supplies for the annual science projects, classroom activities, and attendance of summer camps (transportation, and room & board), are free to HSTA students. Students are also eligible to be reimbursed for two college entrance exams. (2 ACT's or SAT's or one of each.)
Parents Responsibility
Parents are responsible for providing transportation for students after the weekly meetings and other HSTA sponsored events.
Colleges that honor the Tuition Waiver
West Virginia University
Shepherd University
Fairmont State University
Marshall University
West Virginia State Univ.
Concord University
Glenville State University
Potomac State
Bluefield State College
West Liberty Univ.
Alderson & Broaddus University
WVU Tech
Blue Ridge Community & Technical College
Program Graduates Statewide (as of 2014)
681 Bachelors
98 Masters
48 Highest degrees in field
12 Medical Doctors
2 Doctors of Osteopathy
1 Dentist
11 Pharmacists
2 Audiologist
1 Psychologist
7 Physical Therapist
6 Attorneys of law
1 Optometrist
1 Veterinarian
59 Associates degree
Current Graduate & Professional school majors covered by HSTA Tuition waiver
West Virginia University
Dental Hygiene, Dentistry, Endodontics, Medical Laboratory Sciences, Medicine, Medical Residency, Nursing Graduate, Occupational Therapy, Pharmacy, Physical Therapy, Public health, Economics, Animal & Nutritional Sciences, Plant & Soil Sciences, Genetics & Developmental Biology, Reproductive Physiology, Biology, Chemistry, Forensic & Investigative Science, Geography, Geology, Mathematics, Physics, Political Science, Psychology, Statistics, Statistical & Data Sciences, Computer Statistics, Engineering (All Fields), Computer Science.
Marshall University
Athletic Training, Communications Disorders, Dietetics, Exercise Science, Health Information, Nursing, Physical Therapy, Sports Administration, Engineering, Environmental Science, Information System, Safety, Technology Management, Biological Sciences, Chemistry, Criminal Justice, Mathematics, Physical and Applied Science.
Application Process & Deadline
The application deadline is March 1st of students 8th grade. Updated application will be available after January 1st, from guidance counselor and www.wv-hsta.org
David W. Shanton
Field Site Coordinator
Eastern Panhandle HSTA
Cell Phone: (304) 671-8282
Email: dwshanton@hsc.wvu.edu
West Virginia University
Robert C. Byrd Health Sciences Center
Eastern Division
2500 Foundation Way
Martinsburg, WV 25401
Phone: (304) 596-6317
Fax: (304) 596-6317
FB: Eastern Panhandle Health Science and Technology Academy