Meet our Founders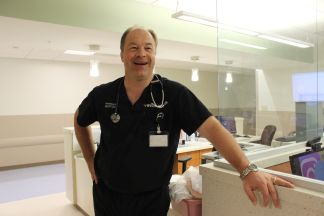 Forging the Path to Success  test

"If you want to go fast, go alone. If you want to go far, go as a team." This famous African proverb is just one of the many mottos Dr. Todd Crocco lives by each day.
As former WVU Emergency Medicine Chair, Dr. Crocco understands the importance of collaboration, dedication and hard work. Crocco served as Chair of the department for 10 years and in that time, he managed to nearly double the size of the residency program, create a fellowship program in clinical ultrasound, quadruple research funding for the department and expand clinical practice sites from just two locations to eight. Perhaps his most astounding achievement however, was his ability to maintain his humility while taking the WVU Department of Emergency Medicine to such great heights.
"I've never claimed to be the smartest person in the room. In fact, I may have to read something four or five times while the person beside me can read it once and get it. That's just not me. I've always had to work harder to get the job done."
Dr. Crocco attributes the success of the WVU Emergency Medicine Department to everyone around him. He called it a team effort and really emphasized the importance of working with others to make big things happen. One of the many collaborative projects he worked on was the creation of the WVU Medicine Urgent Care locations and WVU Medicine Student Health. For both of these projects, Crocco talked about working with others to create new-and-improved staffing models, building designs and ideas like extended hours to meet the needs of patients with a busy lifestyle.
June 2017 marks 25 years for the WVU Department of Emergency Medicine; and in that time, Dr. Todd Crocco has watched it grow tremendously.
"The department has a completely different complexion today than I think it did even just 10 years ago. The residency program has grown profoundly, the educational curriculum within that residency program is vastly different–in fact, it is cutting edge."
WVU's Department of Emergency Medicine has also found itself on the national radar in several different areas over the last 25 years, especially in regards to wilderness medicine. Crocco admitted that it is hard to beat WVU when it comes to that particular area of training.
"I'm very proud to see how far this department has come and to have been a part of it."
Even with all of his accomplishments as Chair of the Department of Emergency Medicine, Dr. Crocco's number one source of pride is something much closer to home–his kids.
"To me, serving as chair was a great honor. It was a very difficult but very rewarding job, and I am very proud of what I was able to do while I served as chair. But all of that aside, it all pales in comparison to my kids and what they have been able to accomplish."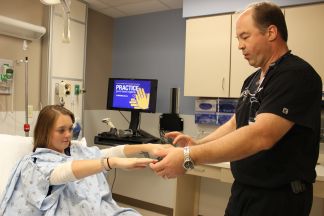 Dr. Crocco has two daughters, both in high school. One will be attending WVU in fall of 2017. He remembers the day she was born–it was nearly 18 years ago and the second day of his EMS fellowship in Cincinnati.
"It's crazy to think I now have a young lady who is going off to college when I can vividly remember the morning she was born."
His youngest daughter is almost 16 years old and is a student at University High School. Crocco admits that she is still undecided about where she wants to go to school and what she wants to study. His reaction?
"She still has a couple of years to decide and I am okay with that."
Maybe that's because Dr. Todd Crocco was unsure which area of medicine to go into himself. He bounced around several ideas including becoming an anesthesiologist, a cardiologist, gastroenterologist and even a cardiothoracic surgeon. He finally settled on becoming an emergency medicine physician after taking a step back and realizing it was something he had loved before he even started medical school.
"As a high school student, I used to spend my weekends riding with a local emergency EMS ambulance squad. I spent my Friday and Saturday nights and Sunday afternoons riding along with them. It is a little curious to me that it took me so long to realize I wanted to become an emergency medicine doctor with that kind of background, but low and behold everything comes full circle."
He was right. From humble beginnings riding along with an EMS squad in high school, to serving as Chair of WVU's Emergency Medicine Department for 10 years, Dr. Crocco's life certainly has come full circle with all of the things he has been able to accomplish.
So what is his secret to success?
"Every day, I wake up and I try to accomplish new things and make progress so that by the end of the day I am in a better position than I was when the day started."
Of course, he also attributes much of his success to his wife.
"She has been a hero from the beginning, and she is the strongest person I know. Without her, there is no professional or personal success in my life."
The Department of Emergency Medicine is extremely grateful to Dr. Crocco and the things he was able to accomplish during his time as Chair. It is because of professionals like him that the department is celebrating 25 fantastic years.