Adult Fitness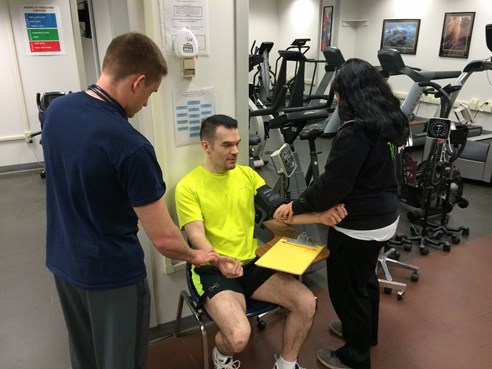 This program is designed for adults without complications to existing heart problems or severe chronic diseases. An physical activity program is specially designed for all participants by a qualified exercise physiologist, who also supervises all exercise sessions.
Benefits of regular exerciseincludes:
Improving mood and decrease feelings of depression, anxiety and stress. Regular exercise can help you relax and sleep better
Studies have shown that physical inactivity is a major factor in weight gain, and that combining aerobic exercise with resistance training can maximize fat loss and muscle mass maintenance, which is essential for keeping the weight off 
Exercise plays a vital role in building and maintaining strong muscles and bones.
Exercise can be a real energy booster for healthy people, as well as those suffering from various medical conditions
Lack of regular physical activity is a primary cause of chronic disease. Regular exercise has been shown to improve insulin sensitivity, cardiovascular fitness and body composition, yet decrease blood pressure and blood fat levels
Chronic pain can be debilitating, but exercise can actually help reduce it
The bottom line is that exercise offers incredible benefits that can improve nearly every aspect of your health from the inside out.
Typical exercise sessions include:
Stretching and flexibility
Aerobic exercise
Treadmills
Air Dyne bicycles
Rowing
Elliptical Trainer
Stair Master stair climbers
Swimming and Aqua Jog Program at the WVU Natatorium
Strength training with BodyMaster machines or dumb-bell free weights