Weight-Loss Management and Bariatric Surgery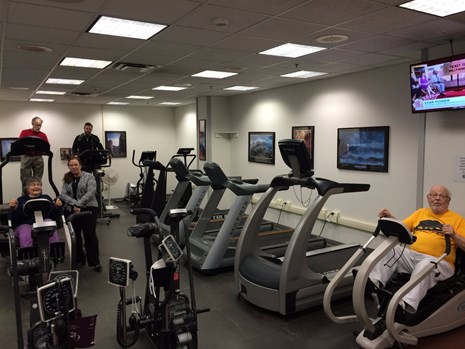 The HPL, in partnership with the Weight-Loss Management Program (Dr. Davisson) and Bariatric Surgery (Dr. Tabone), are here to provide assistance to those individuals who wish to improve their body weight. We offer a team approach to enhance weight loss: Our team includes exercise physiologists, dietitians, clinical psychologists, physician assistants, and nurses.

Why choose the HPL? 
We are here to help you every step of the way!
Achieve your weight loss goals through being more physically active.
Receive an individualized physical activity program.


We will work with your doctors and nutritionist to provide an individual specific program to suit your needs and lifestyle environment. 
We offer a variety of physical activity resources, from walking, treadmill exercises, cycling, resistance weights/band exercises, boxing, and our popular pool physical activity program.
Regular follow-up appointments and monthly support groups are designed to help you succeed.  


Understanding the Components of Physical Activity
Your personalized program will include all of these components and will progress as your fitness level improves. At first you may only be able to complete small amounts of these exercises, but research shows that even with small increases in physical activity, you will see the benefits!


Benefits of Physical Activity
In the first year after surgery, much of the weight lost is from fat free mass (i.e., muscle), but resistance training can preserve this.
Performing cardiovascular and resistance exercises can decrease fat mass.
Increasing muscle mass will increase your metabolic rate and help to burn off fat.
Physical activity can help you deal with stress, anxiety, and depression.
Increasing physical activity time (even at low levels) can have great benefits!
 For More Information:
Contact the Human Performance Laboratory
Robert C. Byrd Health Sciences Center Division of Exercise Physiology
Room G279
P.O. Box 9227
Morgantown, WV 26506-9227
Phone: (304) 293-5497
Fax: (304) 293-2971
Email: dgilleland@hsc.wvu.edu