Educational Experiences
The Kansas City Experience
The AAFP National Conference is the place for residents and medical students to learn more about family medicine, explore residency programs, and connect with potential employers.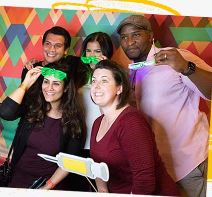 If you want a hand in shaping the future of family medicine, the National Conference is the place for you. You will be surrounded by people who are just as passionate as  you about family medicine. Through the resident and student congresses, you will have the opportunity to get involved in taking a stand for family medicine, participate in the National Congress of Family Medicine Residents or National Congress of Student Members. Over 2,500 medical students attend the National Conference to find out what is happening across the nation. Opportunities to attend workshops, procedural skill courses, and sessions about applying to residency. You will also learn about the process of transitioning into practice from residency.
In addition to learning and making policy, fun-filled opportunities abound. There's the opening night party, an amusement park trip, the famous closing picnic, and the annual wellness run. There will be 2,000 interesting and exciting residents and students from across the country to meet.
As you will see, there are endless opportunities for fun, for learning, and for making a difference. This is truly that once-in-a-lifetime experience!
Visit the AAFP National Conference Information Website for more information
Scholarships
The AAFP provides several scholarship opportunities for medical students
to attend the National Conference.
Contact Holly Turner Maroon by emailing maroonh@wvumedicine.org or calling (304)581-1642 for additional information.