Educational Experiences
The Kansas City Experience!
National Conference of Family Medicine Residents and Medical Students



Come shape your future at the National Conference of Family Medicine Residents and Medical Students in Kansas City, Missouri! Organized and run by residents and students for the residents and students, the National Conference is the largest gathering of its kind in the country.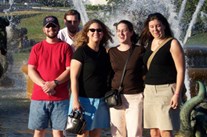 If you want a hand in shaping the future of family medicine, the National Conference is the place for you. Through the resident and student congresses, you will have the opportunity to author resolutions, voice your opinions, and vote on issues important to all of us.Over 1,000 medical students attend the National Conference to find out what is happening across the nation. Opportunities for students to share experiences with each other and to learn about hot topics such as osteopathic manipulation, pelvic exams, weight management, breastfeeding and how to become involved in international and rural medicine. Selected procedural skills workshops are available for those who register in advance, including courses in suturing and injections. Make sure to save time for the nation's largest residency fair as well.
In addition to learning and making policy, fun-filled opportunities abound. There's the opening night party, an amusement park trip, the famous closing picnic, and the annual wellness run. There will be 2,000 interesting and exciting residents and students from across the country to meet.
As you will see, there are endless opportunities for fun, for learning, and for making a difference. This is truly that once-in-a-lifetime experience!
More information may be found at the AAFP website.
Scholarships
The AAFP provides several scholarship opportunities for medical students
to attend the National Conference.
Contact Holly Turner Maroon at maroonh@wvuhealthcare.com or
(304)598-6919 ext. 2 for additional information.

Summer Externship Program
The Department of Family Medicine offers West Virginia University students between their first and second year of medical school the opportunity to participate in a summer externship program. This program offers a 4 week clinical experience in a private physician's office, a group practice and/or hospital setting. The Externship provides students with a balance of patient care exposure, physical diagnosis skills, and research skills. The program uses lectures, small group discussion, patient examination, and interviews to meets its educational objectives. Students receive a three-day intensive orientation in these areas and then spend the remainder of their rotation working with practitioners. They are paid a weekly stipend of $300 and some qualify for mileage. Student activities while working at their rotation site with their preceptor should include various duties:
Observe/assist with physical diagnosis of patients, including interviewing, physical examination, etc. Students will be expected to participate in such activities and then review the same with a preceptor.
Accompany physicians on hospital rounds, view x-rays, review lab work, etc., home health visits, scheduling a half-day or day with different services in the hospital (where available)
The students are assigned a research project.
If in an RHEP Consortium, students are expected to attend the Interdisciplinary Sessions.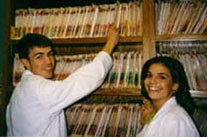 The first several days will include "shadowing" or observing and assisting much like a volunteer (taking vitals, patient transport, etc.); then as the student gains confidence they will advance to a hands-on roll at the discretion of the preceptor.The suggested weekly format will include 6 to 7 half days of patient care or general clinic or hospital duties (of which 4 to 5 half days will be with the primary preceptor); 1 half day working on a research project or community project and1 half day of IDS sessions; and 1 half day off.
Following the summer experience, a wrap-up dinner will be held, allowing the students the opportunity to share their experiences and make recommendations for future years.
For further information, please contact Holly Maroon at maroonh@wvuhealthcare.com or 598-6919