Alpha Omega Alpha (ΑΩΑ) Honor Medical Society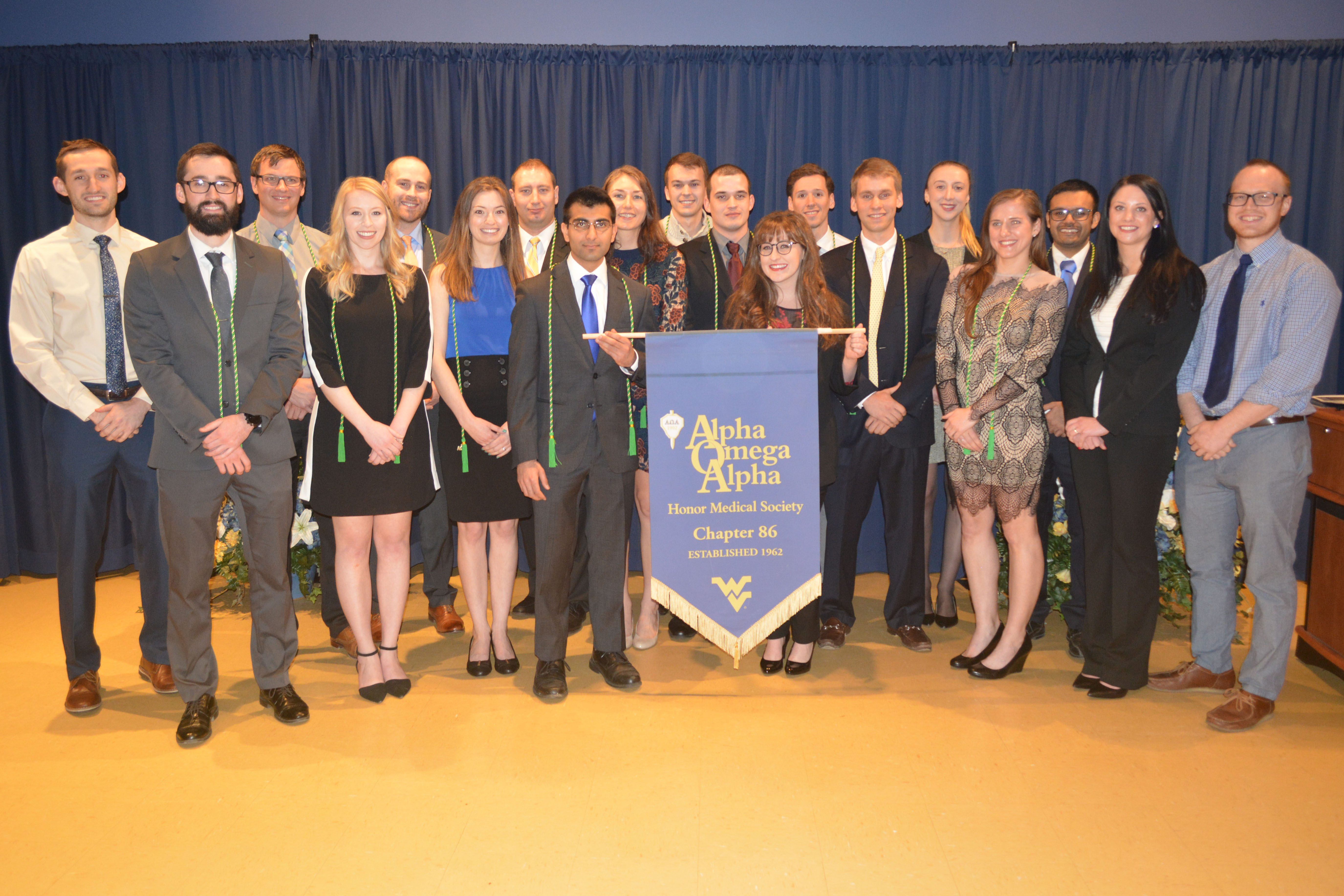 The West Virginia University School of Medicine supports the West Virginia alpha chapter of Alpha Omega Alpha, AOA. This chapter was founded in 1962.The name of this national honor medical society comes from the three Greek letters AΩA being the initials of the essential words in the following motto: "Worthy to serve the suffering"
AOA is the only national medical school honor society. Eligibility requires academic rank in the top quartile of the class. Only one sixth of a class may be elected to membership, with a maximum of one half of this number elected in the third year of medical school.
AOA was organized to promote scholarship and research in medical schools, encourage a high standard of character and conduct among medical students and graduates, and recognize high attainment in medical science, practice, and related fields.
To fulfill its mission, in addition to medical students, AOA elects outstanding graduates, faculty and honorary members. Criteria for election include scholastic excellence, and integrity, capacity for leadership, compassion, and fairness in dealing with colleagues. Alumni may be elected ten years after graduation based on professional achievement. In addition, each year a chapter may elect up to two faculty members per year.
The journal of the society is The Pharos, is published quarterly since 1938.
AOA was organized by William Webster Root and five other medical students at the College of Physicians and Surgeons in Chicago, Illinois in 1902. There are now more than 120 chapters in the United States.
Founder William W. Root said of AOA , "It is the duty of members to foster the scientific and philosophical features of the medical profession, to look beyond self to the welfare of the profession and of the public, to cultivate social mindedness, as well as individualistic attitude toward responsibilities, to show respect for colleagues, especially for elders and teachers, to foster research and in all ways to ennoble the profession of medicine and advance it in public opinion. It is equally a duty to avoid that which is unworthy, including the commercial spirit and all practices injurious to the welfare of patients, the public, or the profession."
Learn more about how to become eligible for student membership.