Global Health Track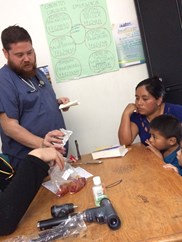 Welcome to the WVU Internal Medicine Global Health Track! Our Global Health Track is a new addition to our residency in 2014 that has grown out of our already thriving Global Health Program (GHP) for the West Virginia School of Medicine (WVSOM) MD program and WVSOM Tropical Medicine course. This track provides Internal Medicine Residents with the opportunity to participate in and learn about all aspects of Global Health and International Medicine. The purpose of the Global Health Track is to provide additional training and experience in global health to WVU Internal Med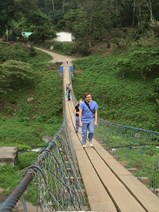 icine Residents during their residency.
The design of the Global Health track is that interested Internal Medicine residents must complete their PGY-1 year and then apply to the track. If chosen, the residents then complete a parallel curriculum during PGY2 and PGY3 years that includes a detailed lecture series on many aspects of Global Health and enrollment in the WVSOM tropical medicine course (After completion of residency and the tropical medicine course, the physician will be eligible to sit for the tropical medicine board examination). The resident will travel to an international site for one month during their PGY2 year and return to that site during their PGY3 year with a specific project created after the first visit. The resident will have the opportunity to work closely with several Global Health faculty members during their residency and will

be assisted by these same faculty to make Global Health a priority in his or her medical career. As mentioned above, our Global Health track is rapidly growing and new to our Residency in 2014. Our current International Sites include India, Guatemala, Ghana and Brazil. More sites will continue to become available.
Please click here to view our Global Health track timeline.
 WVU SOM Tropical Medicine Course
The course focuses on the imparting of essential skills and competencies in clinical tropical medicine, laboratory skills in a low-technology setting, epidemiology and disease control, and travelers' health. The didactic portion of the ASTMH course is conducted by both full-time and clinical faculty at WVU, and by visiting faculty from several American and foreign schools of medicine and public health. The internal medicine residents will have access to the online lecture modules and will have the opportunity to participate in the live microbiology portion of the course for 2 weeks during their PGY3 year. The lecturers and demonstrators have had significant overseas experiences in clinical tropical medicine and/or tropical public health, and/or are nationally or internationally recognized in their field of expertise.
Global Health Lecture Series
One or two lectures per month during the PGY2 and PGY3 years. The topics will cover Global Health concepts as well as disease specific content such as Malaria or HIV in certain locations.
Faculty
If you are interested or have further questions, please contact the faculty below:
Troy Krupica
,
MD
West Virginia University
Position

Section Chief of Hospital Medicine, Medicine

Phone

304-293-1964
Josephine Reece
,
MD
West Virginia University
Position

Assistant Professor, General Internal Medicine, Medicine

Phone

304-293-1964
Nathan M. Lerfald
,
MD, FACP
West Virginia University
Position

Vice Chair of Medicine, Medical Director of Patient Quality and Safety, Medicine

Phone

304-293-3557