Hematology/Oncology Fellowship Program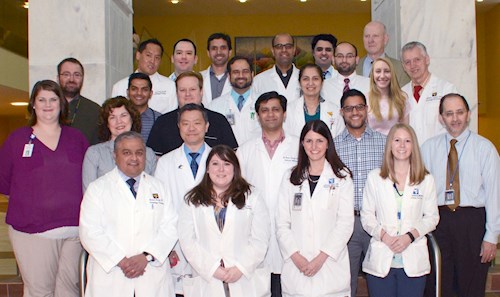 West Virginia University Health Sciences Center, Department of Medicine, Section of Hematology/Oncology, and the WVU Cancer Institute offer a three-year training program leading to eligibility for board certification in Hematology and Medical Oncology.
The section's clinical and research programs are part of the WVU Cancer Institute at West Virginia University. WVU Cancer Institute.
Hematology/Oncology Fellowship Educational Responsibilities
Fellows develop clinical expertise in cancer therapy, acquire knowledge of basic biology of neoplastic diseases and carry out research on problems in Hematology-Oncology. Trainees are introduced to Hematology/Oncology through clinical teaching on the wards and in clinics, as well as clinical and basic science lectures and conferences directed by faculty. Fellows also participate in clinical or laboratory research under faculty supervision.
Hematology/Oncology Facilities
The major sites for clinical activities are the University Hospital, a 450 bed tertiary referral center, and the WVU Cancer Institute, which houses the Hematology/Oncology outpatient facilities, Radiation Oncology, the Cancer Information Service (CIS) for West Virginia and Virginia, and two floors of research laboratories. Our Imaging Center provides PET scanning and advanced MRI imaging and our Radiation Oncology unit offers Gamma Knife and other advanced treatment facilities. The Robert C. Byrd Health Sciences Center serves the state of West Virginia, southwestern Pennsylvania, western Maryland, and eastern Ohio.
Hematology/Oncology Faculty and Fellows
The Hematology/Oncology section at WVU currently has 11 full time faculty and 1 part time faculty as well as an active fellowship program with 8 fellows.
Conference
Chief's Grand Rounds
Core Lecture Series
Journal Club
Hematology/Pathology Case Conference
Lung Cancer Multidisciplinary Conference
Multidisciplinary Breast Cancer New Case Conference
Tumor Board
Head and Neck Tumor Board
GI/GU Tumor Board
Research Protocol Conference
Brain Tumor Multidisciplinary Case Conference
Department of Medicine Grand Rounds.
Hematology/Oncology Fellowship Services
Clinical responsibilities during training include consultations on the wards (including Hematology/Medical Oncology patients admitted to medical services) and caring for patients in the Hematologic Malignancy/ Bone Marrow Transplantation Unit. At least two half-days each week are spent caring for outpatients including participation in multi-disciplinary tumor clinics. During the 3 years, one month rotations are offered in Radiation Oncology, Pathology and Transfusion/Hematologic Pathology and 12-18 months are available for clinical or laboratory research. Elective clinic rotations in Pediatric Hematology/Oncology, ENT Malignancies, Mohs Chemosurgery and Surgical Oncology are available.
Applications through the Electronic Residency Application Service, (ERAS) will be accepted until December 1. For further information contact:
Mohammed Almubarak, M.D.
Associate Professor and Program Director
Robert C. Byrd Health Sciences Center
West Virginia University
Section of Hematology/Oncology
Department of Medicine
P.O. Box 9162
Morgantown, WV 26506-9162
malmubarak@hsc.wvu.edu
Phone: (304) 293-4229
Sara Friedel, Fellowship Program Manager
Robert C. Byrd Health Sciences Center
West Virginia University
Section of Hematology/Oncology
Department of Medicine
P.O. Box 9162
Morgantown, WV 26506-9162
sara.friedel@hsc.wvu.edu
Phone: (304) 293-6743