George A. Spirou
,
PhD
Professor; Director, Otolaryngology Residency Research Program
Contact Information
Phone

304-293-3490

Address

PO Box 9303
108 Biomedical Road
BMRC 321
Morgantown, WV 26506
Research Interests
A New Age of Scientific Communication
Find Ashley's recent publication, "Glial Cell Expansion Coincides with Neural Circuit Formation in the Developing Auditory Brainstem," Developmental Neurobiology, 2018. doi: 10.1002/dneu.22633
Much of the data analysis was performed on 3D confocal image stacks, because the spatial structure and relationships among cells can only be appreciated in 3D.
Join the new age of scientific communication, and view one of these image volumes in 3D so that you can share a deeper appreciate of the data. Visit www.syglass.io for more details. If you don't have the necessary 3D VR hardware, then find a colleague or friend, or family member who does. Enjoy!

Research Techniques
Our work is focused on development of neural and glial circuits of the auditory brainstem. We study their assembly during early development and their mature circuit structure and function.
Laboratory Techniques
In vitro brain-slice physiology and pharmacology

Whole-cell current and voltage clamp
Fluorescence imaging, including Ca imaging
Single neuron biophysical and circuit models
Viral vector transduction of neurons and glia

Lattice light-sheet, 2-photon, superresolution, confocal imaging
Gene expression profiles of developing neurons and glia

Quantitative real-time PCR
Single-cell RNA sequencing

Serial blockface scanning electron microscopy to study

Structural transformations in the developing brain
Connectomes of mature auditory system

High resolution electron tomography study of nerve terminal and synapse structure
3D Immersive Virtual Reality exploration of cell models
Neural Development
A key goal of our laboratory is to understand the sequence of assembly of low-level circuits of the auditory system, focused on the brainstem and its activation by the auditory nerve. We have developed a novel whole-head brain slice preparation to pursue this goal. We have revealed that the auditory nerve fibers can drive neurons of the medial nucleus of the trapezoid body by E17.5, ~1 day before birth. A main focus of our work is to characterize and explain neuronal and glial structural dynamics during formation of the calyx of Held, the largest nerve terminal in the mammalian brain. We also examine detailed structure of nerve terminals using electron tomography.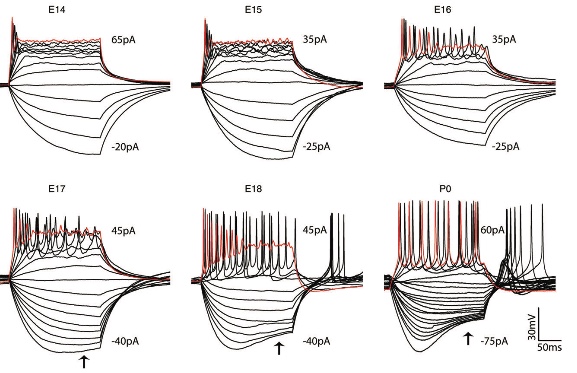 We also measure changes in gene expression profiles, in order to identify molecular signaling pathways that mediate changing tissue dynamics during neural circuit formation. We collaborate with Henrique von Gersdorff, Vollum Institute, on structure/function study of neurotransmission.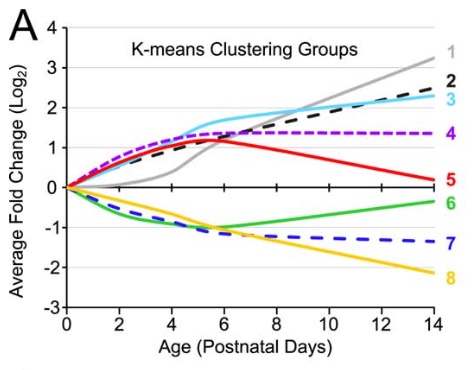 We collaborate with Henrique von Gersdorff, Vollum Institute, on structure/function studies of neurotransmission; Sam Young, University of Iowa, on viral vectors; Peter Mathers, WVU, for molecular embryology of brainstem development; and Jiang Qian, Johns Hopkins University and Jun Wan, Indiana University, for gene expression studies.
Connectomics
The second major focus of our work is to define and understand parallel processing pathways of the auditory brainstem. We begin by reconstructing the neurons and glia and their functional connections at nanoscale resolution using serial blockface scanning electron microscopy (SBEM) to image tissue volumes. Cells are reconstructed volumetrically, using manual and semi-automated techniques. Synapses are identified and exported for graph theoretical analysis, and neurons are transformed into a file format for simulation studies using NEURON. We collaborate with Eddie Fuller and CQ Zhang, WVU, for graph theory, Gianfranco Doretto, WVU, for computer vision and cell classification, Mark Culp, WVU, for multi-view statistical analysis, Mark Ellisman, UCSD, for SBEM imaging and with Paul Manis, UNC Chapel Hill, for neuron modeling.
New Tools for Neuroscience
We are developing technologies to visualize brain structures at cellular and sub cellular resolution using immersive virtual reality. Our current technology, syGlass (www.syglass.io), is a scientific data visualization and annotation system that works seamlessly with commercial VR technologies like the HTC Vive and Oculus Rift. We recently licensed syGlass from West Virginia University and began selling copies of the software. Our goal is to offer these powerful tools at a popular price so that every laboratory can have their own copy. With syGlass, high-resolution polygon meshes, 4D movies, and volumetric imaging data can be ingested quickly and easily, producing immersive VR renderings that provide new insight into data of all shapes and sizes. The syGlass project began as a collaboration between Drs. Spirou and Gianfranco Doretto (CSEE faculty), and computer science graduate student Michael Morehead, and led to the formation of the technology start-up company IstoVisio, Inc.
Lab News
Ashley Brandebura recently received an F31 award to study the calyx of Held. Congratulations, Ashley! Full Story
Recent Publications
[2016]
[2015]
[2013]
Holcomb PS, Hoffpauir BK, Hoyson MC, Jackson DR, Deerinck TJ, Marrs GS, Dehoff M, Wu J, Ellisman MH, Spirou GA. Synaptic inputs compete during rapid formation of the calyx of Held: a new model system for neural development. J Neurosci (2013 Aug) 33;(32): 12954-69. PMID: 23926251
Holcomb PS, Deerinck T, Ellisman MH, Spirou GA. Construction of a Polarized Neuron. J Physiol (2013 Jul) 1:591(Pt 13):3145-50. PMID: 23339176
Marrs GS, Morgan, WJ, Howell DM, Spirou GA, Mathers PH. Embryonic origins of the mouse superior olivary complex. Dev Neurobiol (2013 May) 73(5): 384.98. doi: 10.1002/dneu.22069.
[2012]
View More Publications