Five faculty, students win at WVU Innovation Awards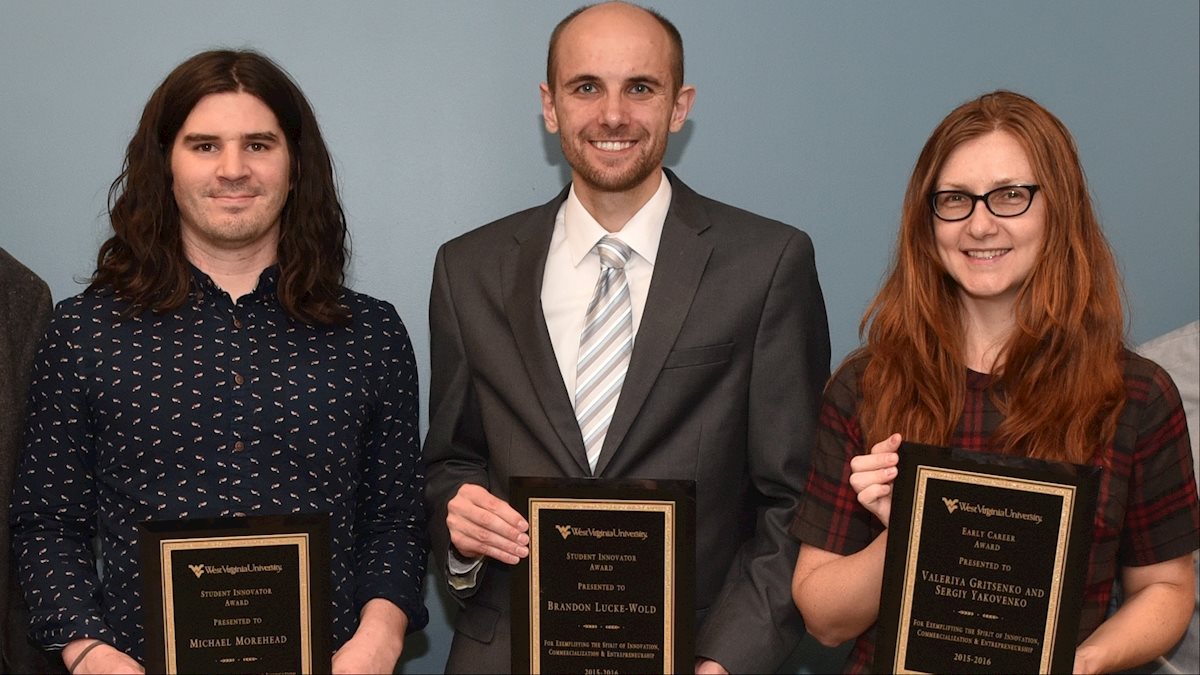 Five faculty and students from the West Virginia University School of Medicine have been recognized for their groundbreaking research at the Centers for Neuroscience.
WVU's third annual Innovation Awards presented March 31 celebrated the discovery, creation and production of inventive and progressive ideas, methods and products that promote society's growth.
"Land-grants and other major research universities have produced some of the greatest advances in society," President Gordon Gee said in prepared remarks welcoming the nominees and guests. "And it is land-grant and other research universities like ours that must lead the next generation of innovation."
"These awards honor ideas – new inventions, methods and results that move our world forward."
Valeriya Gritsenko and Sergiy Yakovenko received the Early Career Innovator Award. The award honors researchers who have been employed with the University for six or fewer years and whose work exemplifies the spirit of innovation, commercialization or entrepreneurship.
Gritsenko and Yakovenko, both assistant professors of human performance in the School of Medicine and researchers at the Centers for Neuroscience, are at the frontline of research and development of rehabilitation of movement impairments, such as those associated with post-stroke disability.
Their goal is to make rehabilitation more accessible, affordable and fun by developing algorithms and devices for quantitative analysis of movement deficits and delivering subject-specific robotic and virtual reality rehabilitation in the form of engaging rehab-games.
Julie Brefczynski-Lewis received the Established Career Innovator Award, which honors researchers who have been employed with the University for more than six years and whose work exemplifies the spirit of innovation, commercialization or entrepreneurship.
Brefczynski-Lewis, a neuroscientist in the School of Medicine and researcher at the Centers for Neuroscience, has multiple patent applications for a new wearable positron emission tomography, or PET, imager that will enable high-resolution imaging of the brain while the subject is upright and moving, enabling imaging of patients who cannot be still due to physical or mental disorders, as well as scans of active physical tasks.
Brefczynski-Lewis is also leading the White House's BRAIN initiative grant at WVU, which is a multi-institutional team that is generating the next-generation PET helmet device. WVU was among a small group of elite institutions that received a first-round BRAIN initiative award.
Brandon Lucke-Wold and Michael Morehead received the Student Innovator Award. The Student Innovator Award honors current undergraduate or graduate students, or a team of students, who have been innovative or entrepreneurial during their WVU careers.

Lucke-Wold, a medical and graduate student in the School of Medicine, is researching how concussion contributes to neurodegenerative changes in the brain. Two of his first-author scientific papers with Dr. Julian Bailes and Dr. Bennett Omalu, two leading researchers on concussions, are looking at the role of endoplasmic reticulum stress and oxidative stress in the development of neurodegeneration after traumatic brain injury. Together they have discovered a potential treatment for concussion-related neurodegeneration and are patenting the process at WVU.

Morehead is a graduate student in computer science and a researcher with at the Centers for Neuroscience. He is the co-founder of IstoVisR, a company focused on building scientific software for immersive virtual reality systems. These technologies could accelerate the discovery of novel trends in brain circuitry and advance clinical techniques in diseases like schizophrenia, autism and Alzheimer's. Morehead is a native of Bridgeport, West Virginia.
To see other winners at the University, read WVU's original release here.