Residency Training
Hands-on experience. Unparalleled training opportunities.
About our residency program
West Virginia University's Department of Otolaryngology provides resident physicians with an exceptional training experience in the Otolaryngology specialty. Our program has been fully accredited by the ACGME for many years, with the strength of our program coming from our exceptionally dedicated faculty. 
We currently have 16 full-time faculty members with all sub-specialty areas represented, and a good mix of young, eager faculty, and long-time experienced faculty members.  We also have no fellowship programs offered within our specialty, which means that our residents are the first-line care-givers for cases that might typically go first to fellows in training at other institutions.  As a result, our residents receive comprehensive training in the whole spectrum of otolaryngology/head and neck surgery.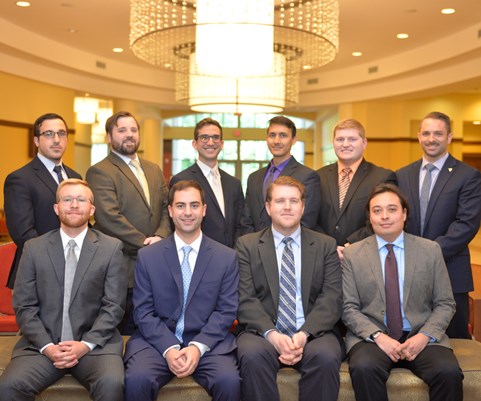 Our Chairman, Dr. Hassan H. Ramadan, has been with our institution since 1990 and has an international reputation in pediatric otolaryngology, diseases of the nose and sinuses, and endoscopic sinus surgery.
Our residency program has attracted and trained high quality physicians who go on to either academic or private practice careers, or continue on into fellowship training. In recent years about 50% of our trainees have opted for -- and been accepted to -- Fellowship Training.  Over the past few years we have placed our residents in fellowships at esteemed locations such as Nationwide Children's Hospital, University of Pittsburgh, Children's National Medical Center, University of Kansas, University of Nashville, House Ear Institute in Los Angeles, Vanderbilt University,  Massachusetts Eye and Ear Hospital, Medical University of South Carolina, Ohio State University, University of Pennsylvania, University of Miami, University of Connecticut, and at University of Illinois at Chicago. We have also placed graduates as faculty members in academic programs such as University of Colorado, the University of Alabama, Columbus Hospital in New Jersey, the University of Kansas, the University of Oklahoma, Roswell Park Cancer institute at Buffalo NY, and at WVU.
Our in-patient services are located at Ruby Memorial Hospital, which is a state-of-the-art, 600 bed, level 1 trauma center hospital, located in Morgantown, WV.  Our out-patient clinic is located in the Physician's Office Center, which is adjacent to Ruby Memorial Hospital, and is equipped with all of the latest nasal endoscopes, flexible and rigid laryngoscopes, a voice lab, video Stroboscopy equipment, and transnasal esophagoscopy equipment. Our audiology and speech areas, which are also part of our out-patient clinic, are also equipped with the latest equipment necessary to provide excellent patient care.  Additional in-patient as well as out-patient clinical sites that are part of our training program are located at The Veterans Hospital located in Clarksburg, WV, forty-five minutes from Morgantown, and City Hospital in Martinsburg, WV, which is a thriving community located on the outskirts of Baltimore, MD and Washington, DC.
West Virginia University, and more specifically our Department of Otolaryngology, is proud to boast an active and productive Research Division.  Our residents benefit from our many research opportunities during their entire training program and specifically during their four months of dedicated basic, translational, or clinical research time, which is part of our curriculum. The residents are fully supported to present their research findings at local, regional, and national conferences.  Below are links to our recent scholarly activity by faculty and residents.