Curriculum
Education Schedule
PGY1 – six months are spent on rotation in Otolaryngology and one month is spent on each of the following clinical services: neuro-radiology, anesthesia, maxiliofacial surgery, ophthalmology, surgical critical care, and neurosurgery.  When on the otolaryngology service, intern residents take call by being paired with a PGY2 or PGY3 that provides direct supervision to them.  PGY1 residents share in the responsibility for preparing and presenting the monthly Tumor Board Conferences.
PGY2 – the full year of second year training is spent at our home institution.  Our faculty is divided into three teams, based on their specialty, and residents rotate through the teams throughout the year, giving them a wide variety of OR and clinic experiences.  PGY2 residents are responsible for preparing and presenting our Head & Neck and our Radiology Conferences through the year, which are held every other month. In addition, they share responsibility with the PGY1 residents for the monthly Tumor Board Conferences.
PGY3 – the third year of training is divided into three four-month rotations.  One rotation is spent at our Eastern Campus in Martinsburg, where we employ two full-time ENT physicians who have a very busy and diverse clinical practice.  Our program provides housing for residents when on this rotation, as well as a telecommuting service that allows them to participate in all didactic sessions and conferences held at our home-base, while they are there.  Another one of the four-month rotations is a dedicated clinical science research rotation, which is guided by one or more of our clinical scientists.  The last four-month rotation in this training year is spent working with our Pediatric Otolaryngology and Laryngology physicians, both in the OR and in clinic.   PGY3 residents are responsible for preparing and presenting our Otology/Voice Conferences through the year, which are held every other month.
PGY4 – the fourth year of training is also divided into three four-month rotations.  One rotation is spent at the VA Hospital located in Clarksburg, WV, approximately 40 minutes from our home institution.  On this rotation, the resident works directly with our physicians who provide both in-patient and out-patient services to that hospital.  During this rotation the resident acts as a private-practice physician to that location and is does not share in any responsibilities at our home base.  The other two four-month rotations in this training year are spent working with two additional physician teams – either Otology/General Otolaryngology/Facial Plastics or Head and Neck Cancer.  PGY4 residents are responsible for Journal Club presentations for the year
PGY5 – the last year of training provides residents with a complete Chief Training year.  The academic year is divided into 4 rotations of three-months each.  Each resident spends one rotation on each of our three physician teams, and the last three-month rotation is spent as a free-float rotation between all of the physician teams, which allows residents to focus on areas of skill or knowledge that they wish to gain additional exposure to.
Didactics
We hold a resident-directed, two-year rotating lecture schedule, every Wednesday morning from 7am to 9am.  Topics for Wednesday morning lectures include topics that are relevant to developing core knowledge in Otolaryngology.  In addition to lectures, the Wednesday morning didactic schedule includes Otology/Voice Conference, Head & Neck Conference, Radiology Conference, as well as Grand Rounds.  To see our current monthly Lecture/Conference Schedule, click here.
Conferences
Our program encourages and funds our resident's ability to attend off-site conferences and workshops, to augment their knowledge and training.  Our upper level residents generally attend between 3 and 5 conferences/workshops per year and our lower level residents generally attend 1 to 2 per year.  
Workshops
Our program and/or institution provides workshops annually for our residents including our Temporal Bone Course, Advanced Cardiac Life Support Course, Basic Life Support Course, Advanced Trauma Life Support Course, Pediatric Advanced Life Support Course.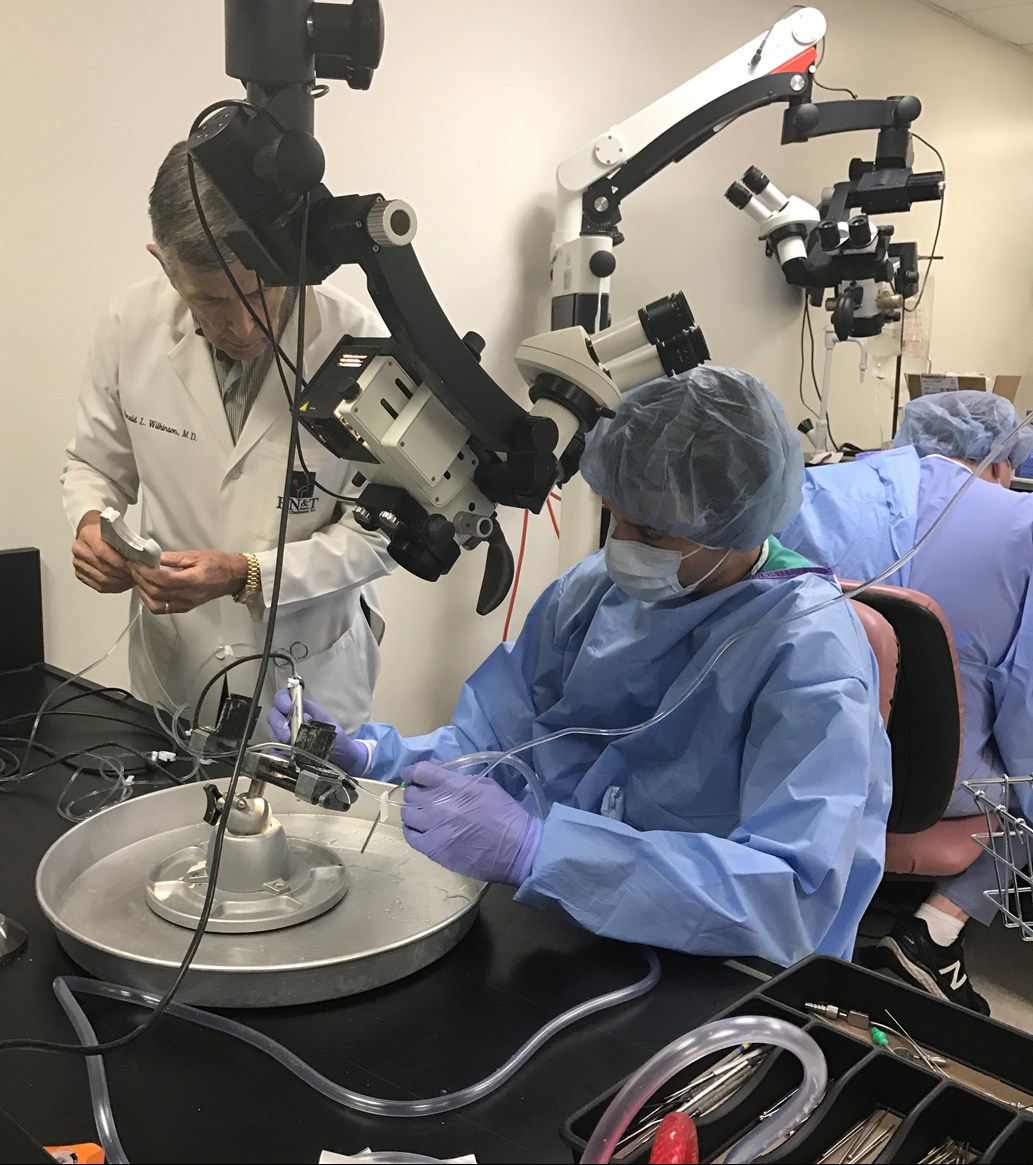 Scholarly Activity
Each of our residents participates in at least one Quality Improvement or Patient Safety project during their residency, as well as a minimum of one bench science project.  In addition, each year residents are required to complete a project that is used for presentation at our Annual Alumni Day program.  Last year, we had 18 projects that were presented at National or Regional Conferences or Meetings and we currently have 22 resident-driven research projects in progress.