Submitting a Specimen
Kits are supplied by WVU. Kits include three vials:
10% formalin
3% glutaraldehyde in cacodylate buffer
Michel's/Zeus immunofluorescent transport media
Once biopsies are obtained, place the tissue on a saline soaked gauze for evaluation with a dissecting microscope.
Evaluate for adequacy – presence of glomeruli, which appear as red dots if glomerular architecture is well preserved.
Submit the specimens (16 gauge needle cores) as follows:
If three cores of renal parenchyma are obtained, put the first core directly into formalin and divide the other two cores according to the diagram below.



LM

If two cores of renal parenchyma are obtained, divide the cores up as shown in the diagram.




If only one core of renal parenchyma is obtained, the core must be divided up and placed into the three solutions. See the diagram below.



Note: A minimum of two cores is recommended to have enough glomeruli for examination.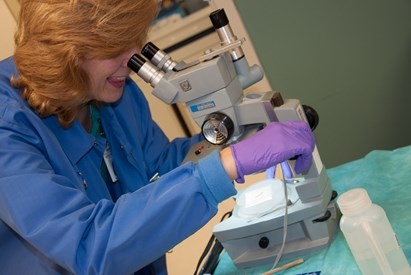 Address for overnight delivery
West Virginia University Hospital
Pathology Department – Renal/EM
Attention: Becky Radabaugh
1 Medical Center, Drive, Box 9203
Morgantown, WV 26506
Phone (304) 293-2092
Fax (304) 293-6249
Specimens are received Monday through Friday 8 a.m – 5 p.m. (excluding holidays).
UML Clients Contact
University Medical Laboratories
304-293-1030
888-865-3678