Julie Betschart Research Symposium
The 2021 Julie Betschart Symposium features Holly Van Remmen Ph.D., Program Chair of the Aging and Metabolism Research Program at the Oklahoma Medical Research Foundation. Her presentation is entitled "Mechanisms of Sarcopenia: Pathways to Interventions" and will delivered via Zoom on April 15, 2021 from noon to 1 PM.
Zoom Meeting ID: 93879558504
For more information, contact Cindy Stankos via e-mail: cstankos@hsc.wvu.edu.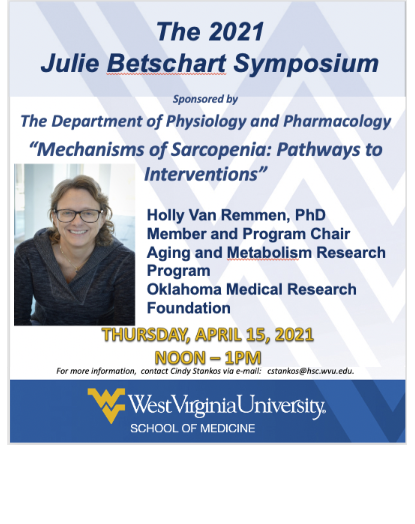 About Julie Betschart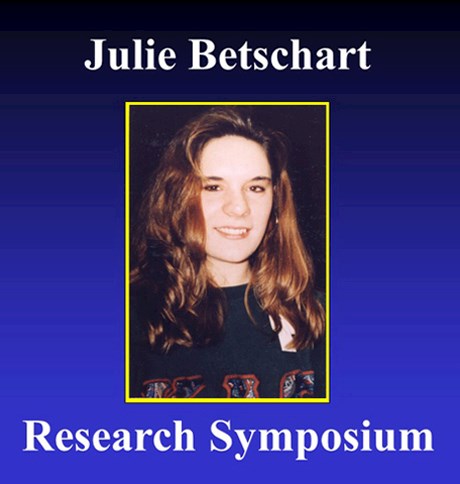 Julie grew up in Scott Township, Pittsburgh and graduated from Chartiers Valley High School (1990). She received a BS in Chemistry from Washington & Jefferson College (1994), and a MS from WVU in exercise physiology (1995). She was enthusiastically working toward a PhD in the Department of Physiology when she was diagnosed with a brain tumor and died 10 months later at the age of 24. Julie was a vigorous athlete and former gymnast. She loved to sing, play piano, and had a great smile. Her personality was boisterous, strong-willed, and focused. She was kind-hearted, religious, a loyal friend, fun, and had the great ability to laugh at herself. During her illness, she refused to give up the keys to the department as that was her sign that someday she might return to work with Dr. Chris Baylis, Dr. Matt Boeglehold, and the students she loved. We hold this symposium in her honor and memory.