Gordon F. Murray, MD, Visiting Professor Lectureship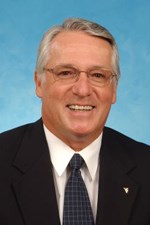 The Gordon F. Murray Lectureship was established in 2005 to honor and commemorate Dr. Gordon F. Murray's lifetime of service to the profession of Cardiothoracic Surgery, West Virginia University School of Medicine and the residents of West Virginia. Promotion of this calling for young residents is Dr. Murray's focus for the future.

A native of Muskegon, Michigan, Dr. Murray graduated AOA from the University of Michigan School of Medicine. His surgical residencies were served at The Johns Hopkins and Massachusetts General Hospitals. Following service in the United States Navy, he joined the faculty of the University of North Carolina, Chapel Hill, and rose to full professor. At West Virginia University Health Sciences Center, he has served as Chairman of the Department of Surgery, Chief of Cardiothoracic Surgery, Director of the Thoracic Residency Program and Chief of Surgical Services at West Virginia University Hospitals. His professional affiliations have included the STS (Vice-President and Secretary), STSA (President), TSDA (President), ABTS (Examination Chair), TSFRE (Director), and Halsted Society (President), as well as active participation in the AATS, ACCP, ASA and SSA. Dr. Murray is married to Sharon Marsden Murray, and they are the parents of Bren, Bruce, and Bill (deceased), and the proud grandparents of Sharon, Kate, Laura and Will.
Past Visiting Professors
2016 W. Randolph Chitwood, Jr., FACS, FRCS (England)
Founder - East Carolina Heart Institute; Emeritus Professor and Chairman, Department of Surgery
East Carolina University
Professor of Cardiothoracic Surgery
University of Virginia
2015 Robert S. D. Higgins, MD
Professor and Chairman, William Stewart Halsted Professor, Surgeon-in-Chief, Department of Surgery
John Hopkins University
2014 Robert J. Cerfolio, MD
James H. Estes Family Professor; Chief, Section of Thoracic Surgery
University of Alabama at Birmingham
Watch The Video: The Continuous Process of Chasing Mastery
2013 David R. Jones, MD
Professor of Surgery and Chief, Thoracic Surgery; Vice-Chairman for Quality and Safety
Memorial Sloan-Kettering Cancer Center
Watch The Video: 

The Legends Behind Cardiothoracic Surgical Instruments

2009 Michael L. Gustafson, MD, MBA
Senior Vice President for Clinical Excellence
Brigham and Women's Hospital & Harvard Medical School
Surgical Quality in 2010: Where have we been, and Where are we going?
2008 Irving L. Kron MD
S. Hunt Watts, Professor and Chairman, Department of Surgery, Division of Thoracic and Cardiovascular Surgery
University of Virginia Health System
2007 Walter H. Merrill, MD
John B. Flege, Jr. Professor; Chief, Section of Cardiothoracic Surgery
University of Cincinnati Medical Center
2006 Mark Orringer, MD
Professor of Surgery; Head, Section of General Thoracic Surgery
The University of Michigan
2005 William Baumgartner, MD
Professor and Cardiac Surgeon-in-Charge; Vice-Dean, Clinical Affairs
Johns Hopkins University