Barbuda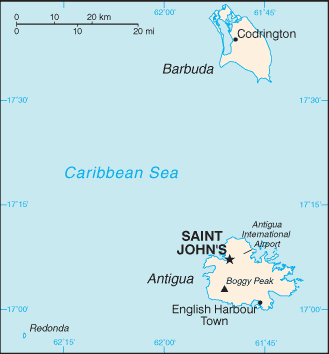 Application Process
Application for this rotation is through Dr. Melanie Fisher. Copies of your passport and travel insurance will be required. Be sure that your passport is valid more than 6 months after the departure date.
Clinic
Barbuda is an English-speaking island in the country of Antigua-Barbuda and has a population of approximately 2500.  The main medical facility there is the Hanna Thomas Hospital in Codrington, Barbuda, which contains an outpatient area (clinic) plus a small observation area/hospital.  The latter contains two wards, one for females and one for males and each ward has three to four beds.
The medical student on this rotation will:
See outpatients at the Hanna Thomas Hospital/Clinic under the supervision of the WVU physician preceptor.  Mainly urgent care and primary care are provided to patients there.  The most common complaints and problems seen include upper respiratory tract infections, abdominal pain, allergies, and wound infections.  Common chronic diseases include diabetes and hypertension.  In the observation area, the students may participate in monitoring patients for several hours with illnesses that are self limited.  Intravenous fluids are administered there and patients with abdominal pain may be observed.  Patients are managed who have mild to moderate nausea and vomiting. 
Perform home visits of chronically ill patients.  Students will accompany the WVU faculty on these visits. 
Experience health care in a rural setting abroad where most residents have never left the island of Barbuda.  
Experience a British-based health care system, which is prepaid for all citizens of this island. 
Participate in educational opportunities with Barbuda nurses and other health care workers.  The medical students will be expected to give brief conferences to health care staff or community members covering medical and public health issues. 
Gain experience and clinical skills including taking histories, performing physical exams, and using basic diagnostic tests and treatment modalities in a technically limited setting.  Practice in all these areas will help the student develop his/her clinical thinking and diagnostic skills as well as the ability to adapt to a rural practice in a country abroad.
Have an enriching cultural experience and grow both personally and professionally.