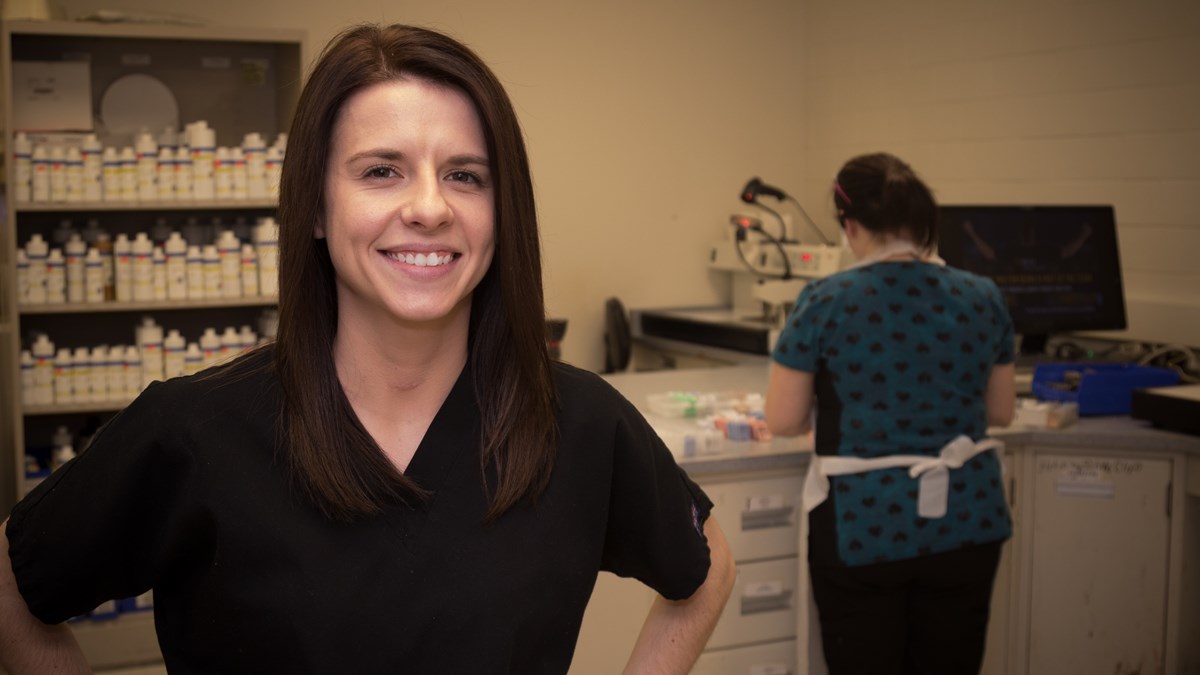 Hometown:

Newell, West Virginia

Graduate Degree:

Histotechnology, School of Medicine
Thyroid cancer didn't stop this WVU Medical Laboratory Science student from becoming a disease detective
Chelsea Bragg always dreamed of making a difference by helping others. A recent experience with cancer reinforced her resolve to pursue a career in diagnosing diseases and infections.
Along with about 4,500 other students, Bragg will receive her degree —on time—this weekend as WVU brings another academic year to a close with commencement ceremonies.
A native of Newell, and a graduate of Oak Glen High School, Bragg discovered her path in West Virginia University's histotechnology program. The histotechnology program is part of the medical laboratory science major and is one of only eight such programs in the country. Histotechnologists are disease detectives – responsible for performing routine and specialized procedures when processing tissue and autopsy specimens.
"What I like about medical laboratory science is that you help people, not one on one, but behind the scenes," she said. "You help them get better and decide if they will respond to certain treatment plans. With the medical laboratory science degree, you can go to medical school, you can go into other graduate programs, and if you don't want to do that, you can still get a job in the medical field with your bachelor's degree."
But in August 2016, just a year into the program, Bragg was confronted with a medical hardship no young person should ever have to face. What first began as a cold turned into something far more serious. After several tests and scans, she was diagnosed with metastatic thyroid cancer at age 23.
"The day I received my diagnosis, I felt like my whole life came crashing down around me," she said. "You never think something like that would ever happen to you. After the doctor told me I had thyroid cancer, I couldn't listen to anything he said. I was stunned, and it took me a few days to get myself together again. I had one year of school left, and I was so afraid I wasn't going to be able to graduate. All I thought about was how all my life I had been so focused on my schooling. I was so close to finally receiving my degree, and I wasn't going to let a diagnosis take that away from me.
Bragg underwent a complete thyroidectomy, including the removal of several lymph nodes, and radiation treatment during the semester and never missed a class or lab.  
"Chelsea is a remarkable young lady," said Kimberly Feaster, director of the histotechnology program. "While dealing with her prognosis, surgery and treatment, she was steadfast in her academic and technical abilities, both in the classroom and laboratory. Her resilience and perseverance are truly inspirational. I'm honored to have been a part of her journey, to see her graduate and have a career doing something she loves."
Even though her world was forever changed, Bragg refused to let cancer define her existence or place her behind in school. She was also amazed at the support provided by her classmates, despite the fact they had only been together in the program for a year.
"I went to both my professors, Ms. Feaster and Mrs. Wade, told them the news, and they hugged me and told me I could come to them if there was anything that I needed," Bragg said. "They told me to put my health and wellness first, and no matter what, we could figure out the exams and classes I may have to miss due to my doctor's appointments or procedures."
Her determination paid off. With the encouragement, support and flexibility of her professors, she managed to develop an efficient system that helped her to excel, eventually allowing her to finish the program with honors.
"I didn't want cancer to affect my life," she said. "I got 14 lymph nodes and my thyroid removed on a Friday; I didn't have class Monday, and I was back on Tuesday. With the help of my doctors, I worked my treatment around my school schedule."
Bragg opted to push back the radioactive treatment, where patients must be in complete isolation for two weeks, to the holiday break. She underwent so many CT scans, PET scans and surgeries that by the time she started her treatment, she was exhausted.
"For the treatment to work, I could not take the medicine to replace my thyroid hormone for over a month," she said. "Without my thyroid, I hit a whole new level of exhaustion that I never thought was possible. Now, I am grateful because of that experience. I can understand the fear of waiting for a diagnosis, and I want to be able to get results communicated faster to patients. I would like to be part of that process."
Today, the 24-year-old celebrates almost a year since her diagnosis. Chelsea credits her mother as her biggest inspiration. Her mother raised her, along with her two siblings, while working a full-time job and surviving both breast cancer and cervical cancer.
"My determination to graduate definitely helped me persevere through my diagnosis, surgery and treatment, but most of all I couldn't have got through it all without my mother," Bragg said. "I hit rock bottom and was so miserable I didn't think I would be able to get through it. I would call my mom a lot during that time when I didn't think I could do it. She always knew what to say to keep me going, keep me studying, and to get me to get out of bed each day."
Ready to conquer the work place after graduation in May, Bragg recently accepted a job as a histotechnologist at WVU Medicine's J.W. Ruby Memorial Hospital in Morgantown where she will assist with the process of identifying cancer and infections in patient specimens.
"After my diagnosis and treatment, the experience assured me that I chose a career I am incredibly passionate about, and that I was right where I needed to be," Bragg explained. "It took the doctors almost a month and a half to finally diagnose me. After my lymph node biopsy, I knew I was finally going to get some answers. Waiting for that diagnosis felt like a lifetime. As a histotechnologist, I will be a part of getting that diagnosis to the patient, and I want to help make that process as quick as possible so the patient can begin treatment. Even though the patient has no idea who I am, it is rewarding enough for me to know I can help thousands of patients without ever even meeting them."