Hometown:

Wellington, Ohio

Undergraduate Degree:

Medical Laboratory Science program , School of Medicine, West Virginia University
Growing up, Kelsey Holben was fascinated by science, medicine and technology. She was intrigued with the behind-the-scenes professions of the healthcare industry that impact our lives on a daily basis without necessarily getting the credit they deserve.
When Kelsey's mother was diagnosed with cancer, that interest was further reinforced, and her curiosity was piqued by those who help diagnose and detect the disease. She started learning about medical careers that extend beyond doctors and nurses and realized that the possibilities are nearly endless.
With that idea in mind, the native of Wellington, Ohio, who grew up in Northern Shenandoah Valley, Virginia, was determined to pursue an undergraduate degree that echoed those interests. During a college tour at West Virginia University, Kelsey fell in love with the campus. She then came across the Medical Laboratory Science program and it instantly clicked with her for the breadth of unique features it offers.
The four-year program provides clinical hands-on experience in a setting that extends beyond lecture halls. With this intensive training, students get to explore an array of specializations within the program's two areas of emphasis – clinical laboratory science and histotechnology – both of which are fundamental to the healthcare system. The strongest appeal of this degree lies in the growing demand for its graduates in the job market, with a career path that is experiencing exponential growth. The program is also an excellent pathway to medical school or further study in an advanced health profession.  
"People don't know about the behind-the-scenes parts of medicine," Kelsey said. "When I came to WVU, I didn't know what histotechnology was; I had no idea it existed, and now it is my ideal career."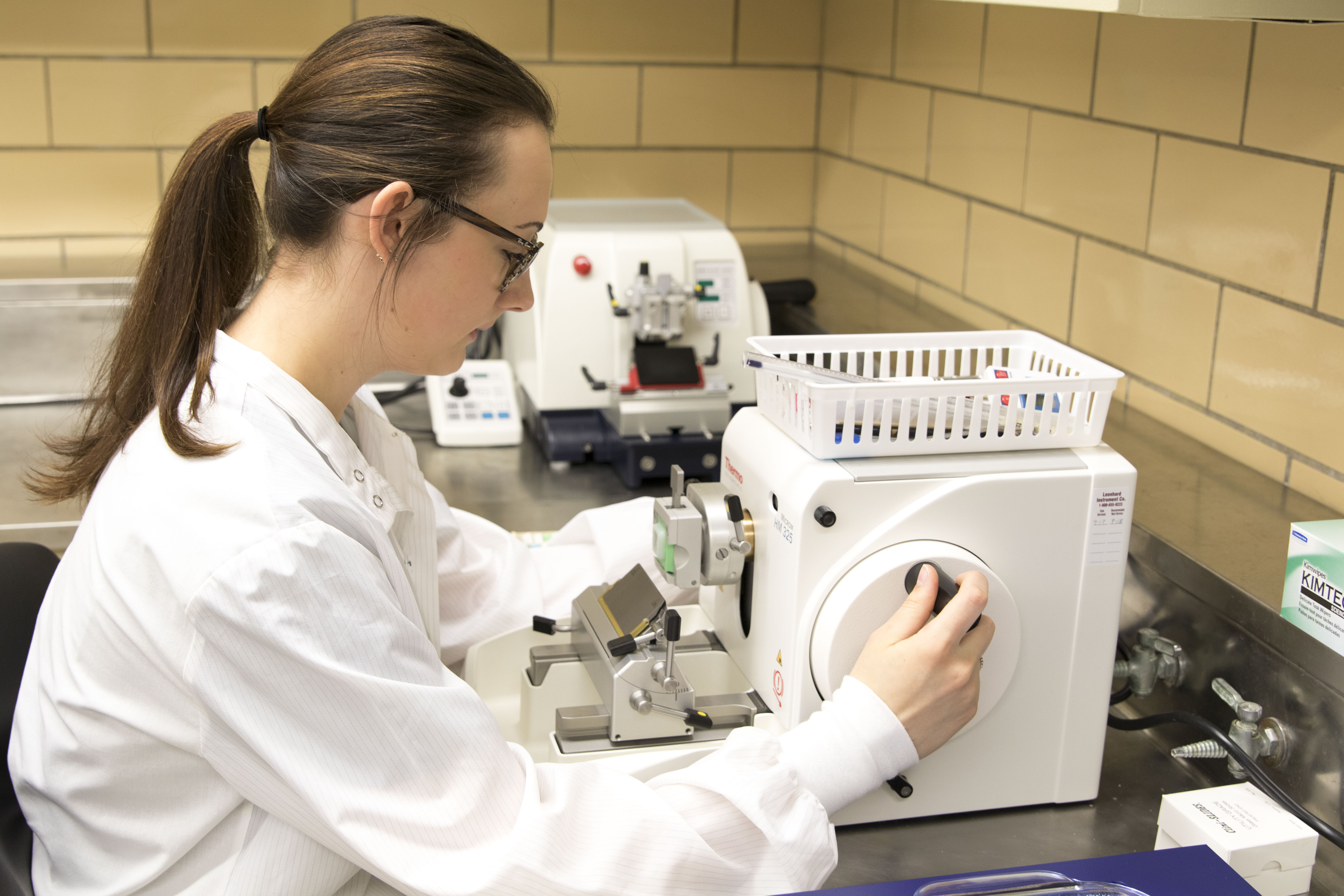 Not only does this degree equip students with an intensive combination of lectures, laboratories and clinical experience, it also offers an intimate and supportive setting where they can learn and thrive. With the guidance and encouragement of its faculty members, the program paves the way for a new generation of medical laboratory science professionals who play a pivotal role in disease diagnosis and treatment, as well as disease monitoring and prevention. 
"I really like that we have a small class set because it's a lot easier to approach professors, ask questions in class and get to know your peers," she said. "We have amazing professors. They are so helpful, and the program would not be the same without them. I also like how our classes are tied together. A lot of topics overlap, and that makes it easier to learn and retain information."
Reflecting on her experience in the Medical Laboratory Science program, Kelsey, now in her junior year, labels it as intimate and rewarding. Her advice for prospective students centers on being proactive, taking advantage of the numerous resources available at students' disposal and setting priorities straight.
"You should take every class seriously, respect your professors and show them that you are eager to learn," Kelsey said. "Getting involved with organizations, research opportunities and jobs on campus is also really important. This social network complemented by resources and labs will make your education meaningful."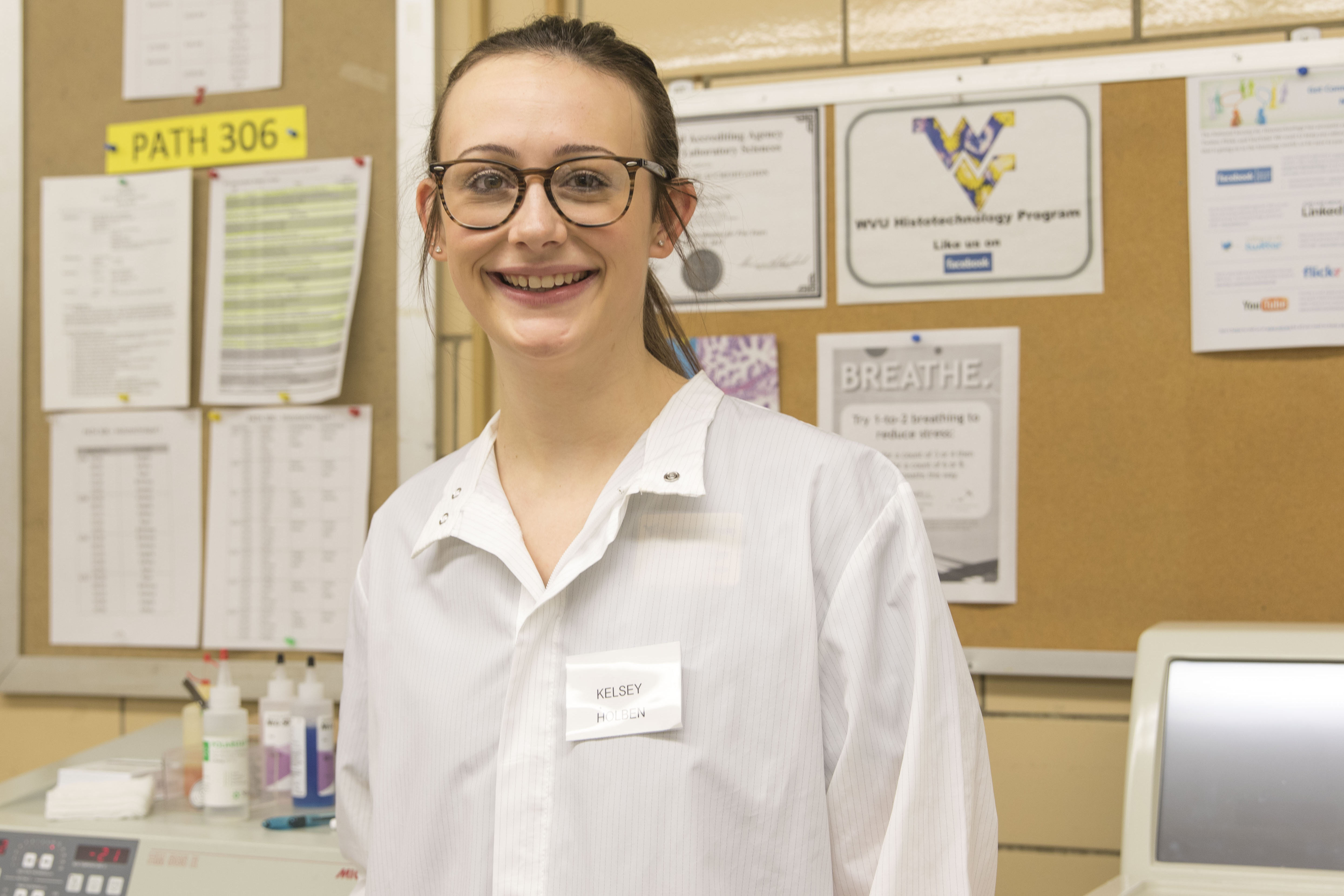 Asked about her future plans upon graduation, Kelsey says she is steadfast in her decision to work as a histotechnologist. She also hopes to dispel some of the misconceptions about a profession that combines technology and methodology and requires patience, mechanical ability and knowledge of basic sciences.
"A lot of people don't know about our program and what the profession entails, so that's kind of challenging," she said. "Getting the word out there about it, and finding a way to tell people what we do might be helpful. Our field is not only about running tests in a lab and hitting a button to operate a machine. We help save lives by performing lab tests, interpreting data, analyzing results, developing new procedures, and communicating with other members of the health care team."