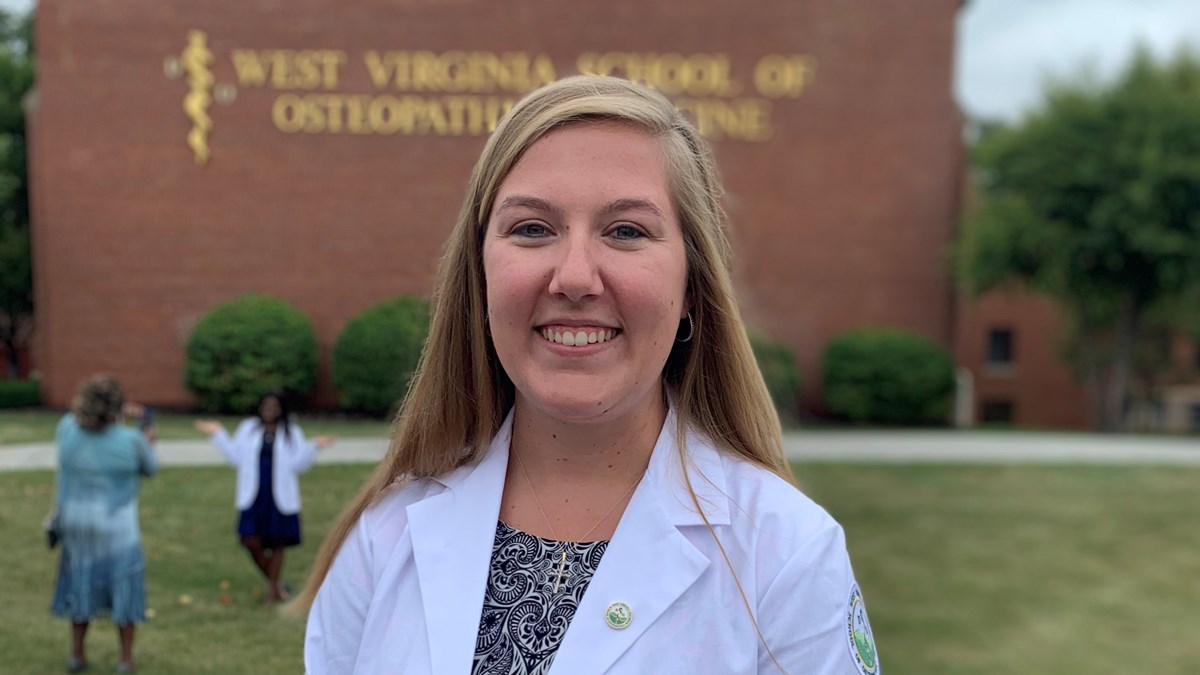 Hometown:

Oak Hill, West Virginia
What's your name and hometown?
My name is Mary Kate Rosiek and I am from Oak Hill, West Virginia.
Why did you decide to go to medical school?
I remember I was a freshman in high school when I first started telling people that I wanted to go to medical school and be a doctor when I got older. I am not sure where this decision came from, but I realized that my true desire to go to medical school stemmed from my love of helping others. 
How did your time at West Virginia University prepare you for medical school?
My time at WVU was instrumental in preparing me for medical school and I cannot say enough good things about the Exercise Physiology department.  The versatility of the program allowed me to take an array of classes that would benefit me in the long run of medical school. WVU really facilitates an opportunity for fantastic preparation for any professional school that students choose to pursue, and I feel that my educational background having attended WVU gives me the opportunity to excel.
Tell me about your experiences here at WVU.
My experience at WVU is something that I will always cherish. I have many fond memories of Morgantown. I felt so blessed to be able to attend the school that I had cheered for in football and basketball since I was a little girl and had always dreamed of attending. My classroom experiences were phenomenal, and I am grateful for the faculty for always being so ready and willing to help. I made so many friends while attending WVU and I felt myself grow as a person as well. My time at WVU really helped shape me into the person, student and future doctor that I am today. 
What's next for you after medical school?
My plan is to stay in West Virginia after graduation from medical school. I plan to pursue a career as a family practice physician and return home to practice in the Oak Hill area or nearby. While family medicine is my plan, I am keeping my options open to other specialties as well.
What was it about becoming a doctor that got you excited?
It is difficult to pinpoint one thing that gets me excited because there is so much about being a doctor that I get excited over. For example, I look forward to the variety of cases that I could see daily as a primary care physician in the future. Also, simply the idea of being able to provide care to people is amazing to me.
Was there a particular moment you thought, "This is absolutely the right career for me?"
I began shadowing local physicians in the Oak Hill/Beckley area during my college years. There was a specific family practice shadowing experience that really showed me that primary care in a small-town setting is the career that I wanted to pursue after medical school. The interactions with the patients, along with the variety of cases on a daily basis, really pushed me to this decision.
Did you participate in any clubs or groups at WVU? 
I was really involved in the Fellowship of Christian Athletes while attending WVU. I was a member for all four years and a student leader for two years.  I was also a student in the Honors College and involved in honor societies such as Helvetia, Chimes and National Society of Collegiate Scholars. I was a member of the Exercise Physiology Club for four years as well and volunteered through their community service endeavors as well as with the Rosenbaum Family House at WVU Medicine.
How has your time at WVU shaped you, or your goals?
My time at WVU really helped me to grow as a student and as a person.  I attribute a lot of my success so far in medical school to those skills that I developed at WVU. Now, a few months into attending medical school, I realize that my time at WVU thoroughly prepared me for what I am facing in the School of Medicine. My time at WVU helped me learn that you can achieve anything that you set your mind to and work for.
What are you hoping to accomplish in medicine?
I hope to make an impact on the community that I am practicing in and the community I grew up in. I want to be able to use the platform I have been given as a physician to make a difference in the community as well as in the lives of my patients. I hope to be a physician that is seen as one who truly cares for individuals and really invests in their health and well-being.