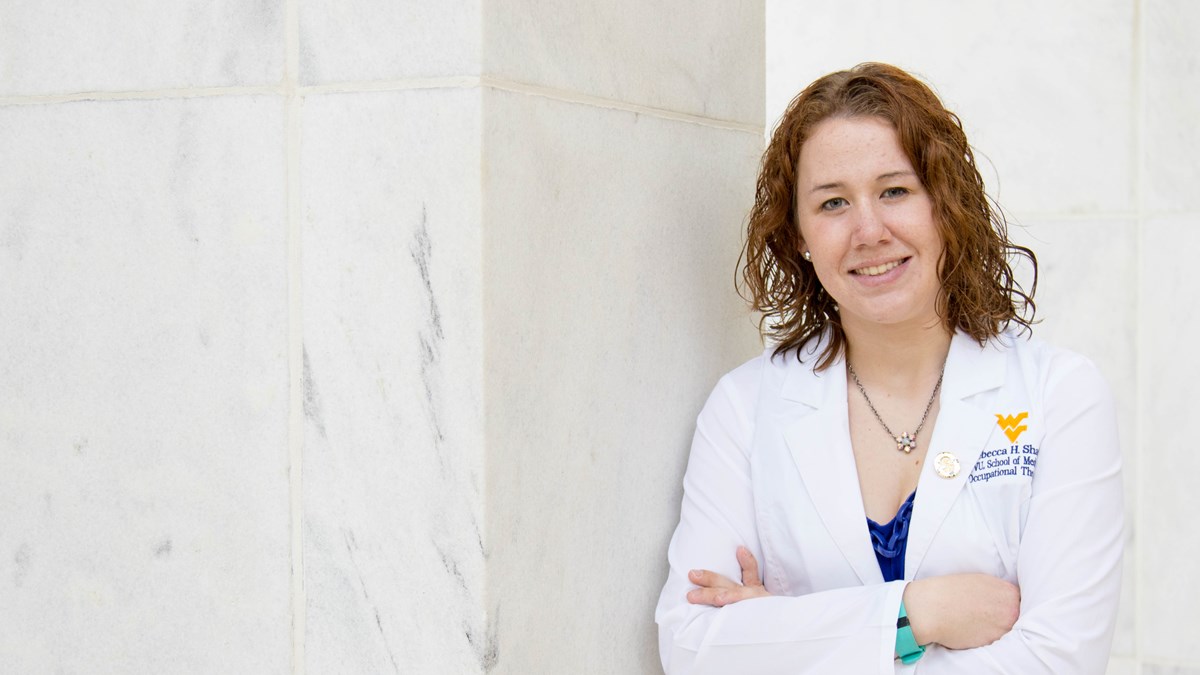 Hometown:

Johnstown, Pennsylvania
A childhood stroke forms a future in health care for WVU Occupational Therapy student
Motivated by a personal hardship, Rebecca Shark, a native of Johnstown, Pennsylvania, decided to pursue a medical career in occupational therapy (OT), a field she was first introduced to as a patient at an early age.
"I've had pretty significant medical challenges in my life," Rebecca said. "At the age of five, following misdiagnosis and multiple seizures, doctors discovered a brain tumor and removed it. Upon its removal, I suffered a stroke.  I was left with some residual impairment – I don't have very good use of the left side of my body, and I can't use my muscles very well. OT has been very influential in my life."
Rebecca's long-term experience as a patient set her on a steadfast path to a career in the field of medicine. That silver lining helped her develop a new perspective on medicine, one that can assist her in establishing a unique connection with patients.
"I wanted to give back and use my skills to help others; OT was a really good fit for me," she said. "You can never say to your patients, 'Hey, I've been in your shoes, and I know where you're coming from', and while I may not know exactly how they're feeling, at least from this angle, I may be able to give them a little bit more hope."
Finding the right school and program is a challenging process. The intangible qualities that make a place a good fit are difficult to seek out online because there is no way to qualify them. For Rebecca, the West Virginia University School of Medicine was the perfect match.  
"I just fell in love with the campus," Rebecca said. "When I came here to visit, faculty actually took me in to the OT lab and talked to me about my concerns. They were very personable, willing to help, and determined to make my journey here work for the best. That really gauged my decision about coming to WVU."
With the encouragement and support of her program advisors, Rebecca learned to get creative with her studying strategy, molding it to accommodate her needs. She was determined not to let her medical condition control her life.
"Learning new material and how to adapt that new material to fit me has been a struggle, but everyone's been really accepting and open to new ideas," she said. "That's something I really enjoy about this program, and I'm happy I've chosen WVU for that reason."
Rebecca graduated from a small high school with 130 classmates, and despite the overwhelming transition and the tremendous amount of materials she had to master in the first two years, she praised WVU for the numerous resources available at students' disposal.
"There's a lot that the School of Medicine can offer outside of the classroom," she said. "We have the Student Occupational Therapy Association. I'm currently  their Relay For Life captain. With  opportunities such as the homecoming parade or helping out children with disabilities at a Halloween party, this organization definitely provides something different to give us a little more exposure and pull us all together to do something aside from schoolwork."
Rebecca explains that her formula to achieve work-life balance rests on making mindful decisions, investing in her education, yet being actively involved in a diverse array of rewarding community service activities provided by WVU.
"It was hard to balance between schoolwork and social life, but I made it happen," Rebecca said. "I hit the library pretty hard because getting into a professional program or medical school can be difficult. I was also a resident assistant for several years, and I helped out in the dorms and made friends that way. I am now an ambassador for the OT program at Open Houses. It all comes down to what you choose."
Reflecting on her experience at the WVU, Rebecca labels it as personalized, intimate and highly influential.
"The School of Medicine is very personalized," she said. "Here, you are a person. Everyone I met within the OT program in the School of Medicine has had somewhat of an impact on me. They've always helped me figure out where to go and what to do next. They're not out there trying to weed you out of the program. You've gotten into the program, you are part of the family, and they're striving to keep you in that successfully."
Rebecca may be undecided about her future plans, but she emphasizes her interest in neurosciences, given how enormously it shaped her own understanding as a patient.
Asked about her experience with living in West Virginia, Rebecca shared that the compassionate nature of West Virginians really shines through.
"There is always someone willing to help you no matter who you call," she said. "Even if they're not the person to help, they'll make sure they find someone who can. WVU and West Virginia pulls at your heart. Just come and visit!"