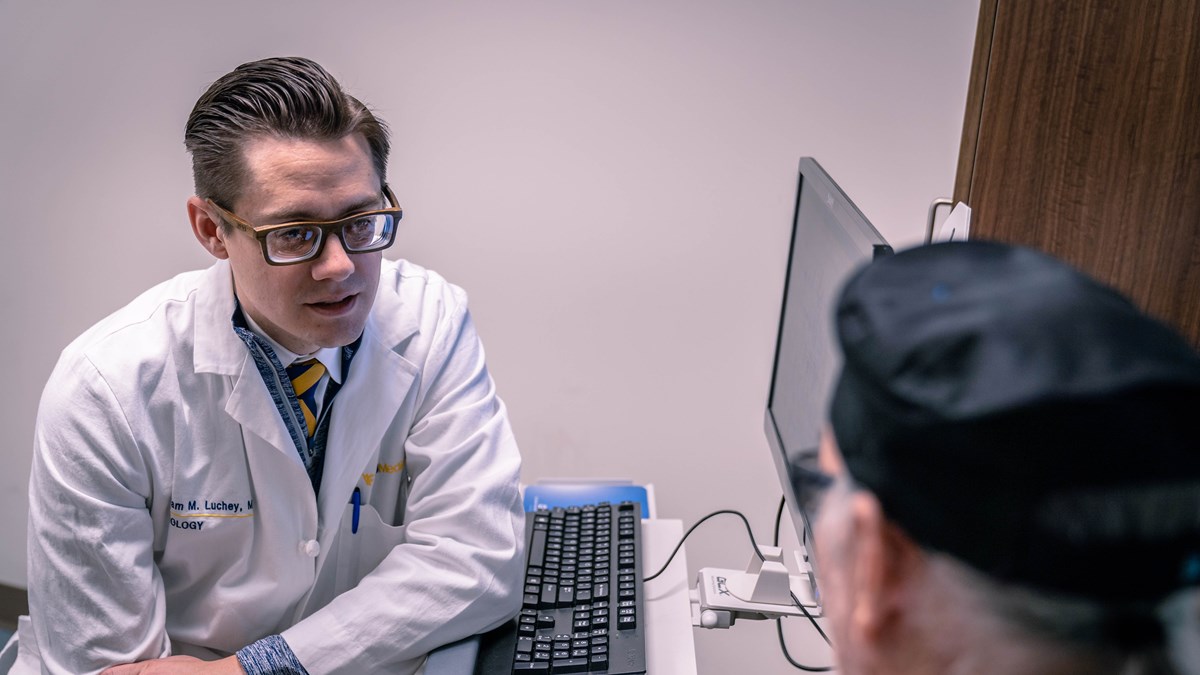 Successful faculty at a teaching hospital have a drive to provide exceptional care for patients while training the next generation of doctors. That drive for Adam Luchey, M.D., is amplified by the fact that his story is tied tightly to West Virginia University.
He first was a resident at the WVU School of Medicine in the Department of Urology. During that training, he became a patient -- a time that he attributes as inspirational -- receiving exceptional care from all the providers he encountered at WVU Medicine. 
"I truly believe the care that I received here, the care I give to patients, and the care I observe from countless other healthcare providers cannot be found in another other institution," he said.
During residency, Luchey was an admitted patient at J.W. Ruby Memorial Hospital after experiencing symptoms of acute disseminated encephalomyelitis, a rare brain inflammation, on a family vacation in South Carolina.
After being dismissed from the emergency room in South Carolina, he brushed off his symptoms and continued with his vacation. To his dismay, the symptoms quickly worsened to the point of being unable to walk and struggling to breathe. At that moment, the seriousness of his condition became apparent and he and his wife made the decision to travel twelve hours back to West Virginia to be treated at WVU Medicine.
Luchey was able to swiftly return to his normal schedule as a result of the efforts made by those who treated him. The experience stuck with Luchey as he completed his residency with the WVU School of Medicine in 2013. Based on his personal story, he believed no patient should have to leave the state in order to receive the highest quality of care.
He accepted a urologic fellowship at the Moffitt Cancer Center in Tampa, receiving advanced training in both robotic and open urologic cancer procedures.
Luchey returned to the WVU School of Medicine's Department of Urology as a urologic oncologist specializing in complex urologic cancer care. Coming back to work for WVU was one of the easiest professional decisions he had to make, as he prides himself on being part of an organization that is growing and possesses the ability to take care of West Virginia's residents.
He also serves as the residency program director, ensuring the next generation of doctors graduate as confident and competent surgeons.
Although finding the ideal balance between encouragement, teaching and constructive criticism is often challenging, the reward is worth it. Looking back, observing residents he has helped train and pursue their own private practice or enter into a competitive fellowship is amongst the reward that comes along with the job: it shows that as teachers, they have done a successful job.
"During their career, no years will be as transformative, challenging and engaging as the years spent as a resident, and I hope to inspire them to find their drive and why," he said.
Luchey credits his success to those who cheered him on and were able to tell him what he needed to hear, not what he wanted to hear. Through his course of seven years of surgical training coupled with five years of practice, the words from those who matter most helped him progress in his career.
The Urology program at WVU has been nationally ranked in both pediatrics and adults in the state for the past three years, and continues to recruit the best of the best.
Despite the different paths in Urology, the department dynamic at WVU remains the same: helping patients and getting better at their own jobs.
"Our camaraderie between the staff and residents is second to none…this helps and is appreciated on another level when the days get tough," he said.
Luchey hopes to further expand the residency and what it can offer to trainees and progress within the West Virginia Urology Association, which he co-founded.
His commitment to WVU and West Virginians remains unwavering.
"We're increasing our ability to allow patient access to a vast array of clinical trials, so again, patients will not have to leave to get the care they may find at other centers," Luchey concluded.
To read more about Dr. Adam Luchey, click here.