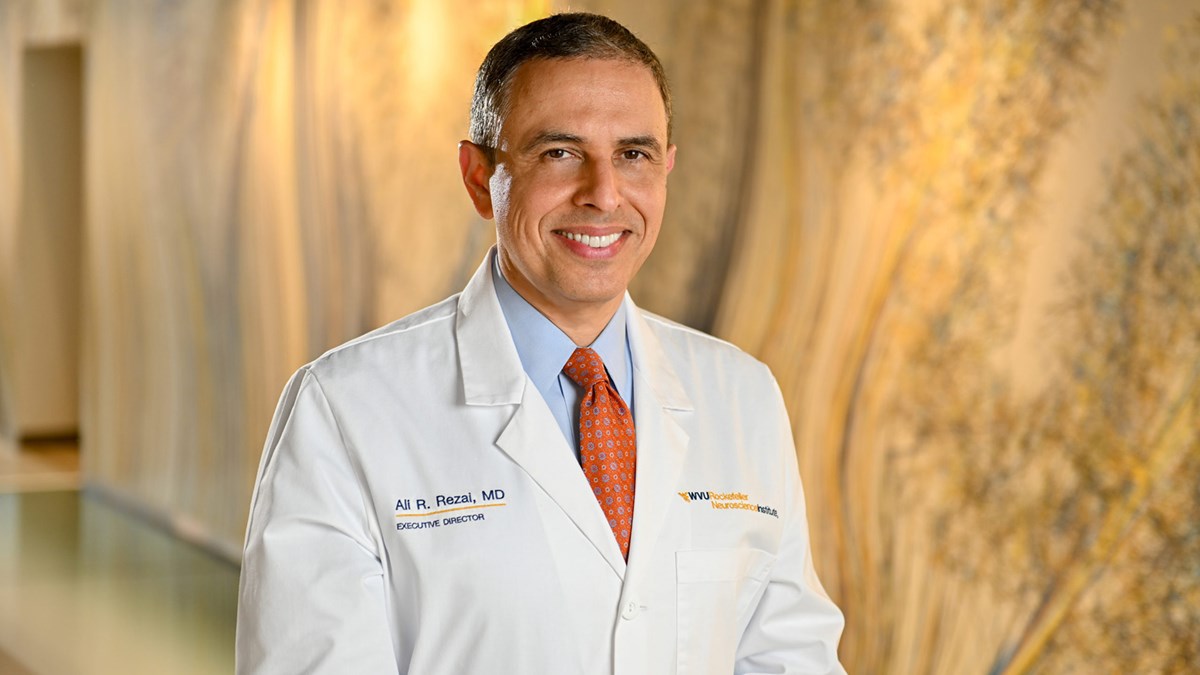 Ali Rezai, MD, is a renowned neurosurgeon who has advanced brain health and neuromodulation treatments for those with neurological and mental health conditions. Dr. Rezai is the Executive Chair and director of the Rockefeller Neuroscience Institute (RNI), a comprehensive world-class patient care, education, and research institute.
Rezai earned his medical degree with honors from the University of Southern California and underwent neurosurgical training at New York University. He completed his subspecialty training in functional neurosurgery at the University of Toronto. He then joined the neurosurgical faculty at New York University Medical Center, becoming the director of the Center for Functional and Restorative Neurosurgery until 2000, when he joined the Cleveland Clinic.
Dr. Rezai was the director of the Center for Neurological Restoration and the Jane and Lee Seidman Chair in Functional Neurosurgery at the Cleveland Clinic until 2009, when he moved to the Ohio State University (OSU). At OSU, Rezai was the Associate Dean of Neuroscience and the Director of the Neurological Institute. 
In 2018, Dr. Rezai joined West Virginia University to lead the newly formed Rockefeller Neruoscience Institute (RNI). Under his leadership, the RNI has grown to over 200 faculty across five Departments with 1,500 team members, providing an integrated neurological and mental health care delivery model, training, and research. The RNI team provided patient care for 220,000 patients in 2021.   
A board-certified neurosurgeon, Dr. Rezai's clinical areas of expertise are functional neurosurgery for management of patients with Parkinson's disease, tremor, chronic pain, brain injuries, addiction, and Alzheimer's disease. Rezai was named one of the best doctors in America in Castle Connolly's Guide to America's Top Doctors for 20 consecutive years from 2001-2021.
Dr. Rezai has over 200 scientific publications with an H-index of 85 (Google Scholar) including publications in Nature, Lancet Neurology, JAMA Neurology, and Proceedings of the National Academy of Sciences. He has served on the editorial board of multiple scientific journals, edited a book on surgery for psychiatric disorders and the two-volume textbook, Neuromodulation. Rezai has been the Principal Investigator (PI) and co-investigator on seven NIH grants. He has trained over 50 neurosurgical fellows and delivered more than 500 lectures. Dr. Rezai has presented his research to the President of the United States, to members of the US Senate and House of Representatives on Capitol Hill, and to four Governors.
Rezai is the past president of the Congress of Neurological Surgeons (CNS), the largest neurosurgical society in the world, as well as the past president of the North American Neuromodulation Society (NANS) and the American Society of Stereotactic and Functional Neurosurgery (ASSFN).
Dr. Rezai's research focuses on population health and innovations in the use of brain stimulation and focused ultrasound technology for treating Parkinson's, Alzheimer's, and addiction. Rezai has received the Bottrell Neurosurgical Award, Congress of Neurological Surgeons Clinical Fellowship award, and the American Association of Neurological Surgeons William Sweet Investigator Award. He has also received multiple innovation honors, including the Cleveland Clinic and Ohio State University Innovator of the Year awards. Dr. Rezai holds 60 issued US patents for medical devices and technologies.
Rezai's work has been featured in The Wall Street Journal, The New York Times, US News and World Report, USA Today, MIT's Technology Review, Newsweek, Time, The Washington Post, The Boston Globe, Reader's Digest, Financial Times, Los Angeles Times, Chicago Tribune, and The Globe and Mail. He has appeared on numerous local and national radio and television broadcasts, including CBS' 60 Minutes, Good Morning America, Today, CNN, NPR, PBS, BBC, HBO, MSNBC, ABC, NBC, CBS Nightly News, Charlie Rose, The Diane Rehm Show, the Discovery Channel, and others.