School History
The story of West Virginia University's Health Sciences Center is a story of growth and change. WVU was established as a land grant university and named the Agricultural College of West Virginia in 1867. Just a year later the name was changed to West Virginia University.
Today, WVU's Health Sciences Campus is a large, modern medical complex that includes Schools of Medicine, Dentistry, Nursing, Pharmacy and Public Health, three hospitals, a physician office building, state-of-the-art cancer and eye centers and a $40 million facility that houses the Blanchette Rockefeller Neurosciences Institute, named for U.S. Senator John D. Rockefeller's mother, who died of Alzheimer's disease.
The School of Medicine serves more than 2,500 students with a variety of educational programs -- including medicine, physical and occupational therapy, laboratory science (formerly medical technology), exercise physiology, continuing medical education, public health sciences and others. Faculty members provide advanced clinical care to more than 100,000 West Virginians throughout the state. The institution is making a major investment in new state-of-the-art facilities and improvements in education, research, and clinical care.
Ruby Hospital underwent an expansion of beds and operating rooms beginning in 2003, and plans for additional expansion including another more than 100 bed patient care tower and new emergency department facilities are in progress.
1887
The HICK HOUSE was the first medical school building in the State of West Virginia. Constructed in 1892 in Falling Run Hollow below Woodburn Hall, it was intended to provide space for dissection of about 10 cadavers. Dr. James Hartington, appointed to the university faculty in 1887 as the first full time Professor of Anatomy, Physiology and Hygiene secured the $350 needed to construct the 14" x 20" building. It served Medical instruction for about ten years and provided material for area storytellers for many more. The origins of the name "Hick" are not known, but it probably represents a local corruption of the Latin burial phrase "Hic Jacet" (here lies…). Whether true or not, cadavers here were known as "hicks," rather than "stiffs."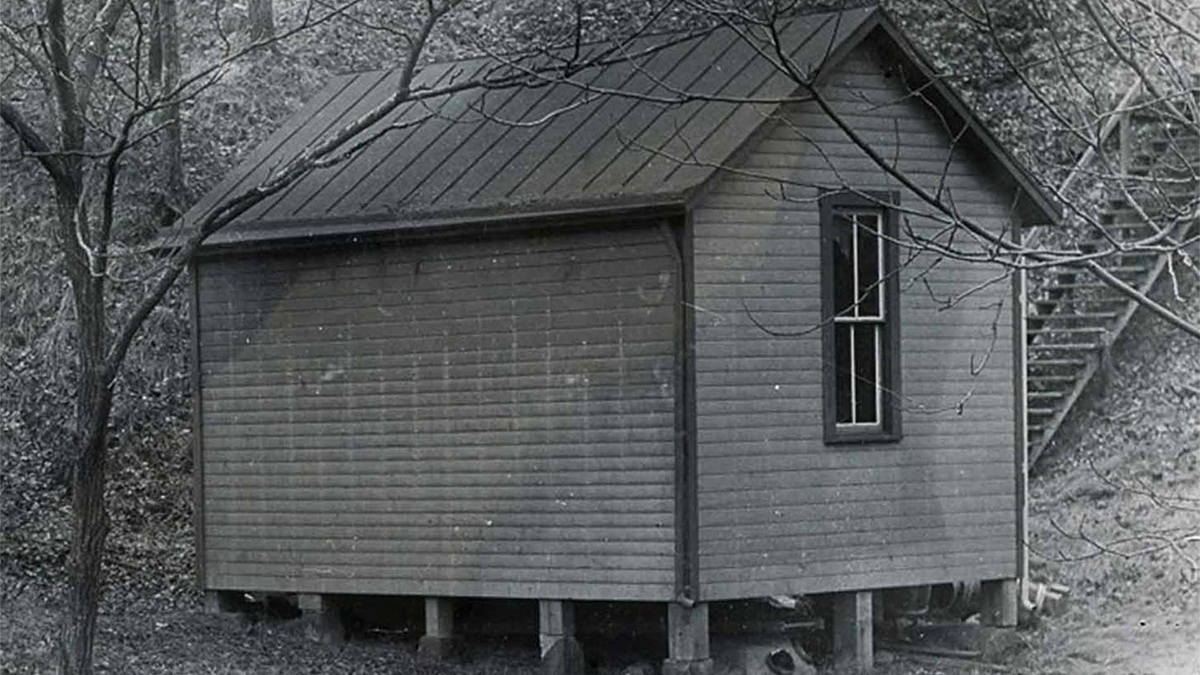 1903
Some medical courses were part of the curriculum in the university's earliest years, but the first comprehensive medical education program was not established until 1903. An agreement with the College of Physicians in Baltimore allowed WVU students to complete their first two years of medical education in Morgantown and their final two years in Maryland.
1912
Independent school offering a 2 year basic science curriculum is established
1912
John H. Simpson named first Dean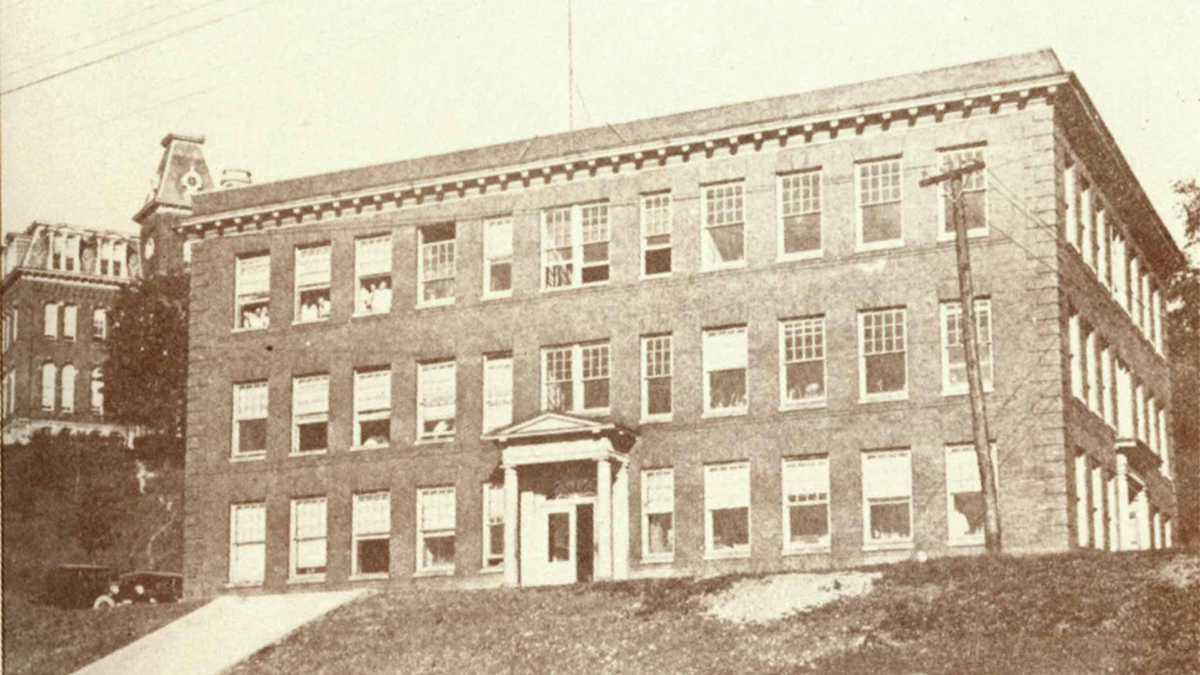 1916
The Two-Year Medical School Building (1916-1957) featured three floors for classrooms, plus a basement for the preparation and storage of cadavers. The basement abounded with rats, and students had to carry their own cadavers up from the basement to an outside door, around the exterior of the building, then back in and up three flights to the gross anatomy labs located on the top floor.
1945
Medical Technology program established within the School
1951
In 1951, the West Virginia legislature passed a tax on soft drinks, known as the "pop tax," to fund the construction of new health sciences center and University Hospital.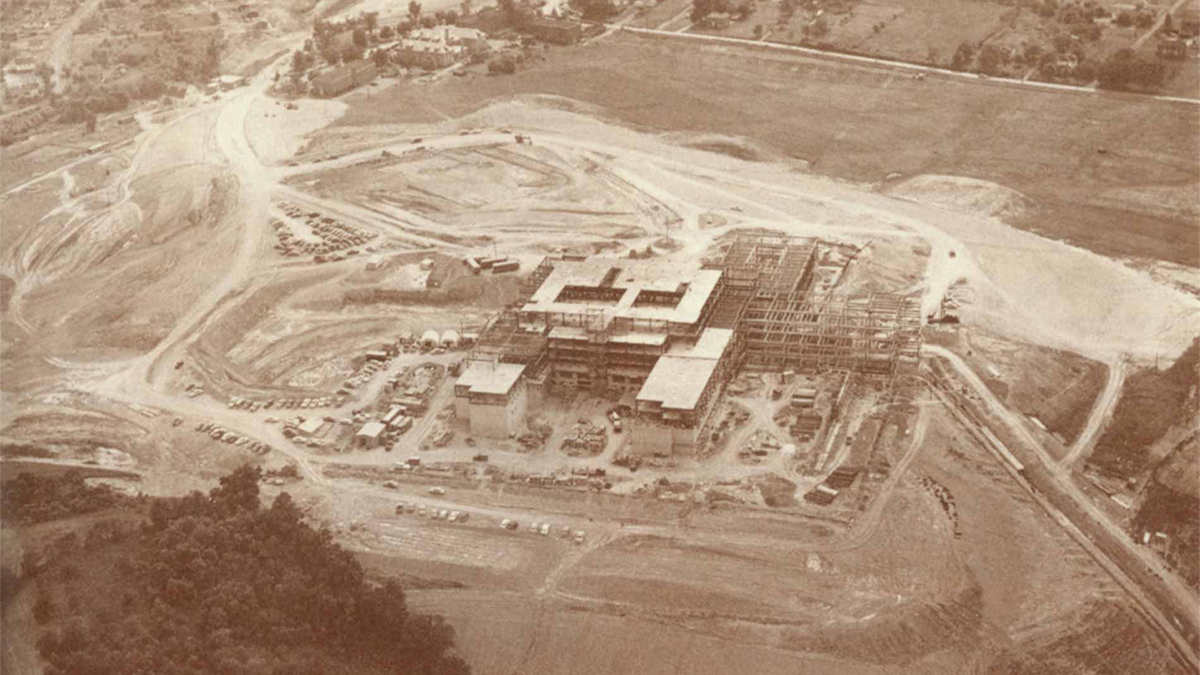 1957
School moves from main campus to new Health Sciences Building with the Pylons marking the entrance to the building. The Pylons are a work of art, reflecting the history that marks the entrance to the health sciences center.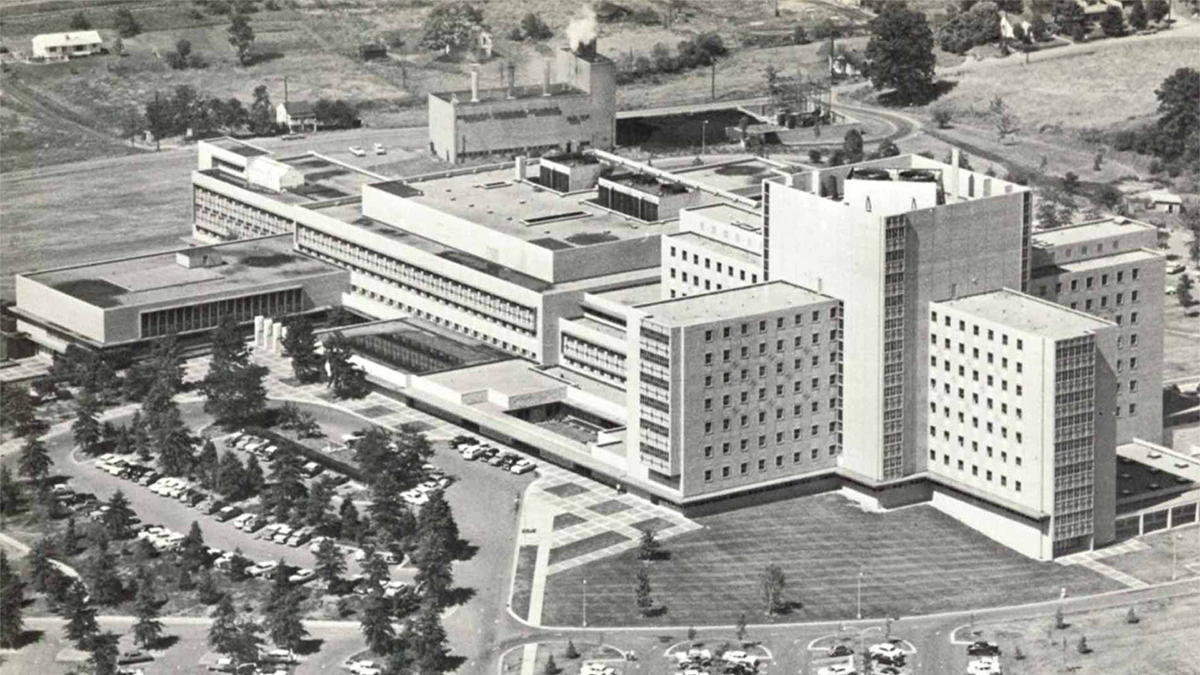 1960
In 1960, University Hospital opened and the WVU School of Medicine established a four-year curriculum and the University Hospital opens for patients.
1961
First Physical Therapy graduates awarded degrees
1962
The School awarded its first Doctor of Medicine - MD degrees in 1962.
1962
Alpha Omega Alpha (AOA) Honor Medical Society Chapter established
1971
Incorporation of faculty practice plan known as University Health Associates
1972
In 1972, the Charleston Division of the Health Sciences Center was established, the first medical school branch campus in the nation.
1985
UHA opens the first MRI in West Virginia
1988
Ruby Memorial Hospital opened in 1988, replacing University Hospital, and includes: Children's Hospital, Jon Michael Moore Trauma Center, and Chestnut Ridge Hospital, a psychiatric and chemical dependency facility, also opened in 1988.
1988
UHA opens its first clinic at Cheat Lake location
1990
The Mary Babb Randolph Cancer Center (MBRCC), Physician Office Center, and Mountainview Rehabilitation Hospital opened in 1990. The Physician Office Center replaced the old ambulatory clinics.
1993
In 1993, the name of the Health Sciences Center was changed to Robert C. Byrd Health Sciences Center at West Virginia University in honor of longstanding U.S. Senator Robert C. Byrd.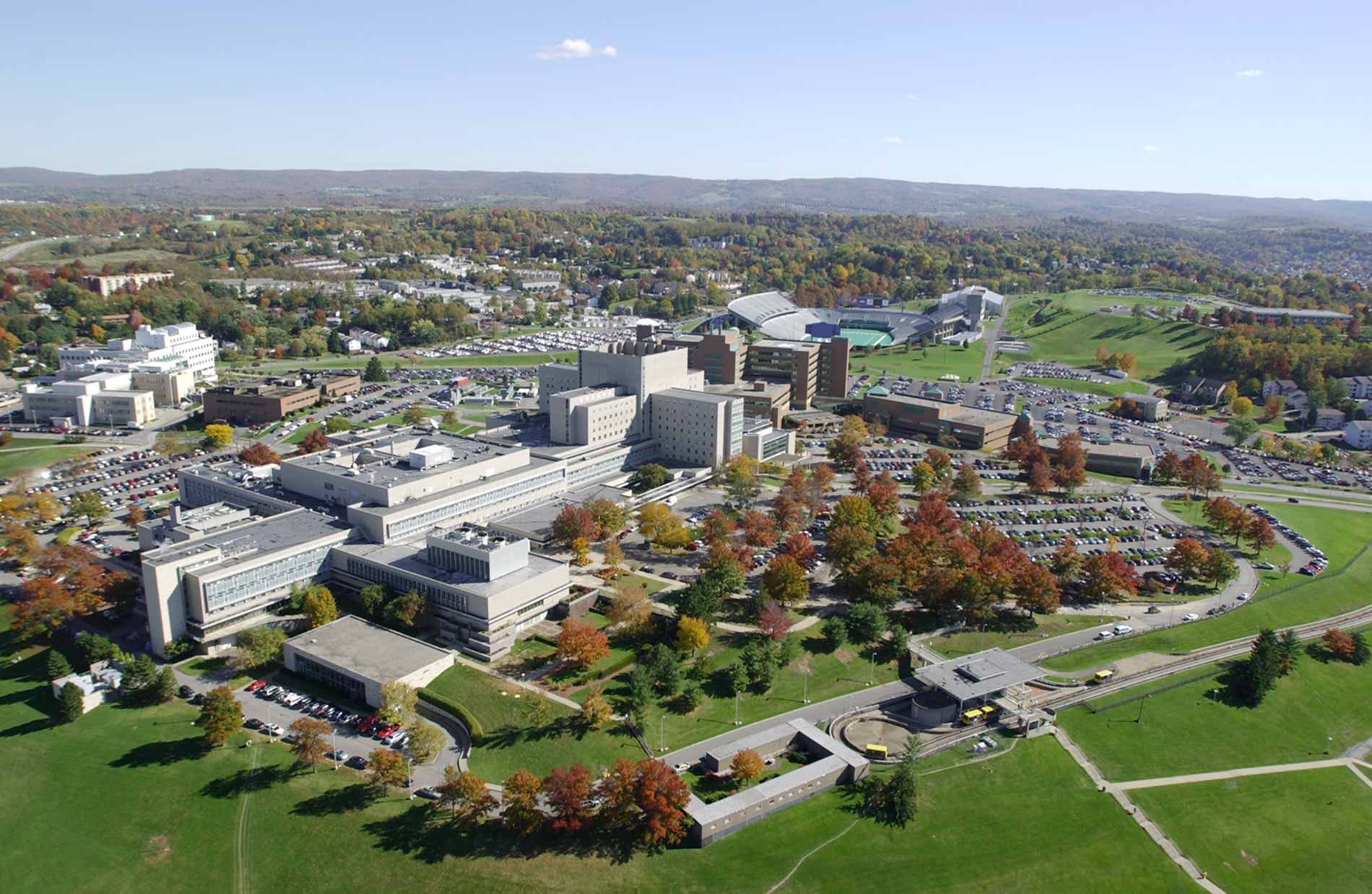 1993
Exercise Physiology transfers from College of Physical Education
1998
First MPH degree awarded
1999
First Graduates in Occupational Therapy
1999
Clark Sleeth Family Medicine Center opens on the ground floor of the HSC
2000
Blanchette Rockefeller Neurosciences Institute (BRNI) opens
2001
WVU Eye Institute opens
2001
University Physicians of Charleston (UPC) begins operation as separate practice plan
2002
Eastern Panhandle Division established
2004
Capital campaign reaches its goal of $100 million
2005
Ruby Memorial Hospital expansion opens
2007
Learning Center opens with library renovation, new classrooms, and atrium
2009
Erma Byrd Biomedical Research Building opens and Mary Babb Randolph Cancer Center expansion opens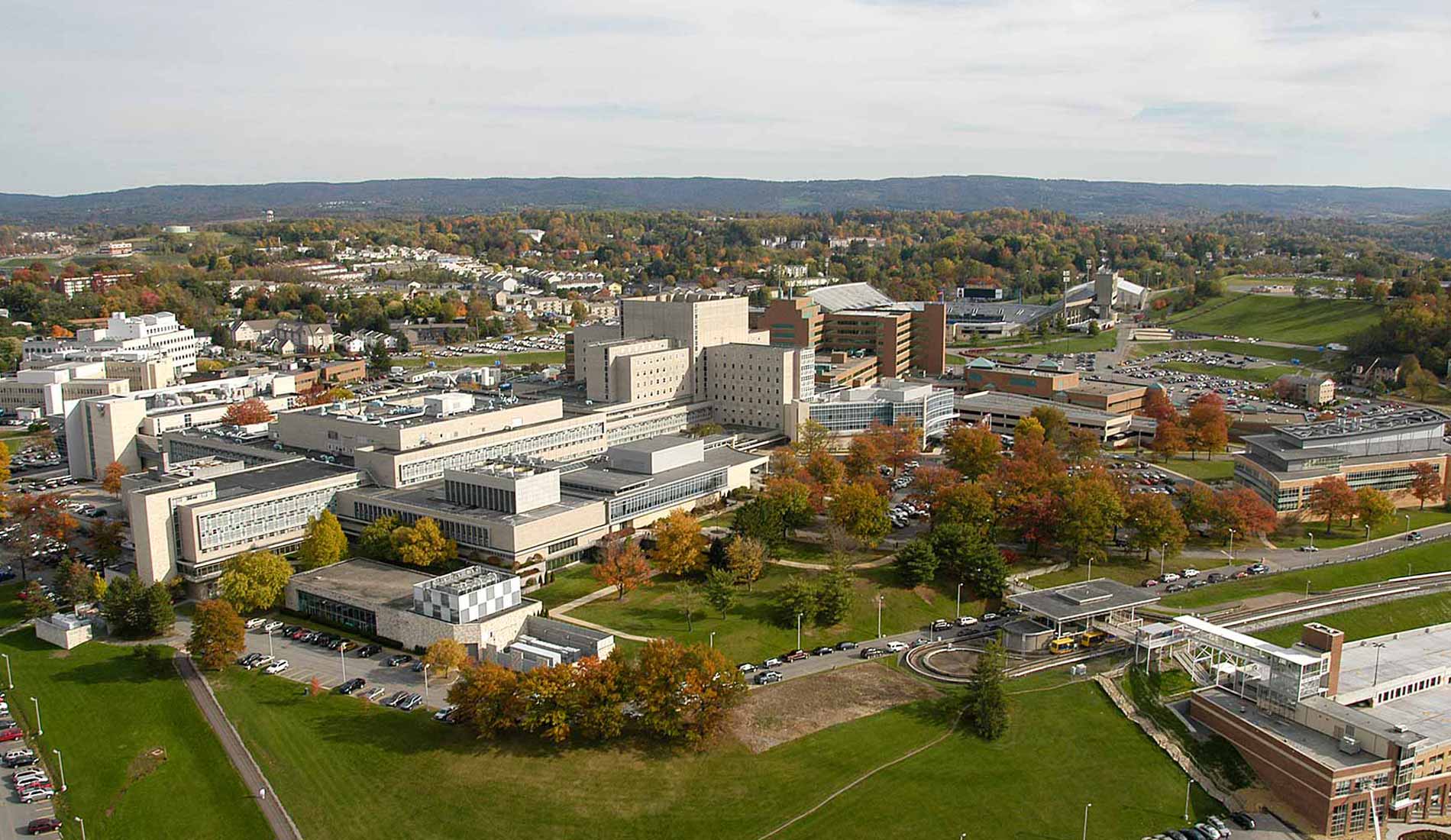 2009
STEPS Center opens as the first multidisciplinary simulation education center for students and residents training on the Morgantown campus
2009
University President Clements appoints Christopher Colenda, MD, MPH as the first Chancellor for Health Sciences
2010
Chancellor Colenda names Arthur J. Ross, III, MD as the Dean of the School of Medicine
2011
School of Medicine celebrates 50 years of offering accredited GME programs which began in 1961 with Surgery, Anesthesia, Pediatrics and Internal Medicine
2011
WVU Hospitals and University Health Associates execute a joint operating agreement for the clinical enterprise and begin operating as WVUHealthcare
2012
Dean Ross establishes three new departments: Translational Research, Radiation Oncology and Medical Education
2012
The Department of Community Medicine breaks away from the School of Medicine and becomes the 5th school in the comprehensive health sciences center with the establishment of the first School of Public Health in the state of West Virginia