Residents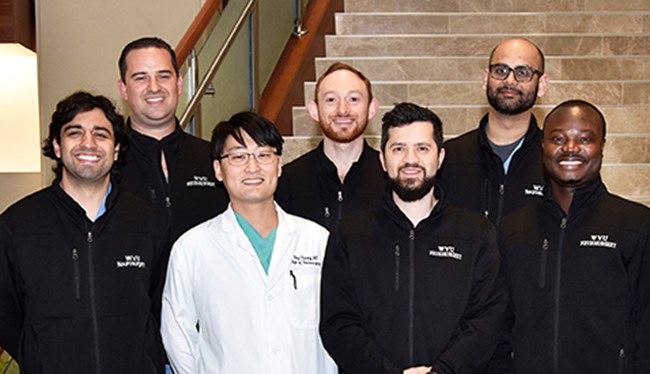 Programs in graduate medical education (GME) have been conducted at the Health Sciences Center since its opening in 1960. The charter of West Virginia University Hospitals, Inc., formulated at the time of its incorporation in 1984, commits the Hospital to continue its high degree of support for GME.
Recent graduates have gone on to specialized fellowships for further training. Upon completion of their education, 40% go on to academic appointments, 60% go to private practices.
Program Description
The Department of Neurosurgery Residency Program at WVU is a seven-year program under the direction of the Program Director, Joseph L. Voelker, MD, and Assistant Program Director, Cara L. Sedney, MD. Our program is structured to produce neurosurgeons who are broadly experienced, clinically mature, and academically well prepared for clinical practice. Institutional resources of well trained faculty, modern equipment, and a mixed tertiary and primary care patient population, ensure the neurosurgery resident the benefits of extensive hands-on experience in a wide variety of routine and invasive neurosurgical procedures. Residents in this program are required to master the skills needed to function in an environment of progressively graduated responsibility, so that by the completion of training, they are capable of independent performance of the full range of neurosurgical interpretation and procedures. Together, the GME Department, West Virginia University Hospitals, Inc., and the Department of Neurosurgery, strive to provide our residents with the highest quality educational experience available.
Salary Schedule for 2017 – 2018 
Residents are strongly encouraged to take the written Board examination, through the American Board of Neurological Surgery. Passing the examination is mandatory before a resident graduates the program.
Educational Support
Each resident will receive $1500 yearly for surgical loupes, books, and some travel expenses. Additionally, expenses will be paid to attend approved courses; such as AANS Resident courses, Board Review, Fukushima Skull Base Course, or any meeting where the resident is giving a presentation. Each resident will also attend a Neurosurgery Boot camp in July of their first year.
Educational Opportunities
Neurosurgery residents participate in weekly resident-run conferences including Grand Rounds, Neuropathology, Neuroradiology, Board Review, and visiting speakers. Other educational conferences include weekly multidisciplinary Brain Tumor board, Pediatric Brain Tumor board, monthly Spine Conferences (with the Dept of Orthopaedics residents & faculty), Epilepsy conference. There is a monthly journal club meeting, held over dinner, where current articles are discussed.
Curriculum
PGY-1
General Care & Clinical Neuroscience - 6 Months
Neurocritcal Care - 6 Months
PGY-2
Neurosurgery - Blue Junior - 6 Months
Neurosurgery - Gold Junior - 6 Months
PGY-3
Neurosurgery - Blue Junior - 6 Months
Neurosurgery - Gold Junior - 6 Months
PGY-4
Academic Rotation - 12 Months
PGY-5
Pediatric Neurosurgery - 6 Months
Clinical Elective - 6 Months
PGY-6
Neurosurgery - Blue Junior - 6 Months
Neurosurgery - Gold Junior - 6 Months 
PGY-7
Chief Resident - 12 Months
Research