Participation in global organization prepares WVU student for career in medicine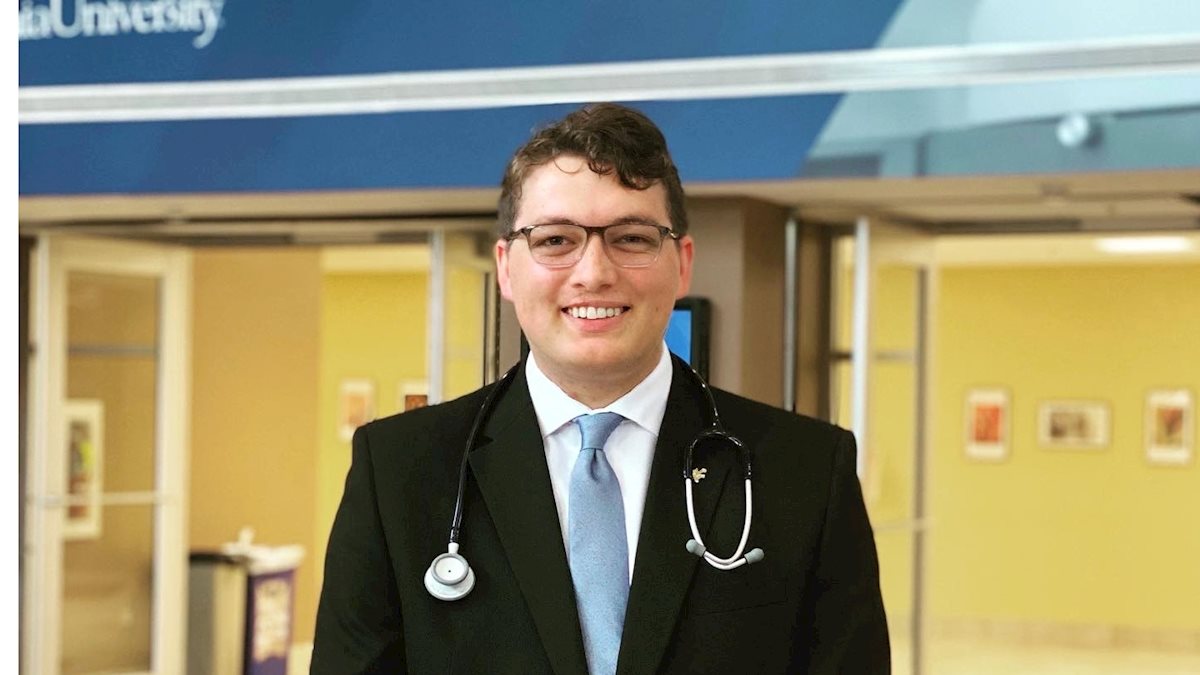 A West Virginia University School of Medicine student is helping address health challenges and improving well-being through education, research, service and advocacy as a Consortium of Universities for Global Health Trainee Advisory Committee member.
Nicholas Miller, a third-year medical student from Hedgesville, West Virginia, is the first WVU student to serve in the role. WVU is a member institution of the Consortium's global organization, which provides opportunities for students to engage with communities worldwide.
"As medical students, being involved in organizations outside our institution allows us to hear new ideas and continually learn from others," he said. "We can share the successes from our programs at WVU with other institutions while continuing to adapt and make improvements at home along the way. I take great pride in the work we do in West Virginia, and I am always happy to expand our presence."
In his role with the Consortium, Miller joins students, trainees and young professionals representing different disciplines from around the world to provide a unique perspective on the organization's projects. As part of the committee, he also works with the Campus Representatives Program, serving as a liaison between students at member institutions and the larger organization to form a more collaborative partnership.
Miller's interest in medicine and global health began at an early age.
"I was born with a cleft lip and had seven plastic surgeries throughout my childhood and adolescence," Miller said. "While I didn't necessarily understand all the details at the time, I always knew I was the recipient of life-changing care. I attribute my passion for medicine to those experiences occurring during the ages when I was increasingly curious about my surroundings, admiring the team taking care of me, and establishing my own identity."
Throughout his treatment, Miller formed connections with his medical team and learned that his plastic surgeon co-founded Operation Smile, a nonprofit organization that provides cleft care to underserved children in more than 30 countries.
"I knew I was very fortunate to have accessible and affordable healthcare, which isn't the case for everyone," he said. "Once I recognized this, I found it impossible to ignore. Global health allows me to continue learning about the world outside my bubble and giving back through work that aims to create equitable and sustainable care for all."
While pursuing his education at WVU, Miller completed a bachelor's degree in immunology and medical microbiology before attending medical school and enrolling in the Global Health Track.
Looking toward the future, Miller is exploring medical specialties during his clinical rotations and hopes to incorporate international medical service into his career as a physician. He would like to one day volunteer and provide care with Operation Smile and continue his leadership efforts in global health.
Miller said his experience as a student leader and advocate resulted from advice that he still recommends to future students.
"Actively try to find your purpose and know that it may change over time; do not be afraid to try new things; and know that you have the ability to make a difference," he said.
To learn more about the WVU School of Medicine, visit medicine.wvu.edu.
-WVU-
co/9/21/23