Ultrasound equipment donations to support rural telehealth, education for nursing students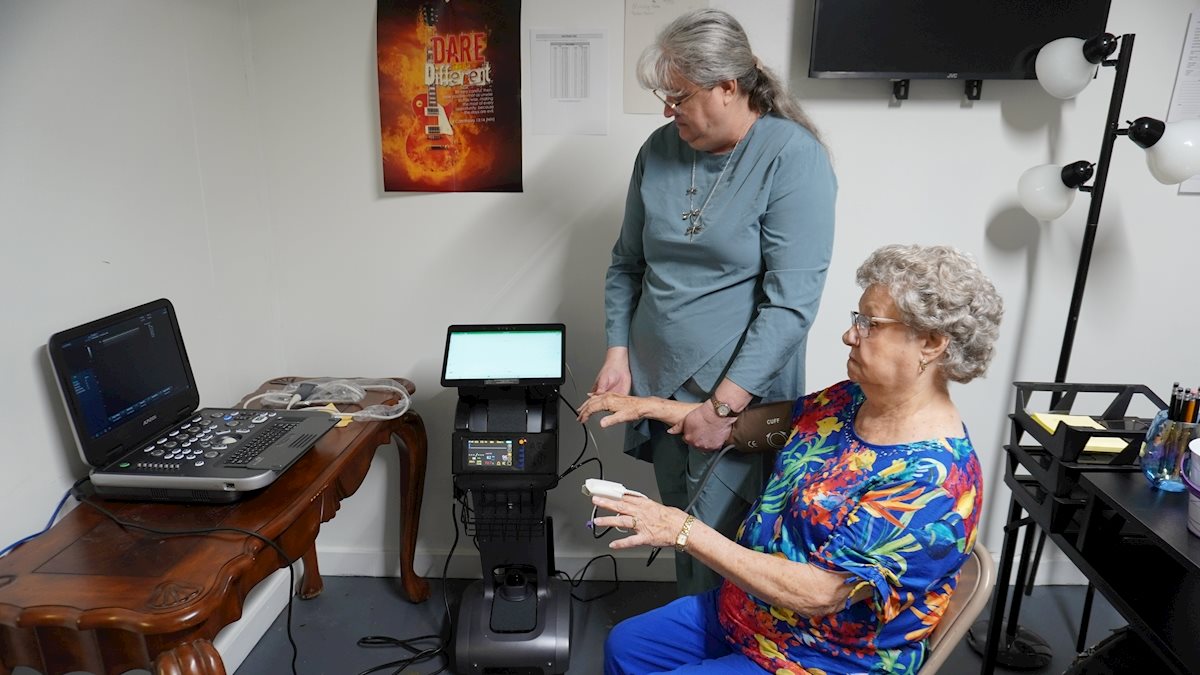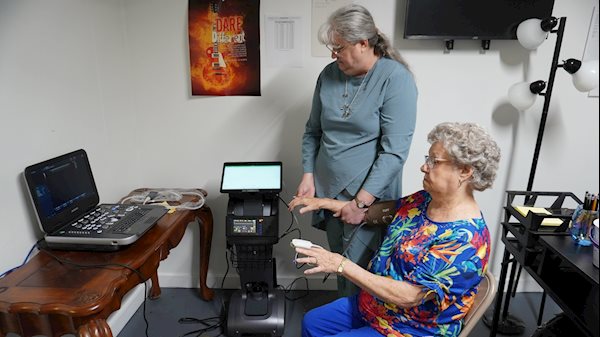 Faith Community Nurse Melissa Coleman works with a patient during a telehealth appointment at Bradshaw Church of God.
Through two donations from Ultrasound Solutions Corp. (USC Ultrasound), the WVU School of Nursing's Faith Community Nursing initiative will be able to further support rural telehealth efforts in southern West Virginia and nursing students will have access to innovative ultrasound technology.
"We are extremely grateful for this partnership and this opportunity to access cutting-edge technology, both in the classroom and in the field," said Dr. Tara Hulsey, WVU School of Nursing Dean and E. Jane Martin Endowed Professor. "Our students, faculty and community members will benefit from these significant resources."
To support access to nurse-led care in rural settings, USC Ultrasound is providing a telehealth robot that features a tablet for user interface and an embedded camera. Patients and doctors can engage through the robot, which comes equipped with a stethoscope, pulse oximeter, EKG blood pressure cuff and thermometer. Faith community nurses Melissa Coleman and Stephanie Lusk will be trained to use the robot and to facilitate the telehealth appointments at Bradshaw Church of God in McDowell County.
"As we were looking to expand in the mid-Atlantic market, we saw West Virginia University as a great potential partner," said Nat Romeo, CEO of USC Ultrasound, an FDA-registered company with more than 20 years of diagnostic ultrasound experience. "We know healthcare shortages in the U.S. are becoming acute very quickly as doctors and nurses begin to retire, so we want to bring these technologies to rural communities that need them."
For nursing students and faculty, USC Ultrasound is also donating an Alpinion I-7 portable ultrasound system, which is used extensively in women's health and general sonography. The system will come equipped with three ultrasound transducers (probes), including a convex probe, linear probe, and a phased array single crystal transducer. The design of the single crystal is especially unique, as it provides less variation in the wave forms and therefore a more clear, crisp image.
The donations will happen in phases with the first gift being approximately $10,000 and potentially going up to $30,000. Nat Romeo said he sees these donations as just the beginning of the relationship between USC Ultrasound and WVU, as he hopes to continue introducing new technology to allow students and faculty to experiment and provide feedback.
"Nurse-led access to care points within faith communities around the state provide a unique opportunity to improve access to care for our rural coal camp neighbors," said Dr. Angel Smothers, Associate Dean for Community Engagement at the WVU School of Nursing. "This donation will greatly enhance our work to reconnect these folks with quality healthcare."
The USC Ultrasound donations were awarded via the WVU Foundation, the nonprofit organization that receives and administers private donations on behalf of the University.
To learn more about Faith Community Nursing, please email Dr. Smothers at asmothers@hsc.wvu.edu.
-WVU-
CONTACT: Wendy Holdren
Director of Communications and Marketing
WVU School of Nursing
304-581-1772; wendy.holdren@hsc.wvu.edu