WVCTSI names 5 new Research Scholars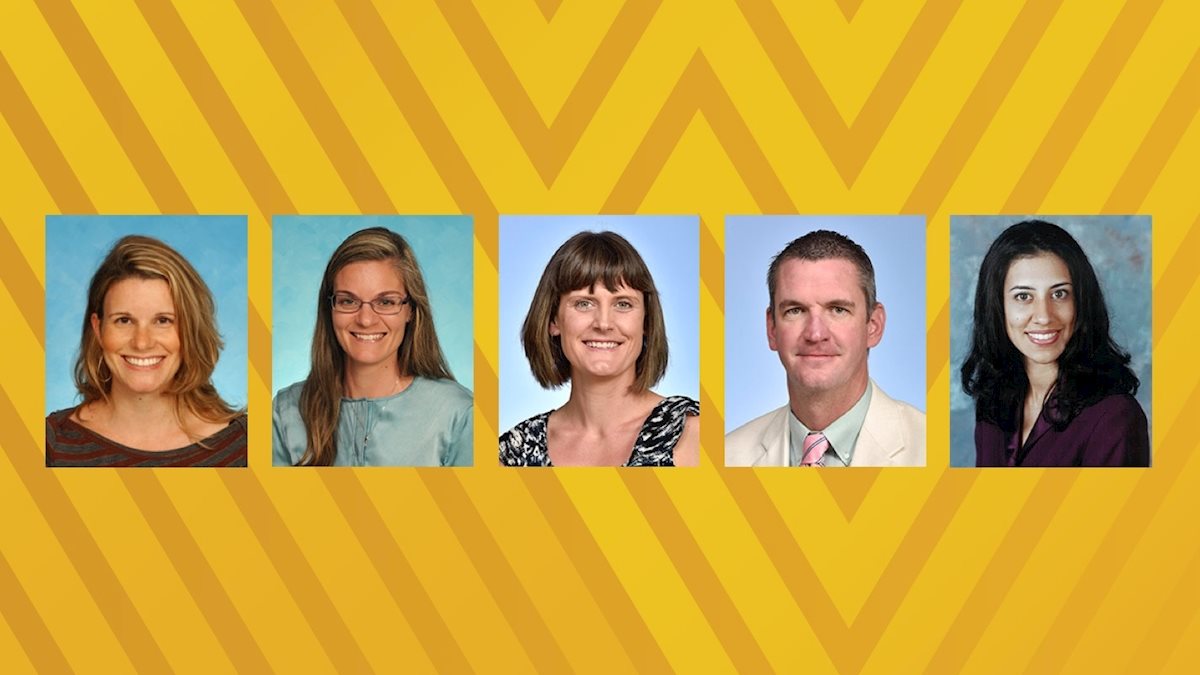 MORGANTOWN, W.Va. – Five clinical and translational scientists have been named Research Scholars by the West Virginia Clinical and Translational Science Institute (WVCTSI). These five investigators from the West Virginia University (WVU) School of Medicine include: Amelia Adcock, M.D., Cassie Brode, Ph.D., Elizabeth Engler-Chiurazzi, Ph.D., James Mahoney III, Ph.D., and Rashi Mehta, M.D.
These five investigators all have diverse research interests critical to addressing WVCTSI's priority health areas of addiction and resulting emerging epidemics, cancer, cardiovascular disease, chronic lung disease, and neurological diseases.
The WVCTSI Research Scholar program was created to enhance the development of exceptional early-stage investigators. The program provides protected time with which to focus on acquiring essential skills, interdisciplinary mentoring support, and funds to support conduct of a research project that will ultimately provide preliminary data for subsequent external funding applications.
Dr. Amelia Adcock is a vascular neurologist and assistant professor of neurology in the Department of Neurology. She also serves as the associate director of the WVU Stroke Center. During her career, Dr. Adcock has served as principal or co-investigator on several multi-center clinical trials. She is interested in studying new therapies for patients with post stroke depression.
Dr. Cassie Brode is an assistant professor in the Department of Behavioral Medicine and Psychiatry and a psychologist who specializes in weight management and bariatrics. She has served as an interventionist on two NIH-funded clinical trials in behavioral weight management and has previously secured WVCTSI pilot funding in the same field. Brode is interested in testing pre and post-surgical interventions to improve anxiety, depression and related health outcomes in patients who undergo bariatric surgery.
Dr. Elizabeth Engler-Chiurazzi is a research assistant professor in the Department of Neuroscience and founding director of the WVU Health Sciences Center Rodent Behavior Core Facility. She has a strong publication record in the neuroscience field with an emphasis on behavior and cognition. She is committed to training the next generation of neuroscientists through her role as faculty advisor for the WVU undergraduate neuroscience interest group. Her current project explores the role of the immune system in brain disease to inform clinical practice and ease the global health impact of mood disorders.
Dr. James Mahoney III is a clinical neuropsychologist and assistant professor in the Department of Behavioral Medicine and Psychiatry. Dr. Mahoney also serves as the chair of the department's Research Oversight Committee. In addition to his clinical responsibilities, he is also involved in collaborative research with the Rockefeller Neuroscience Institute, the Department of Psychology, and the West Virginia Prevention Research Center. Dr. Mahoney is focused on bringing innovative approaches to substance use disorder treatment to improve patient outcomes and address comorbidities associated with substance use.
Dr. Rashi Mehta is an associate professor in the Department of Radiology specializing in neuroradiology. During her career, Dr. Mehta has gained research experience with the Food and Drug Administration's Center for Devices and Radiological Health (CDRH) and the National Institute of Neurological Disorders and Stroke (NINDS). She has been studying cerebrovascular disease and the adverse effects and diagnosis of reactions to intravascular device coating for several years.
"We are truly pleased to support these exceptional early-stage investigators and facilitate their development to independent investigators conducting impactful research for the people of West Virginia," said Sally Hodder, M.D., WVCTSI director and associate vice president for clinical and translational science at WVU.
This group of investigators is the fourth cohort of WVCTSI Research Scholars, and they join ten others who have participated in this WVCTSI-supported program over the past six years.
"Participation in this program and the success of the scholar is highly dependent on the commitment and support provided by departmental and division leadership," said Julie Lockman, Ph.D., WVCTSI director of investigator development. "WVCTSI is pleased to collaborate with these departments in growing their research faculty. We look forward to partnering with other departments, schools, and campuses in future years."
The WVCTSI Research Scholar program is a competitive program whereby applicants are invited to submit full proposals after review of an initial letter of intent. Successful applicants receive salary support for protected research time, project funds, and tailored professional and career development opportunities. The program is directed by Dr. Julie Lockman and Dr. Lisa Salati, professional development leads in the WVCTSI. The next call for applications for the program is expected to be released in the fall of 2019. For information, please contact Meghan Reeves, MPH.
WVCTSI Background
WVCTSI is funded by an IDeA Clinical and Translational grant from the National Institute of General Medical Sciences (5U54GM104942-03) to support the mission of building clinical and translational research infrastructure and capacity to impact health disparities in West Virginia.
-WVCTSI-
CONTACT: Meghan Reeves, West Virginia Clinical and Translational Science Institute
304.293.6581; mreeves1@hsc.wvu.edu