WVU Heart and Vascular Institute adds directors of advanced heart failure and cardiovascular imaging
WVU HVI continues to recruit world renown surgeons throughout cardiovascular field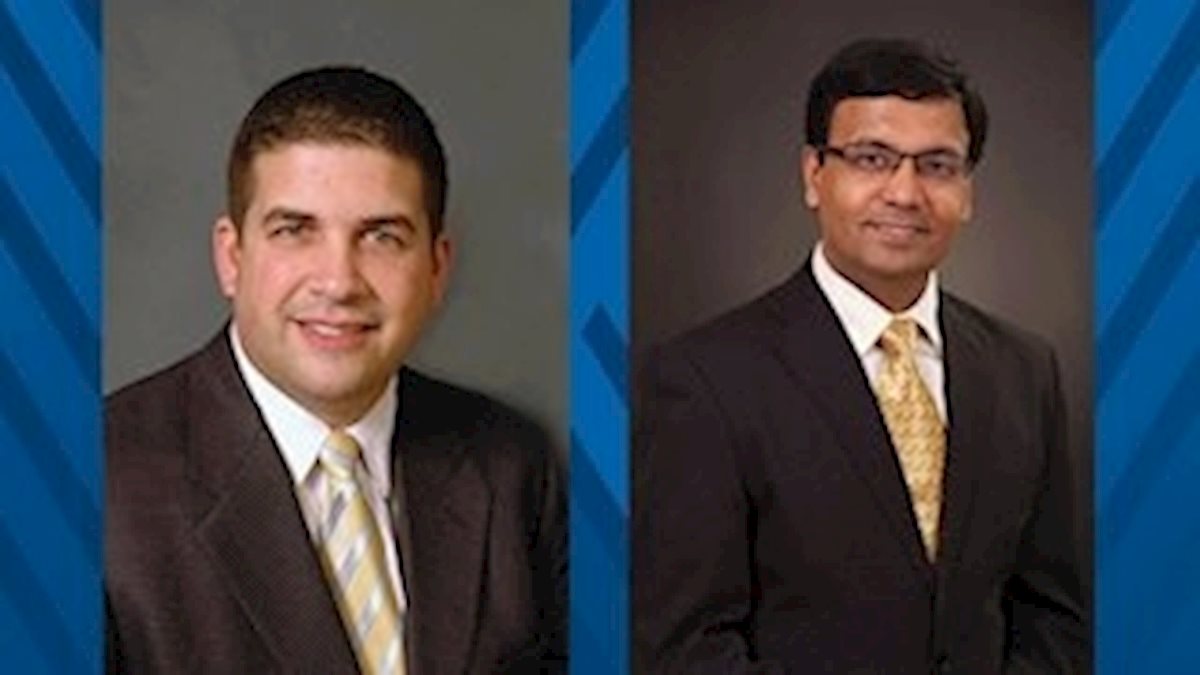 MORGANTOWN, W.Va. – George Sokos, D.O., and Partho Sengupta, M.D., have been named directors at the WVU Heart and Vascular Institute – Dr. Sokos of advanced heart failure and Dr. Sengupta of cardiovascular imaging.
"Doctors Sokos and Sengupta bring a new level of expertise to the Institute and its programs. They are both highly talented physicians and innovators who have made an indelible mark on their profession at a young age," Vinay Badhwar, M.D., executive chair of the WVU Heart and Vascular Institute and Gordon F. Murray professor in the West Virginia University School of Medicine, said. "We are fortunate to be able to recruit such high-caliber talent – two individuals who will help our team transform heart and vascular care in West Virginia and beyond."
Sokos, who is also an associate professor in the WVU School of Medicine, joined the faculty of the WVU Heart and Vascular Institute in January. He came to Morgantown from the Allegheny Health Network in Pittsburgh, Pa., where he was the program director of the advanced heart failure and transplant cardiology fellowship program. He was also an assistant professor of medicine at the Drexel University College of Medicine and a cardiologist at Allegheny General Hospital's heart failure and transplant program.
A graduate of the WVU School of Pharmacy, Sokos received his medical degree from the West Virginia School of Osteopathic Medicine. He completed his residency in internal medicine at Allegheny General Hospital, where he also served as chief resident, and completed two fellowships: one in cardiovascular medicine at Allegheny General Hospital and one in heart failure and cardiac transplant medicine at the Cleveland Clinic.
Sokos received the prestigious American College of Cardiology Merck Fellowship for his work using a novel product to aid in the recovery from cardiovascular surgery. He focuses his research on the metabolic abnormalities of heart failure, insulin resistance in dilated cardiomyopathy, antibody-mediated rejection in cardiac transplant, and heart failure risk assessment.
He is board certified in internal medicine, cardiovascular disease, advanced heart failure, and transplant cardiology by the American Board of Internal Medicine.
Sengupta will join the WVU Heart and Vascular Institute in April and will also be a professor in the WVU School of Medicine. He will be coming to Morgantown from the Icahn School of Medicine at Mount Sinai in New York City, where he currently serves as a professor of medicine, director of interventional echocardiography, and director of cardiac ultrasound research and core lab at Mount Sinai's Zena and Michael A. Wiener Cardiovascular Institute.
He completed his medical degree and internal medicine internship and residency at Government Medical College in India. He also completed a clinical residency and cardiology fellowship at the Mayo Clinic.
In 2015, Sengupta delivered the first-ever lecture to feature hologram technology at the American Society of EchoCardiography's 24th Annual Scientific Session. He has authored more than 150 peer-reviewed publications. He is also a featured speaker for TEDMED. To see one of his TEDMED videos, visit http://bit.ly/2kHfBUh.
Sengupta is board certified in internal medicine, cardiovascular medicine, and echocardiography.
For more information: Angela Jones-Knopf, Manager of Media Relations, 304-293-7087