WVU Medicine and Rockefeller family announce new neuroscience institute
Appoint nationally recognized neuroscientist, Dr. Ali Rezai, as director to bring fresh thinking and groundbreaking research to the opioid epidemic, Alzheimer's, traumatic brain injury, and other conditions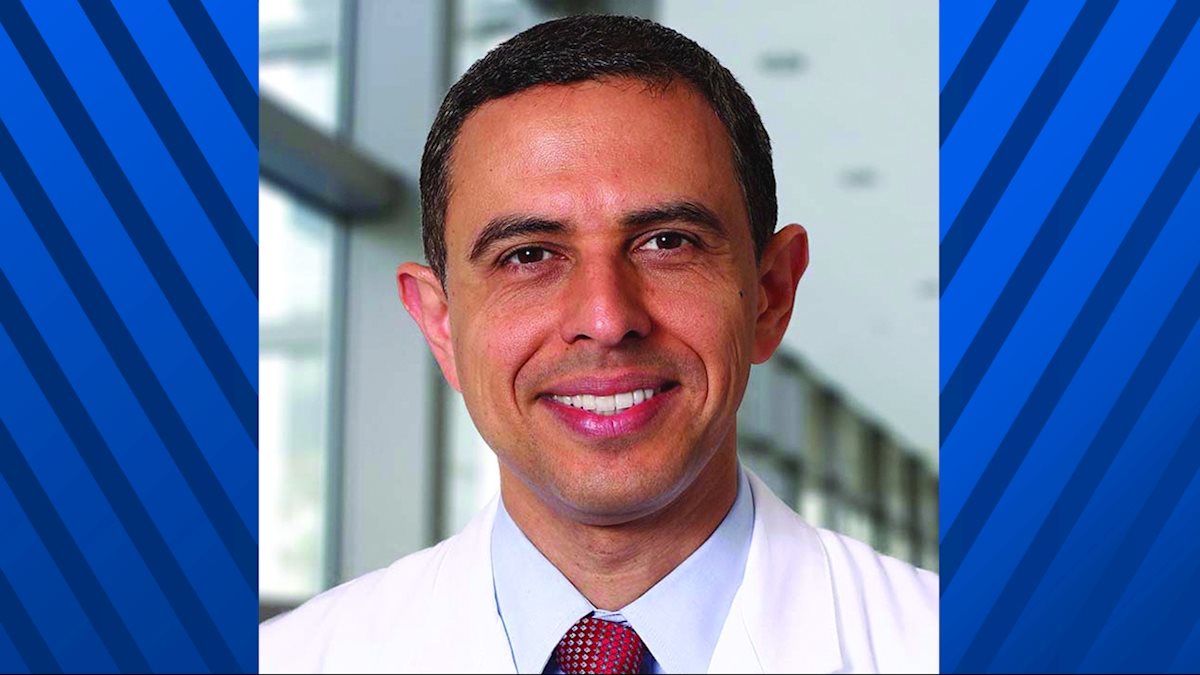 MORGANTOWN, W.Va. – WVU Medicine and the Rockefeller family announced today that they have appointed neuroscientist Ali Rezai, M.D., to lead the comprehensive and integrated clinical and research programs in the neurosciences at West Virginia University and WVU Medicine. He will do so at the newly formed West Virginia University Rockefeller Neuroscience Institute.
Dr. Rezai, a board-certified neurosurgeon whose clinical areas of expertise include the neurosurgical and neuromodulation management of patients with Parkinson's disease, dystonia, chronic pain, brain and spinal cord injuries, as well as severe mood and anxiety disorders, will serve as executive chair and vice president of neurosciences for WVU Medicine. He will also serve as associate dean and the John D. Rockefeller IV tenured professor in neuroscience at the WVU School of Medicine.
Rezai has been a significant leader in the novel and innovative use of brain implants for treating Parkinson's disease, obsessive-compulsive disorder, Alzheimer's disease, and traumatic brain injury. His work is recognized across the globe, and his research involving a brain-computer interface to treat paralysis was published in the journal Nature last year and also generated front-page news in The New York Times, The Wall Street Journal, and the Financial Times. He has also developed pioneering technologies that led to the creation of a company that produces micro-implants to treat chronic pain and headaches.
His charge is to bring the same level of success and rapid advances that have occurred in areas such as heart disease and cancer to brain health, and to develop partnerships and accelerate innovative technologies, treatments, and protocols. He will bring a new vision and strategic thrust to neuroscience research at WVU, one that includes the deployment of an array of initiatives and technologies to improve brain health. Examples include neuromodulation, robotics, brain-computer interface, and virtual reality.
Over the next year, the Institute, along with its worldwide academic, government, and corporate partners, will unveil its groundbreaking programs and initiatives. Rezai and his team will also work closely with other WVU schools such as engineering and computer science, to develop new medical technologies, and collaborate with other medical specialties such as cardiology.
The West Virginia University Rockefeller Neuroscience Institute will incorporate both the building and programmatic elements of the existing West Virginia University Blanchette Rockefeller Neuroscience Institute (BRNI), but will also expand to include the clinical, research, and academic missions of Neurosurgery, Neurology, and Behavioral Medicine and Psychiatry, among others. The Institute will spearhead efforts to develop innovative solutions for West Virginians and those across the world with neurological and psychiatric conditions ranging from Alzheimer's to Parkinson's; autism to stroke; and paralysis to chronic pain, addictions, and traumatic brain injury.
"As someone who has personally watched how Alzheimer's can affect the life of the person they love, I'm delighted and excited to see the continued growth of the work being done at West Virginia University and WVU Medicine," Senator Jay Rockefeller said. "I look forward to the day when Alzheimer's and other neurological disorders are no longer concerns for society, and I am extremely optimistic that the Institute, under Dr. Rezai's leadership, will help get us there."
Rezai holds 54 U.S. patents for medical devices and technologies, and his inventions and innovations resulted in the creation of five start-up companies. He has authored 220 scientific publications, and serves on the editorial board of five scientific journals. He is a past president of the Congress of Neurological Surgeons, as well as the past president of the North American Neuromodulation Society and the American Society of Stereotactic and Functional Neurosurgery, and was also named one of the best doctors in America in Castle and Connolly's Guide to America's Top Doctors for 16 consecutive years from 2001-2017. He received his medical degree from the University of Southern California and undergraduate degree from UCLA, and completed his neurosurgical training at New York University and his subspecialty training in functional neurosurgery at the University of Toronto.
"I am enthusiastic to be coming to an organization with a big vision, an audacious goal, and a passion to make rapid and impactful progress for patients in West Virginia and throughout America and internationally," Rezai said. "There's lots of talk about 'population health,' and while progress is being made on that front, my decision to make the move to WVU Medicine is based on an even bolder proposition: to join other top leaders and minds in medicine who are relocating to West Virginia University in order to make a positive and measurable impact on the integrated health of an entire state, one resident at a time. WVU Medicine works within an aligned, agile leadership structure and team that can adapt to address some of our most pressing public health challenges."
Neuroscience, including behavioral health and addiction, is one of WVU Medicine's Signature Programs – areas of opportunity that allow WVU Medicine to target major health disparities more aggressively in the state and continue to deliver real medical solutions that will have the most resounding impact on the citizens of West Virginia.
"The addition of Dr. Rezai to our team is a major step in our continuing effort to build West Virginia University's medical enterprise – academic, research, and clinical – to world-class status," said WVU President Gordon Gee, who also serves as chair of the board of WVU Medicine West Virginia University Health System. "He brings impeccable credentials and reputation, and aligns with growth we have experienced over the past 18 months of new, innovative faculty who have joined our ranks as top-tier clinicians, researchers, and educators. The affliction of Alzheimer's and other neurological issues is one of the major health challenges facing our nation, and Dr. Rezai's leadership puts West Virginia University at the forefront of meeting that challenge."
Rezai comes at a time of rapid growth for WVU Medicine: in the past year and a half, more than 200 doctors from outside of West Virginia and from some of the most prestigious academic medical centers in the United States have been recruited to the university and its health system with the goal of expanding the number of healthcare services available to the people of West Virginia and further positioning WVU as a national leader in medical research.
He will relocate to WVU Medicine after serving more than eight years at the Ohio State University Wexner Medical Center, where he currently serves as director of the Neurological Institute, director of the Ross Center for Brain Health and Performance, associate dean for neuroscience, the Stanley D. and Joan H. Ross Chair in Neuromodulation, and professor of neurosurgery and neuroscience.
"At WVU Medicine, we continually strive to be on the forefront of cutting-edge treatments and technologies to address the health issues that impact West Virginians the most. We believe Dr. Rezai's track record of pioneering work in the field of neurosciences will help us bring the latest and best in neurological care to the people of West Virginia," Albert L. Wright, Jr., president and CEO of WVU Medicine West Virginia University Health System, said. "We look forward to welcoming him to the WVU Medicine team, and we are confident that under his leadership, WVU Medicine will be a sought-out destination for world-class neurological and neurosurgical care."
Prior to joining the faculty at Ohio State, Rezai was the director of the Center for Neurological Restoration and the Jane and Lee Seidman Chair in Functional Neurosurgery at the Cleveland Clinic. He also served on the neurosurgical faculty at New York University Medical Center as the director of the Center for Functional and Restorative Neurosurgery.
"Attracting an internationally recognized leader like Ali Rezai to lead our neuroscience signature program, which will span all of our missions of patient care, education, research, and service is a unique opportunity for West Virginia. Ali is a renowned innovator, surgeon, and creator and does work that truly changes the world. His work will focus on the needs of West Virginia, and he will then export these solutions to the world," Clay Marsh, M.D., vice president of WVU Health Sciences and executive dean of the WVU School of Medicine, said. "We are better today because Ali Rezai is joining our Mountaineer family, and we are proud that we can further the legacy of Senator Jay Rockefeller's vision for a healthy and thriving West Virginia, nation, and world."
The original BRNI institute was founded in 1999 and named for Rockefeller's mother, who died from complications of Alzheimer's. In 2016, it was acquired by WVU. Under a letter of agreement between WVU and BRNI, WVU agreed to consolidate all of its neurosciences research under a new WVU Rockefeller Neurosciences Institute with the goal of advancing knowledge through team-based research.