WVU Medicine Children's launches School Intervention Program
Funding provided by Credit Unions for Kids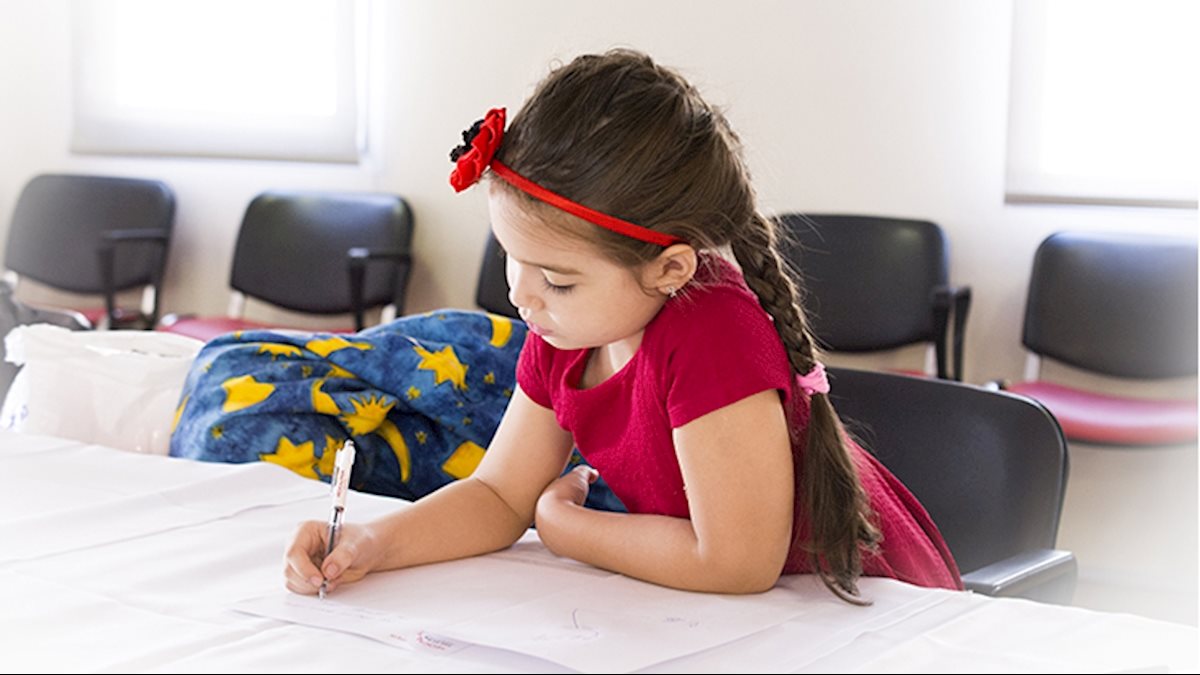 MORGANTOWN, W.Va. – When a child is hospitalized, what he or she considers "normal" – going to school, participating in extracurricular activities, daily routines – is disrupted. For children who are admitted for extended stays at WVU Medicine Children's, a new School Intervention Program is available to keep them on track, so they can return to their classrooms without missing a beat.
"We have children, who, due to the severity of their illness or injury, end up spending weeks or months admitted to our hospital. Missing that much school can be incredibly detrimental and can force a child to overcome yet another set of hurdles," Cheryl Jones, assistant vice president of WVU Medicine Children's, said. "With our School Intervention Program, we hope to make the transition from hospitalization back to school and everyday life as seamless as possible."
The goals of the program are to:
Closely sync the standards being taught in a child's classroom
Maintain a sense of "normalcy" in all children by providing them educational opportunities and growth
Create a learning environment within the hospital that simulates a classroom experience
Provide reintegration support for children returning to school after a medical diagnosis
Establish community support and relationships
In January, WVU Medicine Children's hired Katie Ridenour, a West Virginia certified teacher, to serve as its school intervention specialist.
"If children have to be in the hospital long term, that means they are away from their classroom and their friends. Those two things play a huge role in their overall development. When it is time to reintegrate into the classroom, we want them to return to their same class and same friends," Ridenour said. "School is a normal part of kids' lives – when they are in the hospital and everything is overwhelming and different, it is important to provide these type of normalizations."
Currently, Ridenour is based out of the WVU Medicine Children's Hostetler Family Resource Center. Plans are in the works to create a fully functional classroom within the new Children's tower, which is slated to open in 2020.
Funding for the School Intervention Program is being provided by Credit Unions for Kids, a nonprofit collaboration of credit unions across the country engaged in fundraising activities to benefit Children's Miracle Network Hospitals. WVU Medicine Children's is the only Children's Miracle Network Hospital in West Virginia. Fairmont Federal Credit Union donated $6,000 to kick off the partnership.
"Through our Credit Unions For Kids fundraising efforts, the West Virginia Credit Union League has been a proud partner of WVU Medicine Children's and Children's Miracle Network since 1996," Rich Schaffer, senior vice president of the League, said. "We are excited about the recently established School Intervention Program and are eager to be a part of this important component at WVU Medicine Children's."
Cindy Dickey, second executive officer at Fairmont Federal Credit Union, added, "Fairmont Federal Credit Union is proud to partner with credit unions across the state of West Virginia through Credit Unions for Kids to support the newly formed WVU Medicine Children's School Intervention Program. Upon touring and meeting with the school intervention specialist, Katie Ridenour, our leadership felt strongly that the program is a critical component to assist patients, parents, and school administration during the child's hospital stay and transition back to school."
At the end of the day, Ridenour wants to do what she can to help kids be kids and keep their minds off the fact that they're in the hospital.
"When I first introduce myself to kids, generally, they aren't excited to do school work in the hospital," Ridenour said. "But once we start working on assignments and playing educational games, and I see a smile, I feel good. I just spent an hour with them – an hour they didn't have to think about their medical treatment."
WVU Medicine Children's – currently located on the sixth floor of J.W. Ruby Memorial Hospital, WVU Medicine's flagship hospital – provides maternal, infant, and pediatric care for West Virginia and the surrounding region, giving care to high-risk mothers, premature infants, and children with life-threatening conditions through adolescence to adulthood. In 2020, WVU Medicine Children's will move into a new tower and ambulatory care center to be attached to Ruby Memorial. For more information, including ways to support the $60-million capital campaign for Children's new home, visit wvumedicine.org/childrens.