WVU Rockefeller Neuroscience Institute now offering new, non-invasive treatment for movement disorders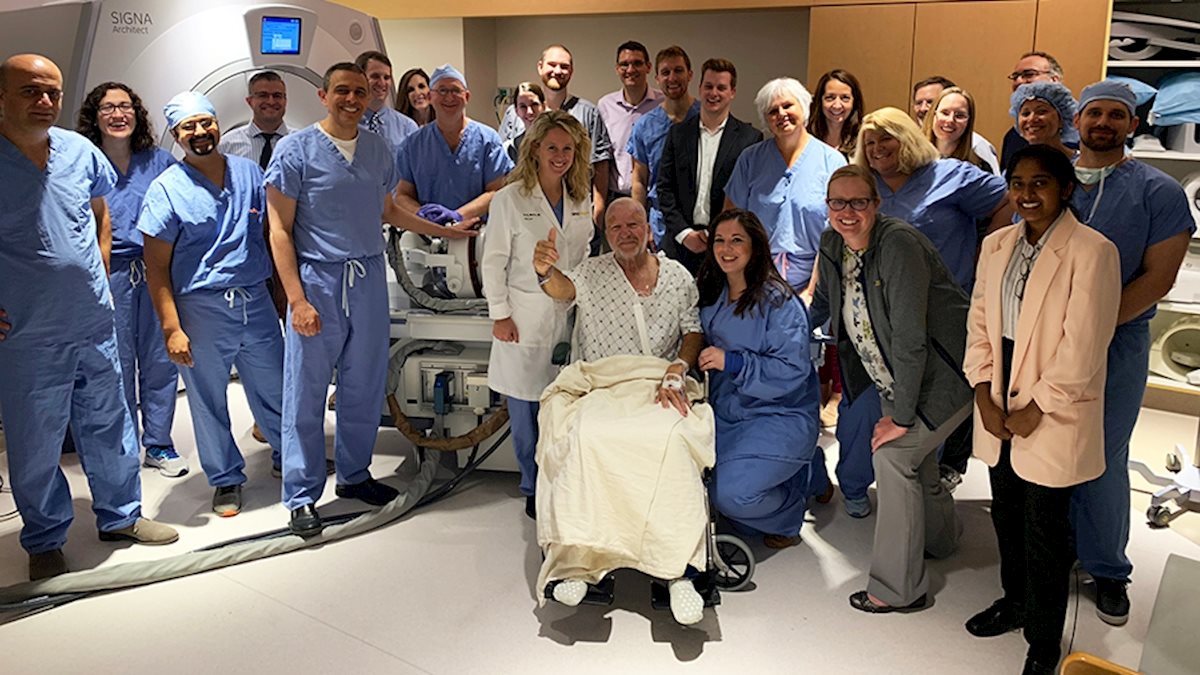 The WVU Rockefeller Neuroscience Institute is the only site in West Virginia and one of just 15 sites in the United States utilizing MR-guided focused ultrasound – a new, FDA-approved treatment for essential tremor and tremor-dominant Parkinson's disease that requires no exposure to radiation.
"This new, FDA-approved innovative technology is a major advance for the treatment of patients with essential tremor and Parkinson's tremor," Ali Rezai, MD, executive chair of the WVU Rockefeller Neuroscience Institute, said. "The focused ultrasound procedure does not require surgery or cutting the skin, and improvements are seen immediately. We are excited to provide focused ultrasound treatment for people from West Virginia and surrounding areas that do not have readily available access to this new technology."
MR-guided focused ultrasound uses non-audible sound waves instead of incisions, brain implants, or radiation. The ultrasound waves from more than 1,000 probes travel through the brain and converge precisely on a pinpointed area in the thalamus to stop the tremor during a single treatment session.
Essential tremor is the most common movement disorder, affecting more than five million people in the United States and millions more worldwide. It is a progressive and debilitating neurological condition that causes a rhythmic trembling of the hands, head, voice, legs, or trunk.
Parkinson's disease is a degenerative disease of the brain that affects more than one million Americans with symptoms of tremor, stiffness, and slowness of movements. The tremor can be severe and disabling for both essential tremor and Parkinson's disease patients. Focused ultrasound is an option once medications are not providing adequate tremor control.

The WVU Rockefeller Neuroscience Institute performed its first MR-guided focused ultrasound procedure for essential tremor on June 18. The first patient was Don Wahl, a 71-year-old male with progressively worsening tremor that impacted all aspects of his life and function. The procedure took two hours and resulted in the immediate resolution of the tremor. Patients spend one night in the hospital for observation and are discharged the next day.
At WVU Medicine, patients with essential tremor, Parkinson's, and other movement disorders are treated at the WVU Comprehensive Movement Disorders Clinic, where neurologists who specialize in movement disorders work together with experts from all related fields, including Neurosurgery, Neuropsychology, Neuropsychiatry, Physical and Occupational Therapy, and Otolaryngology, to help patients regain optimal motor control of their bodies.
"As a healthcare provider, there is nothing more rewarding than being able to improve a patient's quality of life," Ann Murray, MD, director of the WVU Comprehensive Movement Disorders Clinic, said. "This new technology is one of the many tools we now have to get patients back to living the life they want. This is a tremendous asset not only for the people of West Virginia and across the region, but for the many people across the country now coming to West Virginia to have their movement disorders managed."