WVU's Farm to You to expand services, access to produce in eastern panhandle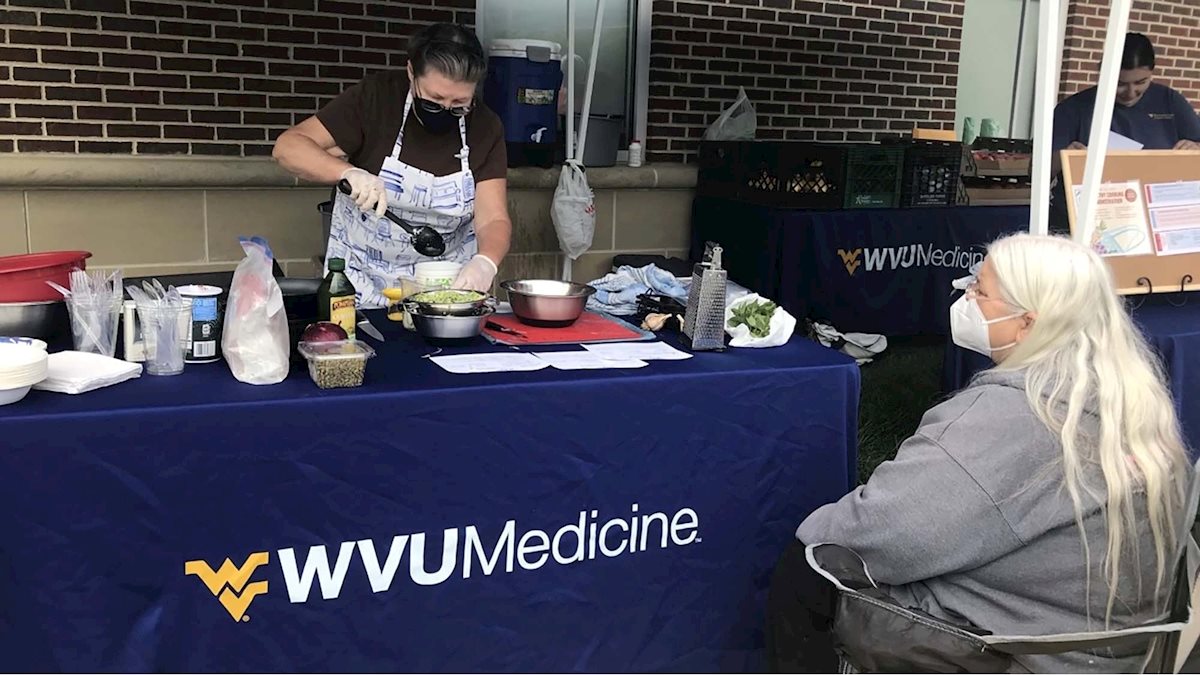 West Virginia University will increase access to fresh, locally-grown produce and provide nutrition education in the eastern panhandle through a $500,000 U.S. Department of Agriculture grant awarded to the Farm to You program.
The grant funds will be disbursed over a three-year period to expand the program, which is run through the School of Medicine's Eastern Campus and offered at participating WVU Medicine clinics across the region. Farm to You provides patients with access to fresh, locally-grown produce through free, pop-up produce stands at each clinic twice per month from May through November each year.
In addition to access to healthy foods, patients receive healthy recipes and diet and nutrition education from WVU and WVU Medicine health educators on-site.
"Through partnership with our local farmers and primary care clinics, Farm to You harnesses the collaborative nature of our community to increase access to fresh, local produce and educational resources to help our patients and their families lead healthier lives," Emma Eggleston, M.D., MPH, associate vice president and dean of the School of Medicine's Eastern Campus explained.
The USDA National Institute of Food and Agriculture funding will allow the launch of Farm to You MOBILE, which includes a mobile "food truck" teaching kitchen, a formal "produce prescription program," program expansion to four additional clinics, and a direct investment of $200,000 into local farms.
"Many of our patients struggle to keep up healthy diets long-term due to the cost of fresh produce, limited cooking and nutrition knowledge, and/or transportation challenges," Farm to You program manager Carla Toolan said. "Farm to You helps patients cut through these barriers to improve their health, while also helping local farmers sustain and grow their businesses."
Expanding access to the program
Farm to You MOBILE geographically expands the program's accessibility through a food truck that will travel between participating clinics to distribute produce "prescriptions" to patients. This mobile unit will also act as a site for instructors to host interactive cooking demonstrations on-location.
Toolan said the addition of cooking demonstrations allows patients to see how easy it can be to prepare healthy, delicious recipes using no-cost ingredients provided through the program.
"We are also able to discuss modifications to the recipes that allow participants to replicate the meals with other produce throughout the year," Toolan said. "These modifications allow them to continue benefiting from Farm to You even during the winter months."
The funding will also double the program's footprint by expanding from four to eight clinic locations across the eastern panhandle. While the program currently only operates in Jefferson and Berkeley counties, the new participating clinics will include a location in Morgan County, giving Farm to You reach across all three eastern-most counties in the panhandle.
Investing in local agriculture
Approximately $200,000 of the grant funds will directly support local farms in the eastern panhandle, regardless of their operational size. Local farms include Blue Mountain Farm in Hedgesville, Young Harvests Farm in Charles Town, Red House Farm in Bunker Hill and Town and Country Nursery in Kearneysville.
"We're prioritizing partnerships with small and mid-sized farms, which is a win-win for patients and farmers in the panhandle," Toolan said. "By investing in local farms, we ensure we're stimulating the economy in the area while participants gain access to locally-grown, fresh produce."
Produce as "medicine"
The produce prescription program will allow participating physicians to "prescribe" fully-subsidized produce to patients to help them manage their diet-sensitive chronic conditions in the same way they prescribe medicine to their patients.
Since launching in 2018, the program has distributed more than 3,000 shares of healthy produce and recipes to patients across the eastern panhandle, equating to around $30,000 invested directly into local farms.
Participation in Farm to You is currently open at no cost to all patients at the WVU Medicine Center for Diabetes and Metabolic Health, Ranson Family Medicine, Harpers Ferry Family Medicine and the Shepherdstown Multispecialty Clinic. For inquires on Farm to You, contact Carla Toolan at carla.toolan@wvumedicine.org.
For more information about the WVU School of Medicine's eastern campus, visit medicine.hsc.wvu.edu/eastern.
-WVU-
MEDIA CONTACT: Sam Haines
Communications Specialist
WVU School of Medicine
304-293-7487; sthaines@hsc.wvu.edu