WVU School of Medicine welcomes M.D. class of 2027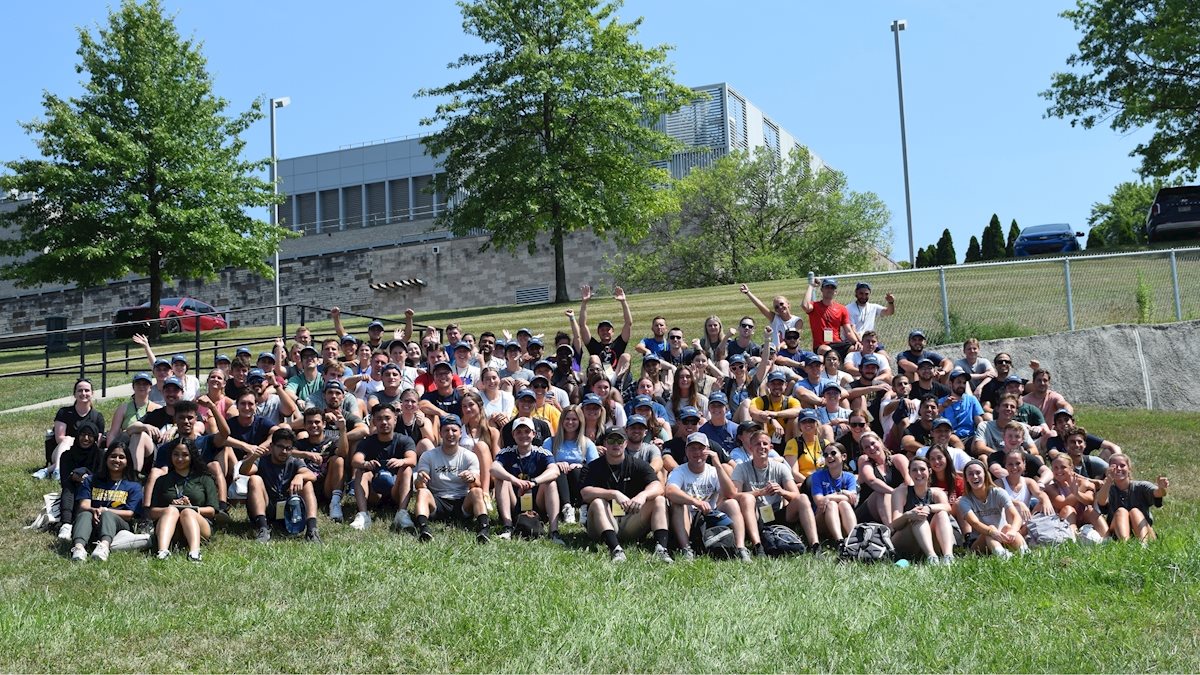 A new cohort of future physicians has begun their journey at the West Virginia University School of Medicine. This week, the Class of 2027 will meet their peers and engage with school leadership during orientation, all while laying the groundwork to be successful during their medical education.
"We are excited to welcome the newest class to the School of Medicine," said Norman Ferrari, M.D., chief academic officer and vice dean for education and academic affairs. "The future of medicine is bright, and we look forward to not only what this class will contribute to WVU, but to the profession as a whole."
The first-year medical students come from a variety of backgrounds, adding to WVU's already diverse student body. They have worked as EMTs, nursing assistants, clinical research assistants, COVID-19 screeners and medical scribes. Some are former collegiate athletes, and seven members of the class have served in the U.S. military.
As they start their educational journey, the class will undoubtedly draw from their passion for community service. Many have experience in mentoring, tutoring and clinical volunteerism. Others have volunteered at food banks, domestic violence hotlines, at the American Red Cross and for AmeriCorps MedServe. There is even a service dog trainer.
"We look for students that not only stand the test of academic merit, but also those who demonstrate character and compassion in all facets of what they do," Ferrari said. "This cohort carries that torch and draws from a broad background of experiences that will serve them as they set out on this journey."
At the conclusion of their orientation activities, students participate in a formal Oath of Integrity ceremony attended by their families that marks their official start as a medical student at WVU.
During the annual ceremony, they pledge their loyalty and passion to the field of medicine and their patients, and to their academic duties as students. Students also receive a stethoscope from the School of Medicine Alumni Affairs that symbolizes good listening skills are important for physicians and their entry into the WVU School of Medicine family.
In terms of numbers, the students hail from 14 states, and 21 different West Virginia counties are represented. The class is divided equally between females and males.
Approximately 48% of the class earned their undergraduate degrees from WVU, and the other 52% come from 47 different undergraduate institutions. Sixty percent of students majored in chemistry, biology, biochemistry, neuroscience or pre-med; but, a variety of majors are represented including agriculture, engineering, psychology, economics, hospital administration, history and theatre arts.
Students will complete their first two years of medical school at the Morgantown campus. They then disperse to the Morgantown, Charleston or Eastern campuses to complete the remaining two years of studies and clinical rotations.
For news and information on the WVU School of Medicine, follow @WVUMedSchool on Twitter and Instagram, like the School on Facebook or visit medicine.hsc.wvu.edu.
-WVU-
ak 8/1/23
CONTACT
Cassie Thomas,
Communications and Marketing Director
WVU School of Medicine