WVU School of Medicine welcomes the M.D. Class of 2026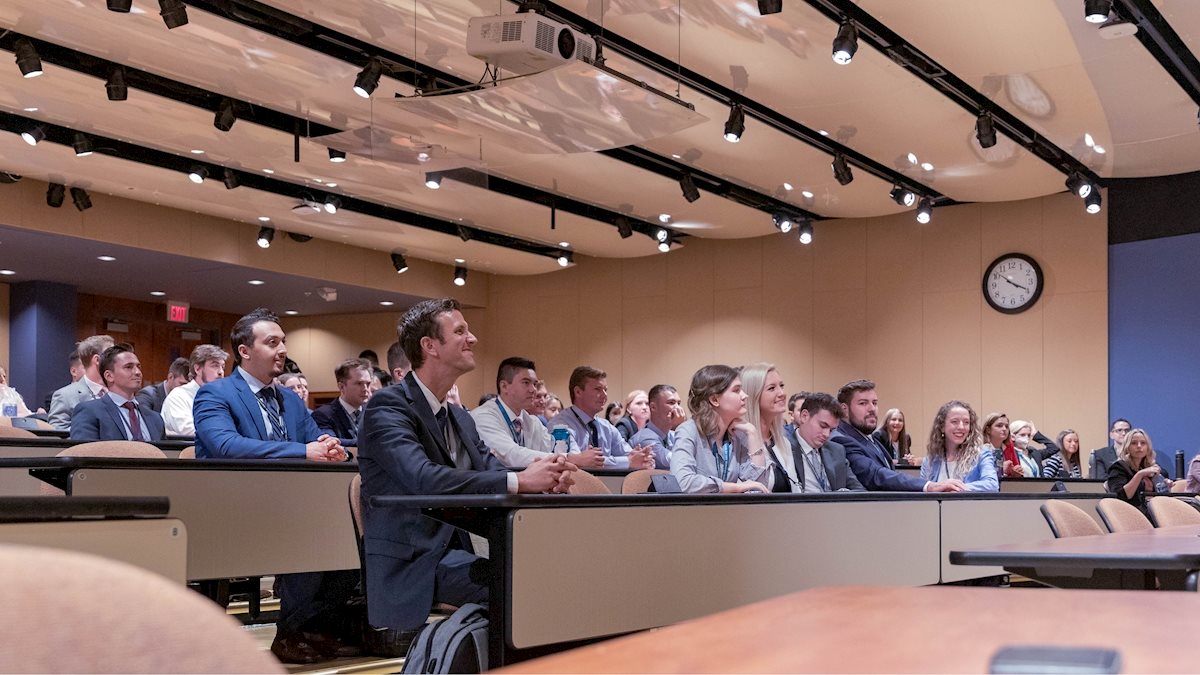 This week marks a new beginning for the future physicians at the West Virginia University School of Medicine in the Class of 2026. As they begin orientation with their peers, their purpose and devotion to practicing medicine unites them.
The cohort has seen the COVD-19 pandemic unfold before they even applied to medical school, and much of the class has exceptional experience in previous healthcare positions, everything from assisting with COVID-19 vaccination clinics to engineering an artificial heart.
Other healthcare experience includes students who have served as EMTs, medical scribes, phlebotomists, clinical research assistants and nursing assistants.
As they start their educational journey, the class also draws from a devotion to service and the willingness to help — many have extensive community service with the American Red Cross, March of Dimes, home construction, reading and tutoring programs, food banks and volunteer opportunities in the clinic.
The exceptional combination of purpose, devotion and service is something that school leadership, including Norman Ferrari, M.D., chief academic officer and vice dean for Education and Academic Affairs, has noted about the class.
"The most successful physicians not only retain knowledge, but they have the ability to translate it in a compassionate way that has the patient's best interest at heart. This class is impressive in how they've already got a jump start on caring for their communities," said Ferrari. "We're excited to foster their knowledge and skills as they grow into not only physicians, but important pillars for the institutions they'll go on to in their careers."
In terms of numbers, the students hail from 18 states and 13 West Virginia counties are represented. The class is divided exactly almost in half, 51% are female and 49% are male.
Approximately 32 percent of the class earned their undergraduate degrees from WVU, and the other 68 percent come from 57 different undergraduate institutions. Seventy one percent of the class majored in chemistry, biology, biochemistry, neuroscience or pre-med. But a variety of other background studies are represented, including engineering, international relations, anthropology, communications, literature and history.
Three members of the class have served in the U.S. military. Other interesting previous professions among the cohort include a legal interpreter, robotics engineer, public relations manager and an FBI field investigator.
After professional development and orientation activities, the class of 2026 will begin studies on the Morgantown campus in August for the first two years of medical school. Students then disperse to the Morgantown, Charleston or Eastern campuses to complete the remaining two years of studies and clinical rotations.
As part of professional development activities, medical students participate in the annual Oath of Integrity ceremony where they pledge their loyalty and passion to the field of medicine and their patients, and to their academic duties as students. They also receive a stethoscope that symbolizes good listening skills are important for physicians.
For news and information on the WVU School of Medicine, follow @WVUMedSchool on Twitter and Instagram, like the School on Facebook or visit medicine.hsc.wvu.edu.