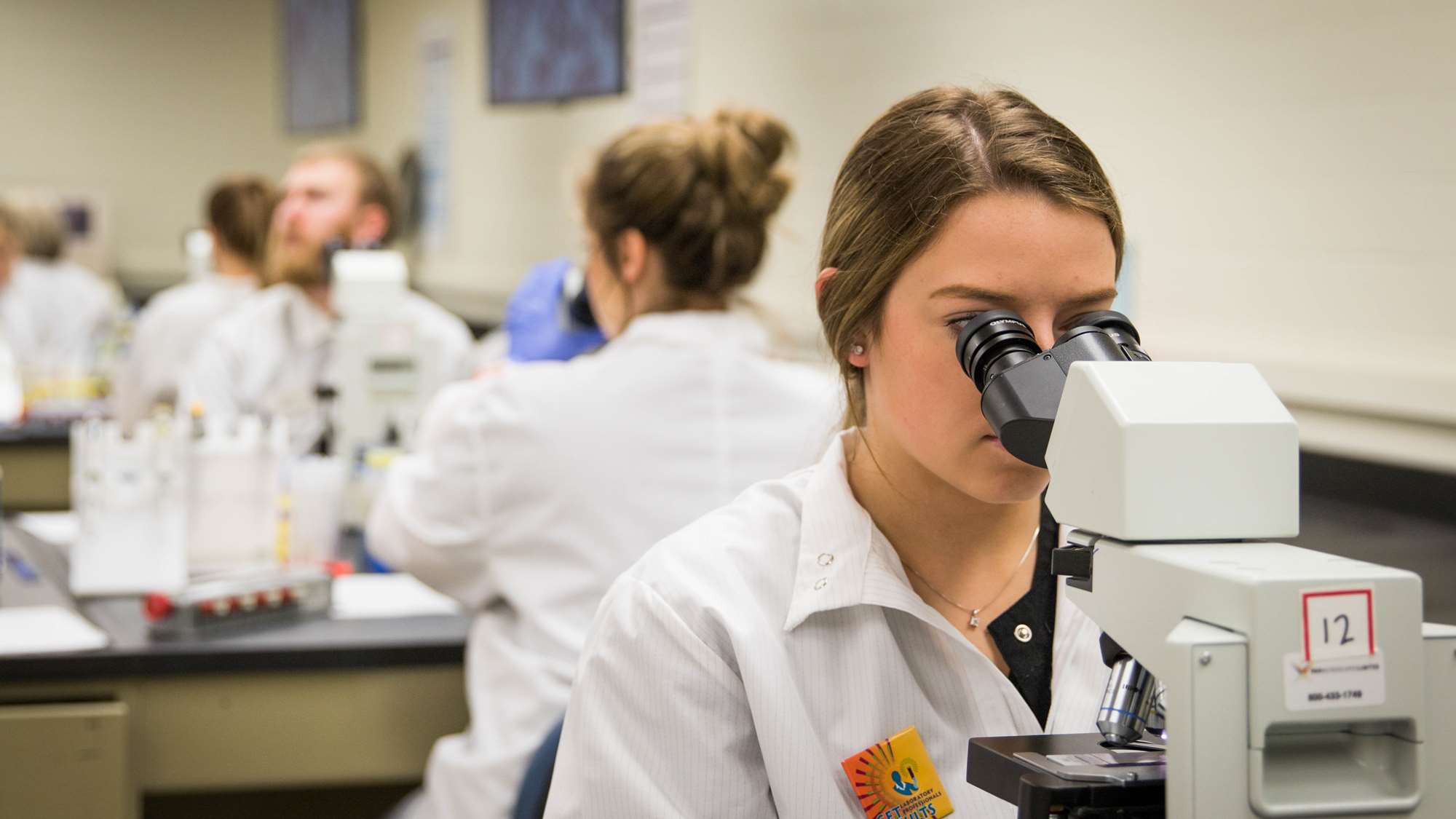 Biomedical Laboratory Diagnostics
Maybe you want to work in a lab, but you also want to help patients. You can do both with a degree in Biomedical Laboratory Diagnostics. One hundred percent of our graduates find placement in careers or graduate school, and many can be found working in hospitals, clinics and doctor's offices.
Biomedical Laboratory Diagnostics (formerly Medical Laboratory Science)
The WVU Bachelor of Science degree in Biomedical Laboratory Diagnostics provides an intensive combination of lectures, laboratories and clinical experience. The first two years involve completing pre-requisite courses at the WVU main campus, one of the WVU regional campuses or any regionally accredited college or university. For specific requirements please go to Application Process.
If you are an applicant, you can access the recommendation form here.
The second two years are based at the WVU Robert C. Byrd Health Sciences Center and consist of lectures, student laboratory instruction, and clinical experience at one of the program's affiliated laboratories.
Tracks
There are two Tracks for the Bachelor of Science degree in Biomedical Laboratory Diagnostics: Medical Laboratory Science (formerly Clinical Laboratory Science) and Histotechnology.
Medical Laboratory Science
Medical Laboratory Scientists are skilled laboratory professionals that perform laboratory testing on blood and bodily fluids to aid in the diagnosis, prognosis and treatment of patients. Laboratory testing encompasses such disciplines as clinical chemistry, hematology, immunology, immunohematology, microbiology, and molecular biology. Medical laboratory science professionals generate accurate laboratory data that are needed to aid in detecting cancer, heart attacks, diabetes, infectious mononucleosis, and identification of bacteria or viruses that cause infections, as well as in detecting drugs of abuse.
For more information on Medical Laboratory Science as a career, please visit the following website:
American Society for Clinical Laboratory Science
Histotechnology
A Histotechnologist is a professional who is qualified through academic and applied science education and training to provide service, research, and management in histotechnology and areas related to anatomic pathology. Histotechnologists are integral to the success of the anatomic pathology department by performing routine and complex procedures to preserve and process tissue specimens. Specific tissue structures are visualized by utilizing specialized stains and are examined by a pathologist to diagnose diseases and disorders.
For more information on Histotechnology as a career, please visit the following website: